The latest report from the Environmental Protection Agency shows the quality of drinking water in public supplies remains high.
The EPA Drinking Water Report 2017, released today, shows a very high level of compliance with microbiological and chemical standards, indicating that most of our water supplies are safe.
The EPA expects drinking water in Ireland to comply with EU standards by 2020 - 16 years after the deadline for compliance.
Its report sets out a number of priorities for Irish Water to protect and improve supplies.
This includes preventing long-term boil water notices, by providing robust disinfection systems.
Drinking water tested in 2017 confirmed a very high level of compliance with microbiological and chemical standards.
However, there are currently 72 "at risk" supplies on the EPA Remedial Action List.
Commenting on the EPA report, Irish Water says it is clear more work needs to be done and says it is advancing Water Safety Plans for all larger supplies, with a key emphasis on minimising risks from source to tap.
The EPA says continued investment will be needed, to achieve compliance with current public health standards and new standards expected to be in place by 2020.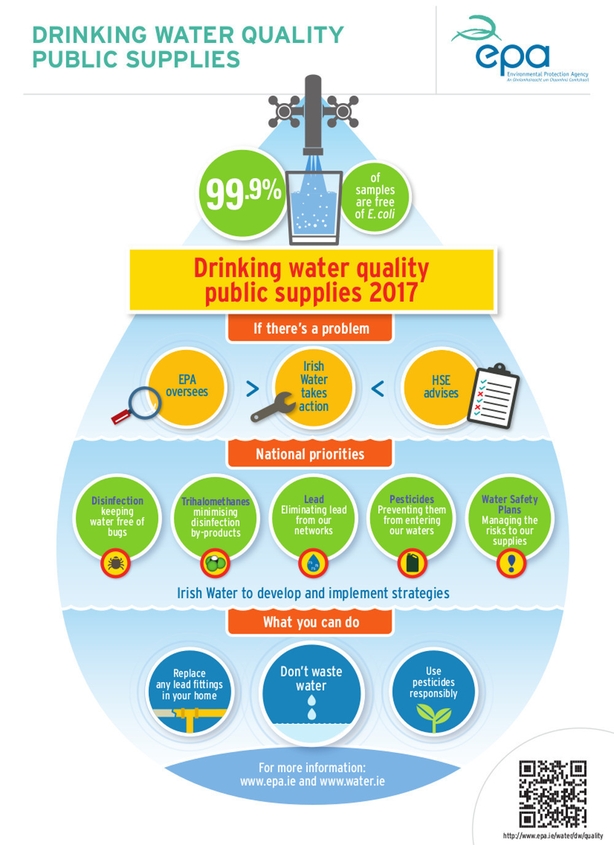 The Programme Manager with the EPA's Office of Environmental Enforcement said there are 17 water supplies of the 72 "at risk" supplies that the EPA is most concerned about.
Speaking on RTÉ's Morning Ireland, Darragh Page said these supply do not have adequate treatments for cryptosporidium, which basically means that if cryptosporidium is found in the source of those water supplies it will get into supply and may contaminate it.
He said the vast majority of the remedial work to be carried out at the plants will be completed by 2020.
Funding has already been allocated for this and the EPA is ensuring it is being spent on repairs as quickly as possible, he added.