Tens of thousands of euro will be paid to any householders who lose part of their front gardens for a new bus plan, according to the National Transport Authority.
Up to 1,300 households in Dublin will lose part of their gardens under plans for 16 radial bus routes that the NTA has said may reduce journey times by up to 50%.
The NTA has said homeowners will be compensated as it confirmed that around 1,300 front gardens will be affected by the introduction of the bus lanes.
NTA CEO Anne Graham said without the project traffic in Dublin would start to grind to a halt with the population expected to grow by 25% by 2040.
The plan is part of the Bus Connects project - a complete reorganisation of services - due to be completed in 2027 at a cost of €2bn.
Speaking on RTÉ's News at One, she said because there was a push on to encourage more people to use public transport, space would have to made available on the roads system for buses to move efficiently and to reduce journey times.

The radial routes from suburbs such as Swords, Lucan and Bray will consist of 230km of bus lane and an extra 200km of cycle lanes, which is also the biggest investment in cycling infrastructure to date.
The routes are designed to have two bus lanes - one in and one out of the city, and similar lanes for cars and cyclists.
In some areas, it will require diversions and loss of space because of the width of the roads.
The Rathfarnham route would have journey times reduced from 75 minutes for a 6km journey to as little as 20 minutes, according to the NTA.
But parts of front gardens would have to be removed and there would also be the loss of parking spaces and trees.
Rathmines would have to be one-way into the city centre for cars or else the footpaths would have to be narrowed.
A two-way cycle lane would have to be constructed through neighbouring housing estates.
But the NTA warned if nothing was done then the journey time on this route will increase from 75 minutes to 90 minutes.
On the Clongriffin routes, a cycleway would also have to be constructed through Marino.
The NTA said that Dublin Bus and Bus Éireann account for 67% of public transport journeys in the Dublin region and improvements were necessary.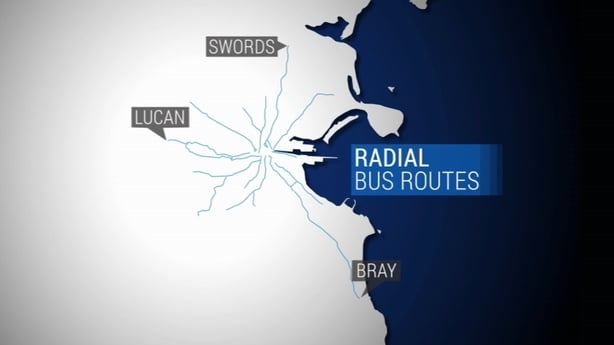 ---
The 16 routes are:
1 Clongriffin to city centre
2 Swords to city centre
3 Ballymun to city centre
4 Finglas to Phibsborough
5 Blanchardstown to city centre
6 Lucan to city centre
7 Liffey Valley to city centre
8 Clondalkin to Drimnagh
9 Greenhills to city centre
10 Kimmage to city centre
11 Tallaght to Terenure
12 Rathfarnham to city centre
13 Bray to city centre
14 UCD/Ballsbridge to city centre
15 Blackrock to Merrion
16 Ringsend to city centre
---
Fine Gael TD Noel Rock said around 1,300 homeowners have not been told that their properties will be subject to a Compulsory Purchase Order for the routes.
In a statement, he said the NTA's report does not outline exactly which properties will be affected and the NTA has serious questions to answer.
Mr Rock said the Oireachtas Transport Committee has agreed to his request to invite the NTA to come before it to answer questions on the project.
Business Group Dublin Chamber said delivery of the new bus routes will be an important step in reducing congestion in Dublin and while the rollout will mean a lot of disruption the aims of the project are welcome.
The Green Party has also welcomed the initiative, but said improvements for pedestrians and cyclists must be "integral to the process".
Councillor Ciaran Cuffe said that a "visible and well-resourced walking and cycling unit must be at the heart of the BusConnects project".
He also said that transport users and landowners must be given an opportunity to have the views inform the planning process and called for congestion on the M50 to be addressed with high quality orbital bus routes "sooner rather than later in the process".