A Dubliner accused of murdering Gary Hutch on the Costa del Sol in September 2015 has claimed he was in bed with a hangover on the morning of the attack.
James Quinn, 36, is facing life imprisonment over the murder of Mr Hutch on 24 September 2015.
The defendant appeared before Judge Ernesto Carlos Manzano and a jury this afternoon at La Ciudad de la Justicia court in Malaga on the Costa del Sol.
Mr Quinn is accused of shooting the 34-year-old Dubliner 15 times in the chest and the head after allegedly chasing him around the Angel de Miraflores residential estate in Mijas.
Prosecuting counsel Jose Barba claimed that according to estate CCTV footage Mr Quinn had been hiding for more than two hours in a garage on the complex waiting for Mr Hutch.
The state prosecutor claimed the suspect can be seen wearing a baseball cap but changes to a balaclava shortly before an attack on Mr Hutch who was getting into his car.
Mr Barba argued: "This was not an argument in the heat of the moment."
He claimed Mr Quinn was hired as a hitman by an unknown person and pointed out the Dubliner's alleged involvement in organised crime.
He then allegedly chased Mr Hutch twice around the swimming pool in the complex.
After shooting at him a number of times, Mr Hutch lay "seriously injured and motionless, without any chance of defending himself". The attacker then approached Mr Hutch and shot him twice in the head.
The attacker fled through the back gate of the complex and took off with an unknown driver in a grey BMW X-3, which is believed to have been stolen.
Later that day, the BMW was found close to Marbella after it had been set on fire.
A third party intervened meaning evidence was found in the car, such as two hats, one that was completely charred and the other in good condition, on which Mr Quinn's DNA was later found.
Prosecutors allege Mr Quinn was armed with a 9mm Glock 26 semi-automatic pistol whose serial number had been erased and a .45 semi-automatic COLT 1911 pistol. It is believed he did not have a gun licence.
It was revealed that the guns believed to have been used to kill Mr Hutch were found positive with Mr Quinn's DNA, during a search of the apartment where he was allegedly staying in Benahavis near Marbella some months later.
The defendant said he had no idea how his DNA had got there. The "only explanation" he could offer was perhaps his clothes had mistakenly brushed against the gun, spreading his DNA.
Mr Quinn claimed on the morning of the attack he was "in bed with a hangover" after attending a wedding the night before.
Mr Barba interrogated the defendant asking why, after two years, he did not have an alibi.
"I didn't want to implicate anyone," he responded.
The defendant said he and Mr Hutch had met at a boxing club on the Costa del Sol where they both trained.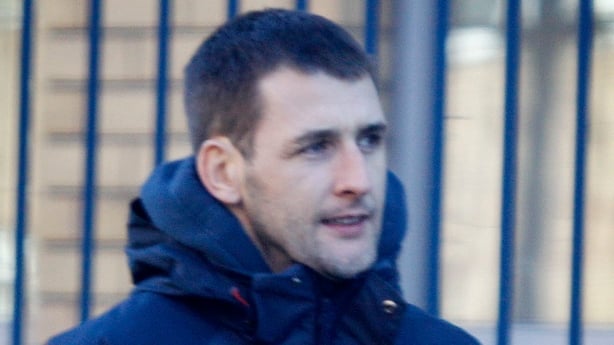 "We were associated but we weren't best friends," added the defendant, who said he did not know what Mr Hutch did as a job.
The trial revolved around three key pieces of evidence – the BMW getaway car set on fire later, the cap with Mr Quinn's DNA, and CCTV footage from the residential estate.
Defence counsel Pedro Apalategui pointed out that if the car was "completely burnt", as police officers wrote in reports when they found the car, it was difficult to understand how the "famous" and "indestructible" hat escaped the flames looking as good as new.
"Out of all of the objects in the car, how was only the hat saved?" he questioned. He pointed out that even two years later, it was still unknown who else was in the car that day.
A police official testifying behind a door responded that some parts of the car were less burnt than others.
Another police officer and an administrator for the estate CCTV also testified anonymously behind doors.
Mr Apalategui also asked for Judge Manzano to consider previous charges against Mr Quinn in Ireland, such as driving without insurance, as they are considered much less serious.
The court heard how the accused has been "living the high life" on the Costa del Sol, owning a €100,000 yacht, with trips to Thailand and Dubai, "despite having no known job or means of sustenance".
Mr Quinn claimed he had been paid "cash in hand", through renting yachts and tables at exclusive clubs in Puerto Banus. He insisted he had no link whatsoever to the Kinahan clan.
He also claimed he did not own the aforementioned yacht, but instead said he and a friend had put down a small deposit of €10,000, but could not afford the full amount and did not go through with the purchase.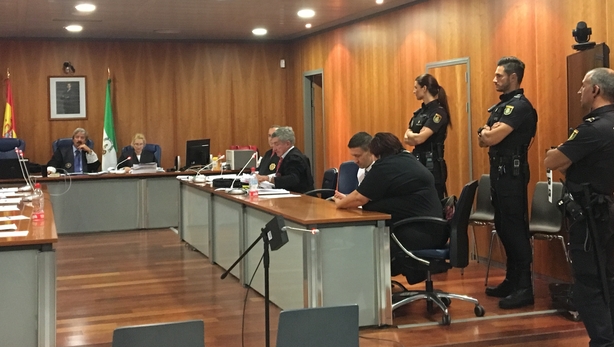 The high-security trial saw six Civil Guard officers gathered outside the court room shortly before the trial began, who revealed they were there for the defendant's safety.
Inside the court room, Mr Quinn was closely guarded by three National Police officers throughout the duration of the trial.
Mr Quinn was arrested at Madrid Barajas airport on 24 September 2016 under an official operation codenamed Geraneo, meaning Geranium.
If Mr Quinn is found guilty, he will become only the second person to receive a 'revisable' life imprisonment sentence in Spain, since its return to a democratic state in 1975.
We need your consent to load this rte-player contentWe use rte-player to manage extra content that can set cookies on your device and collect data about your activity. Please review their details and accept them to load the content.Manage Preferences