A journalist with the Irish Sun has told the Disclosures Tribunal that she was never negatively briefed by the former head of the Garda Press Office Supt David Taylor against Sgt Maurice McCabe, and would not have allowed herself to be used in a smear campaign.
Eavan Murray is one of 11 journalists named by Supt Taylor as people he claims to have briefed negatively about the whistleblower.
Ms Murray is also one of three journalists who visited the family home of Ms D in 2014.
Ms D made an allegation against Sgt McCabe in 2006, which was dismissed by the Director of Public Prosecutions.
Today, Ms Murray told the tribunal that she was not negatively briefed against Sgt McCabe and that Supt Taylor had never informed her of the investigation into the 2006 allegation.
She said she had heard from an individual in early 2014 that an allegation had been made against Sgt McCabe, but said there was not a lot of detail.
Ms Murray also said she did not discuss with Supt Taylor beforehand the fact that she was intending to visit the D family home.
Supt Taylor has told the tribunal that Ms Murray contacted him to inform him she was going to do a story before she went.
Ms Murray said she was assigned to visit the D family by her editor in the Irish Daily Sun after the newspaper became aware that journalist Paul Williams was intending to write a story about Ms D for the Irish Independent.
Ms Murray said she believed she went to the house a few days after Mr Williams had been there in March 2014, and spoke to members of the D family, however she did not meet Ms D.
The D family's position is that Ms Murray visited their home before Mr Williams.
Ms Murray said she told her editors after the visit that there was no story that could be published.
Lawyers for the tribunal put it to Ms Murray that she did not volunteer any information about her visit to the tribunal until after the inquiry had found out about it.
Ms Murray said there was fear at the time, and it was counter-intuitive to her to comment on a source.
She told the tribunal she had met Supt Taylor in February this year to try to find out if he had named her as one of the journalists he briefed, but said he did not tell her this.
She said her fear had been that Supt Taylor would use the fact that the D family had named her in evidence to bolster his own story, and she said she had been correct.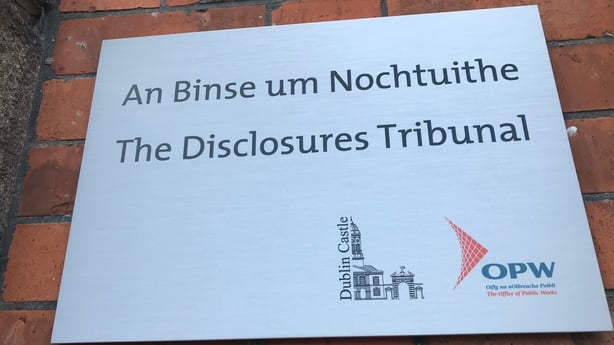 Supt Taylor has said he met Ms Murray, but that they did not discuss the tribunal.
Lawyers for the tribunal asked Ms Murray why, if the superintendent had not engaged in a smear campaign, she could not have come to the tribunal earlier to tell them that.
Ms Murray said she wished now that she had done so.
The journalist told the tribunal she spoke to Supt Taylor a number of days after the visit to the D home.
Ms Murray said Supt Taylor had been complaining about comments made by then Minister for Transport Leo Varadkar about the whistleblowers, and she had then raised the matter of the allegation against Sgt McCabe.
She said she told Supt Taylor that she had met the D family and that the allegation in question was very minor.
Counsel for Supt Taylor, John Ferry, put it to Ms Murray that it was absurd to suggest that she would bring up the visit to the D home with the garda press officer unless there had been some prior discussion about it.
She said it was not absurd and it was the truth.
Mr Ferry put it to Ms Murray that prior to going to the house she had a number of phone contacts with Supt Taylor.
Ms Murray said most of the calls in question were short and not of significance.
Mr Ferry put it to Ms Murray that she had been in the middle of a smear campaign in 2014 when she had first heard a snippet of information about an allegation against Sgt McCabe, and was then sent up to Ms D's home to pursue a story.
Ms Murray said she had had gone to the home and found out as much as she possibly could, that she did not publish anything and was not part of a smear campaign.
Sunday Times journalist appears before tribunal
Earlier, Sunday Times security correspondent John Mooney told the tribunal that he was not negatively briefed by Supt Taylor, or any member of An Garda Síochána.
Supt Taylor also named Mr Mooney as one of the 11 journalists he alleges he negatively briefed about Sgt McCabe.
Mr Mooney said that most of his communications with Supt Taylor involved legal threats against him, which meant he was not suitable fodder for a smear campaign.
He said he could not go into details of conversations he had with Supt Taylor, but he said any contacts would have been professional in nature.
The journalist named Sgt McCabe in the Sunday Times in 2010 as a sergeant who had made allegations of poor policing in Cavan-Monaghan division.
Mr Mooney said that afterwards, someone who was not a garda, made a fleeting reference to an allegation against Sgt McCabe.
He said that he just parked the issue as it was not in the public interest and the story and the background did not make the threshold for publication.
Mr Mooney said that when he read articles by Mr Williams in 2014, he suspected they were about Sgt McCabe but he said he felt the matters were not for public consumption and he said they did not meet the public interest threshold for the Sunday Times.
Sgt McCabe's lawyer, Michael McDowell, asked him about a radio interview he did on Northern Sound on 26 April, 2016 when the presenter suggested to him that he had seen the O'Higgins Commission report.
This was two weeks before the report was published.
Mr Mooney said it was not appropriate for him to say where the information came from.
He also said he had heard "catty" remarks about Sgt McCabe but that was it and he said it was never suggested to him that the sergeant had a grievance.
Additional reporting: Sandra Hurley