The Government has announced a plan to double the country's international presence by 2025.
Global Ireland 2025 will lead to the expansion of Ireland's embassies and increase the promotion of arts and culture overseas.
Government agencies such as IDA Ireland and Enterprise Ireland will also be centrally involved in the new initiative.
The plan aims to improve Ireland's position for building alliances in a post-Brexit EU.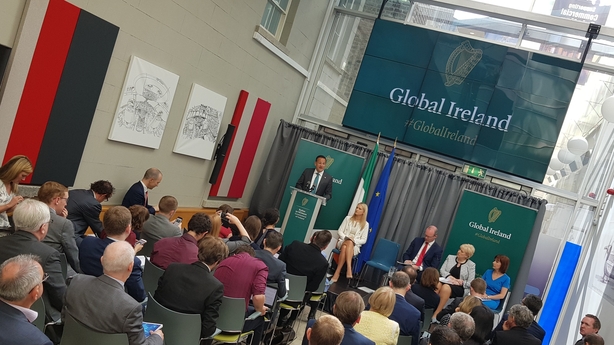 Seven new embassies or consulates will open in Cardiff, Frankfurt, Kiev, Manila, Rabat, Monrovia and Los Angeles.
There will also be an emphasis on helping to maintain a good relationship with the UK in the future.
Furthermore, Ireland will reaffirm a commitment to deliver 0.7% of Gross National Income to development assistance by 2030.
Taoiseach Leo Varadkar has said that geopolitical and economic power is shifting south and east and the global trading environment is experiencing a period of turbulence.
Mr Varadkar said such challenges require new and comprehensive responses.
The Government's Global 2025 plan also contains a commitment that Ireland will spend up to €2.5bn annually on overseas aid by 2030.
Separately, the Taoiseach said that more movement will be required from the UK government on the Irish border issue ahead of upcoming European Summit.
Speaking at the event, Mr Varadkar said the latest proposals did not deal adequately with regulatory alignment and the deadline mentioned in the text of last week's Technical Note was not acceptable.
He said the Government's position had not softened but the deadline for agreeing the UK's withdrawal terms from the EU is October.
While he said this country was making ongoing plans for a hard Brexit, this does not include planning for a border with Northern Ireland.
"We are not going to prepare for a hard border on the island of Ireland because that will never happen," Mr Varadkar said.