RTÉ broadcaster Philip Boucher-Hayes has told the Disclosures Tribunal that former garda commissioner Martin Callinan told him that garda whistleblower Sgt Maurice McCabe was motivated by a set of grievances and had psychological and psychiatric issues.
Mr Callinan has denied making the comments.
Mr Boucher-Hayes said the remarks were made in a private conversation in a corridor outside RTÉ studios, ahead of an appearance by Mr Callinan on a Crimecall programme on 17 December 2013.
He said there had been disagreement before the programme with the garda team about the questions for Mr Callinan, and that the message from Phoenix Park was "hell will freeze over before Callinan answers questions on penalty points".
Mr Boucher-Hayes said that when Mr Callinan arrived, there was a febrile, very hostile and pressurised environment with shouting.
He said Mr Callinan also told him that Sgt McCabe was a troubled individual and that there were worse things he could say about him, the worst kind of things.
Mr Callinan has told the Tribunal that he did not speak at some length on Sgt McCabe's character. In his evidence, the former commissioner said they were very strong allegations and they were untrue.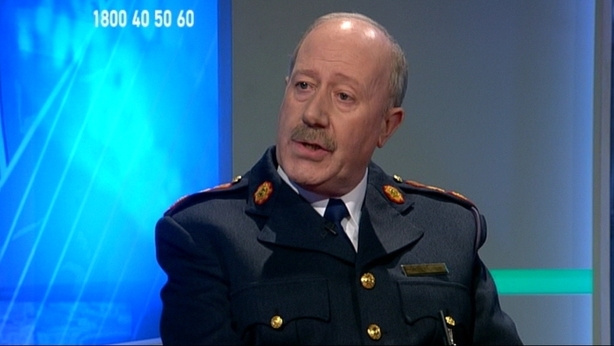 Mr Boucher-Hayes said he felt the alleged comments were a smokescreen to avoid answering questions on penalty points, and he believed the former commissioner was a reluctant interviewee, trying to wriggle out of the issue.
He said he told co-presenter Gráinne Seoige, an RTÉ producer, and Crimecall's commissioning editor about the conversation.
He also said he came forward to volunteer the information to the tribunal because the inquiry had asked for information.
Mr Boucher-Hayes said that former Garda Press Officer Supt David Taylor "buttonholed him" after the conversation with Mr Callinan and said, "now do you understand the issue with Sgt McCabe".
Supt Taylor has said he does not recollect mentioning Sgt McCabe but if he did, it was in context of the penalty points issue.
Under cross-examination by counsel for the former garda commissioner, Mr Boucher-Hayes said he told Sgt McCabe about the alleged remarks in summer 2014.
Asked why he did not include that in his tribunal statement, Mr Boucher-Hayes said he did not think it was related to the inquiry's terms of reference.
Mr Callinan's lawyer suggested to Mr Boucher-Hayes that a top cop telling him horrendous things would have been a significant story.
Mr Boucher-Hayes said he did not think it was a newsworthy story, because it was not a story, it was a malicious and unsubstantiated allegation.
Counsel for Mr Callinan, Noel Whelan, put it to Mr Boucher-Hayes that he was giving an account to the tribunal over three years after the conversation, and that his account was inevitably shaped by the suggestion of Mr Callinan's involvement in a smear campaign which had been in the public and media ether.
Mr Boucher-Hayes said he had no earthly reason for either making anything up or withholding anything from the tribunal.
Asked again about why he did not broadcast a story about the conversation with Mr Callinan, Mr Boucher-Hayes said to do so would have been irresponsible and would have cast a shadow over Sgt McCabe and his children for the rest of their lives.
Mr Boucher-Hayes agreed with the suggestion from his own counsel, Seán Gillane,that to broadcast such a story would have on a good day bring himself the biggest defamation case in history, and on a bad day would have destroyed a person's life.
The journalist also said he has no issue with the tribunal contacting the three people who he says he spoke to about the conversation with Mr Callinan.
The tribunal has now adjourned proceedings until next Tuesday.
Charleton appeals to 'patriotic duty' for evidence
Earlier the Chair of the Disclosures Tribunal has said there is a patriotic duty on any person who knows anything that may assist the inquiry's work to come forward.
Opening proceedings this morning, Mr Justice Peter Charleton said it was necessary to reiterate a call for people to come forward with information, as the tribunal was coming to an end.
The tribunal, which is examining an allegation of a smear campaign against Sgt McCabe, is scheduled to finish hearing evidence by the middle of June.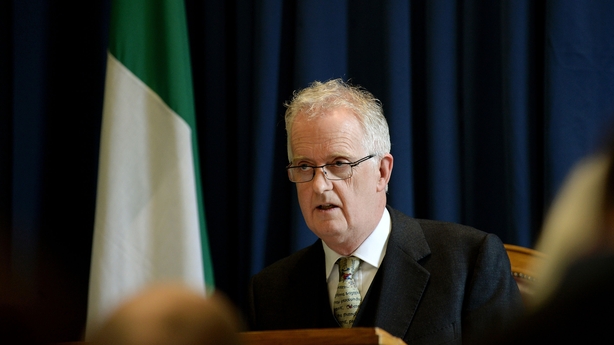 Yesterday Irish Daily Mail journalist Alison O'Reilly said she had a conversation with a colleague, Irish Mail on Sunday journalist Debbie McCann, in late-2013 about penalty points, during which Ms McCann said Sgt McCabe was a child abuser.
Today lawyers for Ms McCann told the tribunal that she says she raised the issue of penalty points during a news conference, but Sgt McCabe was not referenced during that discussion.
Counsel for Ms McCann, Hugh Mohan, said Ms McCann acknowledges that she had discussions with Ms O'Reilly about Sgt McCabe from early 2014 on, however he said Ms McCann disputes the suggestion that she said in blunt or categoric terms that the sergeant was a child abuser.
Ms O'Reilly said Ms McCann had discussed it with her for a long time and had used derogatory terms when speaking about Sgt McCabe.
Mr Mohan said Ms McCann denies saying that Supt Taylor told her in reference to 'Ms D', that she was in a bad way.
'Ms D' brought an allegation against Sgt McCabe in 2006 which was dismissed by the Director of Public Prosecutions as not constituting a crime.
The tribunal has heard that Ms McCann visited the 'D' family home in 2014 with a view to writing an article, and spoke briefly to Ms D's mother.
Mr Mohan said Ms McCann categorically denies telling Ms O'Reilly that she interviewed 'Ms D'.
'Ms D' also says she never met or had any contact with Ms McCann.
Ms O'Reilly said she had a clear recollection of her conversation with Ms McCann about the matter and could only tell the tribunal what Ms McCann had told her.
The tribunal also heard that Ms McCann denies saying she got information about Sgt McCabe from Nóirín O'Sullivan.
Ms O'Sullivan denies giving any information to Ms McCann about Sgt McCabe.
Sunday Times journalist Justine McCarthy told the tribunal that she was told by another journalist that Sgt McCabe had been accused of sexually abusing a child.
Ms McCarthy said she was horrified when she heard it and she was utterly shocked. She said the impression was given that the accusation had not been investigated to conclusion.
Ms McCarthy did not name the journalist. She said the conversation was not accompanied by a negative briefing. She said she made her own enquiries and found out the DPP said no crime had been disclosed.
We need your consent to load this rte-player contentWe use rte-player to manage extra content that can set cookies on your device and collect data about your activity. Please review their details and accept them to load the content.Manage Preferences
She was also questioned about a column she wrote about the alleged smear campaign where she said journalists had a duty to name names.
Ms McCarthy agreed that there was a significant public interest in determining whether such a campaign existed.
Journalist and DCU Professor Colum Kenny told the tribunal that two journalists told him in early 2014 that Sgt McCabe was under investigation for child abuse.
Mr Kenny told the tribunal that he formed the impression from the comments that the investigation was an ongoing matter.
He said he felt he was being told to cop himself on and that Sgt McCabe was a person who should not be taken at face value.
Mr Kenny did not name the journalists. However he said the two were security journalists, and that one of them was a broadcast journalist who worked for the national broadcaster.
Following a discussion with Mr Justice Charleton, it was decided that Mr Kenny would inform the tribunal investigators of the names of the individuals so that the tribunal could write to them.
Mr Kenny said he believed the two journalists were putting him right in relation to the matter, and he said he did not think they set out to rubbish Sgt McCabe's character in any general sense.
The tribunal heard Mr Kenny spoke to Sgt McCabe about the claim and satisfied himself that the comment was not true.
Mr Kenny also told the Tribunal that he had written to the Minister for Justice last year to ask that two matters be included in the terms of reference for the Inquiry, one of which was an RTÉ News piece on a then unpublished Garda Inspectorate Report into penalty points in March 2014.
Mr Kenny said he believed that the piece was a clear example of spin that was unfavourable to Sgt McCabe.
He said he was not convinced that RTÉ had seen the entire Garda Inspectorate report at the time and that he asked about this but that RTÉ had declined to tell him.
Seán Gillane, Counsel for RTÉ, put it to Mr Kenny that the news broadcast by crime correspondent Paul Reynolds on 11 March 2014 said the Garda Inspectorate Report was highly critical of An Garda Síochána and ended by saying that the whistleblowers had been vindicated by it.
Mr Kenny was also asked about his opinion on the issue of journalistic privilege and source confidentiality.
Mr Kenny told the tribunal he could not see any circumstances in which a journalist could correctly claim privilege in relation to a source who admitted spreading a story which was untrue or an effort to malign someone and who had waived confidentiality.
He said he agreed with a European court ruling that a waiver of confidentiality was not a determinant of a journalist claiming privilege and said the situation had to be looked at in the round.
Additional reporting: Sinead Morris