Former garda commissioner Martin Callinan has denied that he was trying to blacken the character of whistleblower Sergeant Maurice McCabe.
Mr Callinan is giving evidence to the Disclosures Tribunal, which is examining the claim made by Supt Taylor, the former garda press officer, that Mr Callinan instructed him to brief the media negatively against Sgt McCabe, and that this was done with the knowledge of Nóirín O'Sullivan.
Mr Callinan and Ms O'Sullivan deny the claim.
Mr Callinan denied telling several individuals that Sgt McCabe could not be trusted and was a child abuser.
Two TDs - John McGuinness and John Deasy - the Comptroller and Auditor General, Seamus McCarthy, and RTÉ broadcaster Philip Boucher-Hayes have told the inquiry that Mr Callinan warned them off the whistleblower.
Mr Callinan said he had a clear recollection of the conversations. "I can only give you my version, but I'm telling the truth and I intend to tell the truth," he said.
Mr Boucher-Hayes has told the tribunal that Mr Callinan said to him that Sgt McCabe had psychological and psychiatric issues and was motivated by a set of grievances with garda management.
Mr Callinan denied saying that and he said he had a clear recollection of the conversation in the corridor of RTÉ.
He was also questioned by counsel for the tribunal, Patrick Marrinan, about his conversations with solicitor Gerard Kean on 26 January 2014 in advance of Mr Kean's appearance on RTÉ's Marian Finucane show.
Mr Kean's comments on the programme about Sgt McCabe gave rise to a legal action by the sergeant taken against RTÉ and Mr Kean.
Mr Callinan denied telling Mr Kean that Sgt McCabe was troublesome, obstructive and difficult.
We need your consent to load this rte-player contentWe use rte-player to manage extra content that can set cookies on your device and collect data about your activity. Please review their details and accept them to load the content.Manage Preferences
He also denied saying that two garda whistleblowers had not engaged with the internal garda inquiry on penalty points.
He said that if Mr Kean had stuck to the replies he had given him, then the solicitor might be in a different position.
Mr Callinan said the interaction was not his finest hour and he said it was not appropriate but he said he did not talk about Sgt McCabe in a personalised manner.
He said the solicitor was an extensive talker and most of the conversation was about celebrities, parties and gardaí in Cork and he said Mr Kean was "all over the place".
He also said it was wholly inappropriate for him to help Mr Kean respond to a complaint from Sgt McCabe's solicitor.
Mr Callinan said that with hindsight he would have done things differently.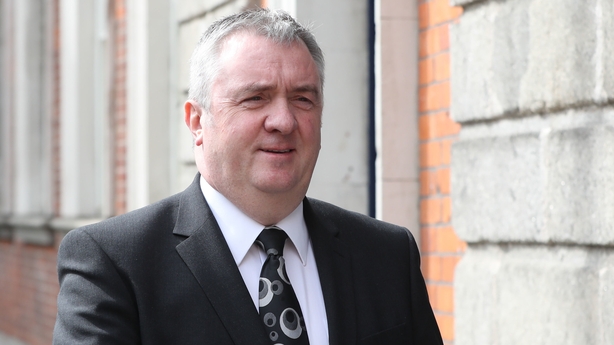 Earlier, Mr Callinan said he believed that Superintendent Dave Taylor made an allegation about a smear campaign against whistleblower Sgt McCabe because he bore a grudge against Ms O'Sullivan and wanted to bring her down.
Mr Callinan told the tribunal that Supt Taylor had told him during a conversation after the commissioner's retirement in 2014, that he was disappointed and angry about being transferred out of the Garda Press Office by Ms O'Sullivan, and Supt Taylor saw it as detrimental to his career.
Mr Callinan also said that Supt Taylor told him on one occasion that he believed Ms O'Sullivan was responsible for his arrest in 2015 in relation to a criminal investigation into the unauthorised release of information, and that Supt Taylor said he would bring her down.
Lawyers for the tribunal put it to Mr Callinan that he was the primary target of Supt Taylor's allegation.
Mr Callinan said he believed that in order for the story to work Supt Taylor had to involve him in the process.
The former commissioner was also asked about a conversation he had with then justice minister Alan Shatter in June 2013 when Mr Callinan told Mr Shatter about a 2006 allegation against Sgt McCabe, which was dismissed by the DPP.
Mr Callinan said he was asked by Mr Shatter if there was anything about Sgt McCabe in the background that he should be aware of, and Mr Callinan said he felt he had a statutory duty to inform the former justice minister.
Mr Callinan said he did not convey that this allegation was a catalyst for Sgt McCabe's complaints about penalty points and policing, and he was not linking any mala fides to Sgt McCabe.
"Reports on McCabe and retired Garda John Wilson"
This afternoon, the tribunal heard that reference to the motivation of the garda whistleblowers was contained in notes relating to meetings held in preparation for Mr Callinan's appearance before the Public Accounts Committee in January 2014.
The tribunal also heard that a document entitled "Reports on McCabe and retired Garda John Wilson", which included a reference to the 2006 allegation against Sgt McCabe, appeared to have been included in a pack of documents circulated as part of the pre-PAC meetings process.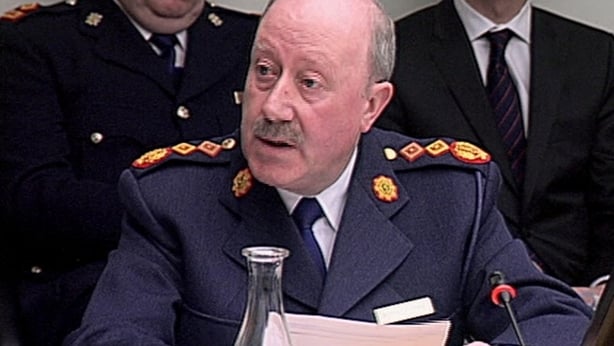 Mr Callinan told the tribunal that he did not recall that information being included in the material for the meetings, and had not seen the document before.
Counsel for the tribunal, Patrick Marrinan, asked Mr Callinan why there would have been any discussion of the motivation of the whistleblowers and the allegation against Sgt McCabe.
Mr Callinan said he did not recall any discussion about these matters, however he acknowledged there may have been mention of them.
Another note included draft potential questions that might be put to Mr Callinan about the penalty points controversy.
One of the draft questions was about Mr Callinan's view of the integrity of Sgt McCabe.
Mr Callinan said he would not discuss the integrity of any member of An Garda Síochána in a committee.
'Disgusting' comment made before the Public Accounts Committee
Mr Callinan told the tribunal that his "disgusting" comment made at the Public Accounts Committee had been isolated and misconstrued.
He said he did not refer to the whistleblowers themselves as "disgusting" but that it was a reference to the manner in which the issues were being highlighted.
Mr Callinan said it was a very strong term and he had strong feelings in that regard. Mr Callinan said the comment had been isolated and misconstrued with miles of articles published pillorying him for it.
He said Sgt McCabe rightly reported what he saw as wrongdoing and that he was seen to be correct on quite a number of issues, and it would be hypocritical of him to come in and say otherwise.
He was asked why he did not apologise afterwards and he said he felt he would be seen as making excuses and it would just fan the controversy.
The tribunal has concluded hearing evidence today and will return with further questioning of Mr Callinan on Monday.
Additional reporting Sinead Morris