Garda whistleblower Sergeant Maurice McCabe's lawyer has described a claim made about him in a submission to the O'Higgins Commission by the garda legal team in 2015 as scandalous and utterly unwarranted.
The Disclosures Tribunal has been hearing submissions on its investigation into whether the former garda commissioner Nóirín O'Sullivan inappropriately relied on unjustified grounds to discredit Sgt McCabe at the O'Higgins Inquiry.
The tribunal heard that a submission to the O'Higgins Inquiry by the garda legal team in June 2015 stated that matters relating to a complaint by Sgt McCabe about a policing issue should be seen in the context of his response to an investigation into an allegation against him.
Counsel for Sgt McCabe, Michael McDowell, said this suggestion was scandalous and utterly unwarranted.
He described the submission as utterly erroneous and deeply damaging.
Mr McDowell also said a letter submitted by the garda legal team in May 2015, which stated incorrectly that Sgt McCabe had made a complaint against a senior officer to get something he wanted, was close to nonsense when viewed clinically in the clear light of day.
He submitted that the letter and submission by the garda legal team were a strategy to discredit Sgt McCabe.
Mr McDowell also said there was a chasm between the evidence of Ms O'Sullivan and the Garda Liaison Officer, Chief Superintendent Fergus Healy, about the request by Ms O'Sullivan's solicitor for an urgent consultation at the O'Higgins Commission in May 2015.
The tribunal has heard evidence from Annmarie Ryan of the Chief State Solicitor's Office that she requested a consultation after a row emerged over the garda legal strategy.
Chief Supt Healy has said he conveyed that request to Ms O'Sullivan but that she was not available.
However, Ms O'Sullivan said she never received such a request, and that if she had, she would have made herself available.
Mr McDowell said it was hard to see how Chief Supt Healy would have the motive to misrepresent the matter.
Opening his submission this morning, Mr McDowell said the tribunal should proceed on the basis that what was done at the O'Higgins Commission by lawyers for the former garda commissioner was done on the instruction of Ms O'Sullivan herself.
Sgt McCabe's lawyer also said the sergeant was treated differently at the private hearings of the O'Higgins inquiry than he would have been if it was a public inquiry.
Mr McDowell said the mere fact that the commission was held in private did not justify treating him differently.
He asked whether anyone would blow the whistle if they knew the blizzard they would walk into.
Lawyers for Ms O'Sullivan has said the controversy, which gave rise to the O'Higgins module of the tribunal, was without foundation and did not justify the amount of time spent investigating it.
Shane Murphy SC said there had been a stampede at political level, which was generated by selective leaks of transcripts from the O'Higgins inquiry.
He also quoted from a statement issued by Sgt McCabe in February 2017, which said that there were repeated attempts at O'Higgins to introduce the false rape allegation made against him. It has been accepted by the tribunal chairman that that did not happen.
Mr Murphy said that Sgt McCabe demanded perfection from everyone else but when the sergeant made an error, a different standard applied.
He said there was no dark truth that Ms O'Sullivan had sought to go after Sgt McCabe at the O'Higgins Commission, but he said that it was instead, an honest and sincere attempt to resolve matters and bring peace.
He said there was no criminality or deliberate plan to mislead Sgt McCabe at the O'Higgins Commission.
Mr Murphy said the overwhelming evidence of admitted errors in the letter of 18 May and the June submissions occurred innocently and because of the limited timeframe for preparations.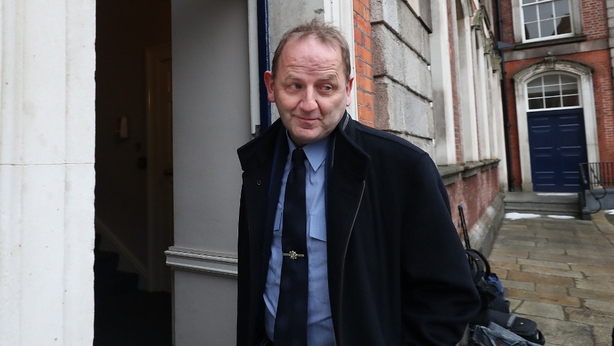 Tribunal chairman Mr Justice Peter Charleton said that he could not buy an explanation that an error incorrectly led to Sgt McCabe telling the inquiry that he had been shouted at the O'Higgins Commission by the garda counsel.
Sgt McCabe has apologised for the error in his statement to the tribunal, which said he had to ask Colm Smyth SC to stop shouting at him during the O'Higgins Commission hearings.
The tribunal has heard that the error was made in his solicitor's office.
Mr Charleton said that while it was suggested that this was included by mistake and a solicitor is taking responsibility, it was, he said, a big long narrative about shouting and he said he could not buy that it was included in error.
Mr McDowell said there were a number of occasions when Sgt McCabe requested Mr Smyth let him finish. Mr Charleton replied that the explanation made things worse.
Lawyer for the counsel who represented Ms O'Sullivan at the O'Higgins Commission said the cross-examination of Sgt McCabe was proper and respectful at all times.
Paul Sreenan SC said their instructions were to challenge Sgt McCabe's motivation and credibility but not his integrity.
He said integrity was raised by the commission itself.
He said that the phrases "malice", "not in good faith" and "dishonest" were emotive terms raised by the commission and counsel did not adopt them.
Mr Sreenan also said the withdrawn allegation made by Sgt McCabe that he was shouted at by Mr Smyth could not be properly regarded as a mistake made by someone in the sergeant's solicitor's office.
He said Sgt McCabe's tribunal statement from March 2017 referred to a pejorative and hostile tone adopted by Mr Smyth and called it a ferocious and highly adversarial attack.
The statement also said it led to the sergeant suffering a breakdown, leading to medical attention. The allegation was withdrawn earlier this week and Sgt McCabe apologised for its inclusion.
Mr Sreenan said it was withdrawn very late in the day and only after the tribunal had listened to and circulated audio tapes of the O'Higgins Commission.
He said that Sgt McCabe was shown to make and float false allegations, which were withdrawn at the last minute.
A lawyer for the Department of Justice and former minister Frances Fitzgerald told the tribunal that all officials and the minister acted lawfully, appropriately and commendably in leaving questions of strategy to the garda commissioner.
Patrick McCann SC said they left an appropriate distance between them.
He also spoke about a 14-minute phone call between former Department of Justice secretary general Noel Waters and Ms O'Sullivan on the afternoon a row broke out at the O'Higgins Commission.
Mr McCann said that, while the call came at a critical juncture, it was not known what was discussed, and while O'Higgins Commission matters may peripherally have been mentioned, hindsight should be avoided.
He also addressed an internal department email which emerged in November.
This led to the resignation of Ms Fitzgerald from cabinet.
Mr McCann said that entire chain of communication did not fall within the tribunal's terms of reference as it began with a solicitor at the Chief State Solicitor's Office.
He said the tribunal was only required to investigate communication between An Garda Síochána and State agencies.
Additional reporting by Sandra Hurley.