The United Nations Convention on the Rights of Persons with Disabilities has been ratified by the Dáil.
Disability groups and campaigners were in the gallery of the house to witness the ratification.
A document will now be sent to the United Nations in New York, where it will be formally ratified.
Ireland is the last of the 27 European Union states to ratify the convention, which was adopted by the UN in 2006.
It protects equal treatment for all people with disabilities with respect to human rights and fundamental freedoms.
The next step in the process will involve Tánaiste and Minister for Foreign Affairs Simon Coveney signing the Instrument of Ratification.
Once it is received by the UN, it will come into force after 30 days.
When he assumed the role as Minister with Responsibility for Disability Issues in 2016, Finian McGrath said ratification of the UN Convention on the Rights of Persons with Disabilities was a key priority.
Speaking in the Dáil tonight, he said the convention promotes, protects and ensures the full and equal enjoyment of all human rights and fundamental freedoms by all persons with disabilities.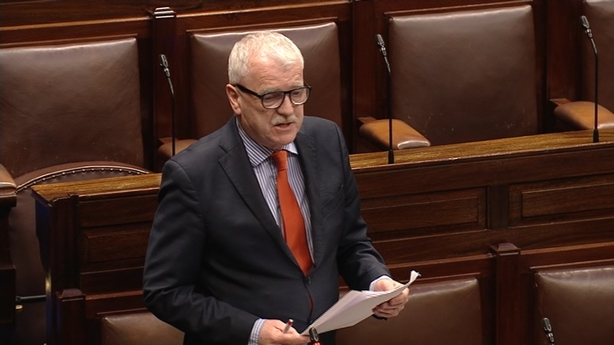 "In Ireland, we have strong equality legislation which prevents discrimination on the basis of disability, however people with disabilities are still only half as likely to be in employment as others of working age," he added.
He said that Ireland would demonstrate its commitment internationally in ensuring that people with disabilities are afforded every opportunity to realise their potential in all facets of their lives.
While the majority of TDs welcomed the motion, a number of opposition TDs expressed concern over the length of time it has taken to get to this point, given the convention was adopted by the UN in 2006.
Fianna Fáil Margaret Murphy O'Connor said that, while her party supported the motion, she warned ratification of the treaty alone would not end discrimination faced by those with disabilities.
She said that a shocking number of children with disabilities were waiting for assessment of needs and the numbers overdue an assessment had surged by 28%.
Admitting that she does not often commend the Government, Sinn Féin's health spokesperson Louise O'Reilly said that commendation is warranted tonight.
She said that, while ratification is welcome, it is only the first step and a measure of its delivery will be in its implementation.