Garda whistleblower Sergeant Maurice McCabe has told the Disclosures Tribunal he was told that former garda commissioner Martin Callinan told Fianna Fáil TD John McGuinness that Sgt McCabe had abused his own children and his nieces, and was not to be trusted.
Sgt McCabe became emotional during evidence this afternoon when he was asked about a meeting he had with Mr McGuinness in May 2016.
The tribunal, chaired by Mr Justice Peter Charleton, was established to investigate allegations that there was an organised campaign against whistleblowers at the highest levels of An Garda Síochána.
Sgt McCabe said that during his meeting the politician told him about a conversation he had had with Mr Callinan in a car in the car park of the Red Cow Hotel in 2014.
He said Mr McGuinness told him that Mr Callinan had made these comments about the whistleblower during the conversation.
It is understood that Mr Callinan denies the account of the meeting with Mr McGuinness but accepts that the meeting took place.
Sgt McCabe also told the tribunal that during a meeting with Superintendent David Taylor, formerly of the Garda Press Office, Supt Taylor told the whistleblower that he had destroyed him.
The garda described meeting Supt Taylor at his house with his wife while Supt Taylor had been temporarily suspended in September 2016.
Sgt McCabe said Supt Taylor told him there had been an orchestrated campaign that took the form of whispers, phone calls and text messages, and that he was ordered to do this on the authority of Mr Callinan.
The tribunal heard that Supt Taylor said he sent hundreds of text messages in relation to Sgt McCabe.
Supt Taylor said he was encouraged by Mr Callinan to spread rumours about him, including the fact that he had been investigated for sexual assault.
The tribunal heard that Supt Taylor said that when Sgt McCabe was in the news Mr Callinan would compile a text message and send it to the superintendent, who would then send it on to others, including senior gardaí, journalists and politicians.
---
As it happened: Disclosures Tribunal updates
Follow RTÉ reporters on Twitter Sandra Hurley | Sinead Morris | Katie Hannon
---
Sgt McCabe also said that Supt Taylor told him that there was an intelligence file on Sgt McCabe in Garda Headquarters, and that there was an individual designated to monitor his activity on the PULSE system.
Asked how he felt on hearing the information from Supt Taylor, Sgt McCabe said he was furious, and that all Supt Taylor had had to do was to say no.
Asked about former garda commissioner Nóirín O'Sullivan's role in the alleged campaign, Sgt McCabe told the tribunal that Supt Taylor had said Ms O'Sullivan was "the pusher" and had known everything that was going on.
Sgt McCabe was visibly upset as he gave evidence in relation to his meeting with Supt Taylor.
Mr Callinan denies the allegations of a smear campaign against Sgt McCabe.
We need your consent to load this rte-player contentWe use rte-player to manage extra content that can set cookies on your device and collect data about your activity. Please review their details and accept them to load the content.Manage Preferences
In a protected disclosure, Supt Taylor rejected the suggestion that he had sent text messages about Sgt McCabe.
He said the information was spread through word of mouth.
Earlier, Sgt McCabe said the culture in An Garda Síochána meant that it was extremely hard to speak out.
He told the tribunal that he was certainly isolated and alone.
Sgt McCabe said an element would blank him and there were often places where he was not welcome.
He also said he had received supportive letters and emails from members of the public and had got no hate mail.
He said there were some gardaí, particularly in the traffic corps in Mullingar, who treated him 100%.
Sgt McCabe also confirmed that a report prepared by a superintendent of their meeting in Mullingar in August 2008 accurately reflected their encounter.
Sgt McCabe met Superintendent Noel Cunningham and Sergeant Yvonne Martin to discuss complaints he had made about a colleague, Mr D.
The tribunal was shown part of the transcript of a tape of the encounter made by Sgt McCabe.
Counsel for the tribunal asked Sgt McCabe whether it was fair to say that Supt Cunningham's report of the meeting reflected the position. Sgt McCabe agreed that it was fair to say.
Sgt McCabe said the meeting came about to discuss a document he had submitted to Superintendent Michael Clancy at the superintendent's request.
He said the superintendent had asked him to outline his issues with Mr D and his family so a case could be made to share the DPP directions with them.
Mr Justice Charleton asked him to clarify whether the request to share the DPP directions came from himself or from Supt Clancy.
Sgt McCabe said it came from Supt Clancy and he just wanted the issues to go away and he did not want to make complaints against the D family.
Sgt McCabe also said the response of a divisional chief superintendent following an internal garda investigation into his complaints of malpractice was "a kick in the teeth".
The tribunal heard 11 out of 42 of his complaints were upheld.
Chief Superintendent Colm Rooney issued a circular congratulating all members in Bailieboro, saying the report vindicated the station's high standards and professionalism.
In his evidence to the tribunal, CS Rooney apologised for his response.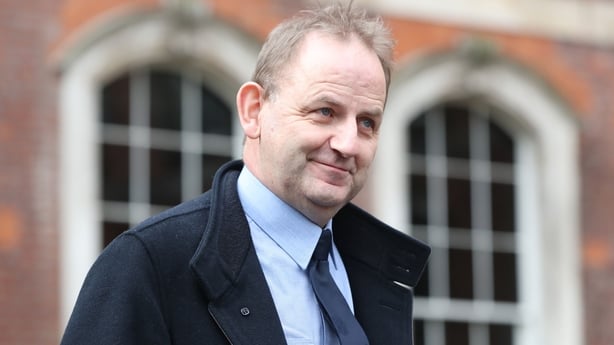 Allegation 'ruined my life'
The tribunal saw a copy of a letter sent by Sgt McCabe to Supt Clancy on 25 February 2008 about issues he had with Mr D following the investigation.
In the letter, Sgt McCabe stated that he was married with five children and the allegation had ruined his life forever.
He said he was a completely changed person and did not trust anyone anymore.
Sgt McCabe told the tribunal that he was asked by Supt Clancy to prepare a document in relation to the issues he had with Mr D following the investigation.
He said Supt Clancy had asked him to put a good case forward, and Supt Clancy said he would do what he was able to do.
Sgt McCabe was asked if this suggested that he was not happy with the DPP directions in the case, however he said he was completely happy with the directions.
Sgt McCabe has said when he saw a series of articles by Irish Independent Journalist Paul Williams in 2014 in relation to the Miss D allegation made against him he felt it was "payback" for his efforts to draw attention to the penalty points controversy.
The articles dealt with the allegation made by Miss D, which was later dismissed by the DPP as not constituting a crime. The reports did not identify Sgt McCabe or Miss D.
Sgt McCabe told the Disclosures Tribunal it was awful when he saw the reports as he had been cleared completely and he should have been left alone.
He agreed it was strange that the articles appeared at the height of his involvement in trying to highlight problems in relation to penalty points.
Sgt McCabe said he knew it was in relation to what he was doing about the penalty points issue and it was hurtful.
Sgt McCabe was also asked about his reaction to comments made by Mr Callinan at the Public Accounts Committee meeting in January 2014, when he described the actions of the whistleblowers in relation to the penalty points issue as "disgusting".
Sgt McCabe told the tribunal that if he was to do it all again he would never highlight the penalty points issue.
He said after Mr Callinan's comment at the committee the floodgates were opened. He said it was extremely hard to take.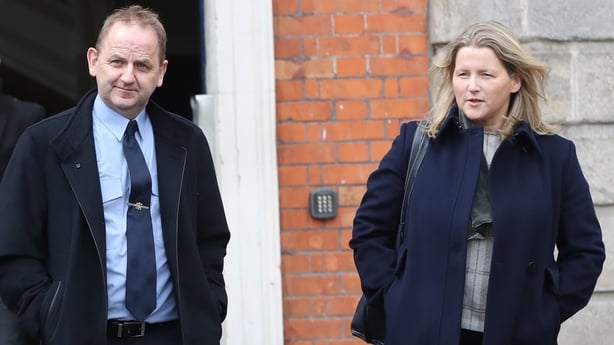 The tribunal also heard that an RTÉ News report by Paul Reynolds in early 2014 stated that Commissioner Callinan had said that Sgt McCabe had refused to meet Assistant Garda Commissioner John O'Mahony, who was investigating the penalty points issue.
Sgt McCabe said that was not correct.
The tribunal heard that Assistant Commissioner O'Mahony never made any arrangement to meet Sgt McCabe during his investigation.
Asked why he did not seek a meeting himself, Sgt McCabe said he was waiting for Assistant Commissioner O'Mahony to approach him.
He said after the investigation report was published, he contacted Assistant Commissioner O'Mahony and asked him why he had not interviewed him.
Sgt McCabe said it was horrific and incredible to be accused of raping a child. He found out about the allegation when he opened a letter from Tusla in January 2016.
He said the original allegation of assault made by Ms D was a life-changing matter but to be falsely accused of rape was incredible and "horrific".
He said that when he opened the letter, he did not know what to do but he contacted his legal team. He said Tusla did not admit the error for six months.
On the O'Higgins Commission, Sgt McCabe said he was being attacked in every module and was being blamed for everything. He said he got all the horrible questions.
He said he was thrilled with the DPP directions, so he would not wish to challenge them or clarify them, as the commission had heard.
Mr Justice Peter Charleton asked if Sgt McCabe felt Nóirín O'Sullivan had "inappropriately relied" on material at the commission.
Sgt McCabe said that was the question and her counsel said a letter containing false information submitted to the inquiry was done on her instructions. He said that letter was incredible.
He was also asked about an RTÉ broadcast on a leaked copy of the O'Higgins report. This is also being investigated by the tribunal.
Sgt McCabe said he did not like the broadcast as he felt it was "one-way" and not balanced. He rang RTÉ and was told they were standing over the broadcast.
He said he was later told by Garda Executive Head of HR John Barrett that the leak would have come from "block one - Garda HQ" meaning Ms O'Sullivan's office.
In response to Mr Charleton, he said he did not have evidence to support this.
His lawyer, Michael McDowell, said Sgt McCabe would not have evidence on this and he said they would submit that the report was leaked to RTÉ with accompanying documentation to take a particular line.
Additional reporting Sinead Morris