A Status Orange snow and ice warning will remain in place for much of the country until midday on Sunday, as lying snow and ice make many roads and paths treacherous.
A Status Yellow snow and ice warning is also in place for Connacht and Donegal and will also remain in place until midday on Sunday.
Earlier, Met Éireann downgraded its Status Red weather warning to Orange for Munster, Leinster, Cavan and Monaghan.
In a statement this evening, the Chairman of the The National Emergency Coordination Group, Sean Hogan, said conditions are changing as forecast.
He said temperatures are rising, but the south-east is the worst affected area.
ESB Networks say around 9,000 customers, prodominantly in south Co Wexford, are still without power. It's hoped that supply will be restored by tomorrow evening.
Mr Hogan also said this evening that 13,000 customers are without water and again Wexford is the worst affected county with 5,000 customers in the Gorey area without supply.
Irish Water has said that reservoirs - particularly in Meath, Louth, Dublin and Cork - are running low due to unusually high demand.
This has resulted in water restrictions in some areas and Irish Water is again appealing to people to conserve water.
---
Read more:
---
As expected, rain has begun to spread from the south and this has started the melting process, meaning flooding could occur in some areas.
Mr Hogan said that the main concern is for small steep catchment areas rather than major rivers.
He said the road situation improving by the hour; the motorway network is virtually clear with the exception of a few black spots. The Office of Public Works is now working to clear secondary roads.
Public transport is also slowly returning to normal. Bus Eireann is now operating in all cities with the exception of Waterford. However, buses are not running to schedule so intending passengers are being advised to check for updates.
Iarnród Éireann says full services are set to resume on the vast majority of routes tomorow, but Connolly to Rosslare, M3 to Clonsilla, Limerick to Ballybrophy via Nenagh remain suspended and are expected to return on Monday.
In Dublin, the DART is back up and running while the Luas Green Line is not in operation. However the Red Line is operating from the Point to the Red Cow.
Dublin Bus is running with roughly half their fleet. Not all routes are in operation yet.
All airports are open with bus connections, but intending passengers are being urged to check with their airlines for updates.
Some ferry crossings are still affected by delays and cancellations.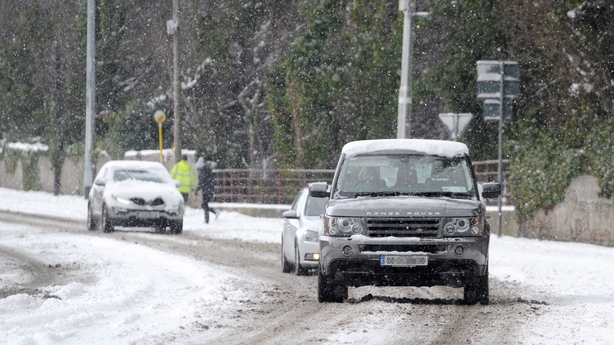 The Irish Coast Guard and the RNLI have issued a joint call for people to exercise caution and remain vigilant around the coast and near rivers.
High tides, onshore easterly winds and a sharp rise in river levels could pose a significant risk to public safety, they advised.
This evening, some tidal water spilled onto the quays in Cork for around half an hour after high tide but caused no damage.
Cork City Council has said the risk from the severe weather event of recent days has substantially lessened, and the Cork Emergency Co-Ordination Group has stood down.
Minister for Education Richard Bruton has said where possible schools and third-level institutions will re-open on Monday, with decisions to be made at a local level.
He added that Bus Éireann will be in a position to advise schools tomorrow evening on routes that will not operate and schools will contact the families involved.
The Heath Service Executive has cancelled all non-urgent surgeries planned for today and said appointments will be re-scheduled.
In Wicklow a person has been airlifted to hospital from Manor Kilbride.
The evacuation happened last night following a medical emergency, the response to which was hampered by the weather conditions.