Minister for Transport Shane Ross has announced that the boards of public transport bodies must include at least one person with "raw, personal, experience of disability."
Mr Ross' spokeswoman said his announcement means that individuals with experiences of disability will be appointed directors of organisations such as the National Transport Authority, Dublin Bus, Bus Éireann, Iarnród Éireann and CIÉ.
In an address to the Joint Oireachtas Committee on Transport, the Independent Alliance minister said that in recent years, access to public transport had been improved but that progress had been unacceptably slow.
He said it seems to be "beyond the imagination of the able-bodied" to understand the difficulties and challenges that face people with disabilities who need public transport.
He recalled that since becoming a Minister almost two years ago, people with disabilities who use public transport had made a convincing case that the current improvements were inadequate.
"There is a convincing consistency about their stories," Mr Ross continued.
"The improvements made may look impressive on paper but when put into practice, they fall short of providing full access for people with disabilities."
He gave the examples of where buses are accessible but bus stops are not; or where a ramp is required between the platform and the carriage to bridge the interface between accessible rail infrastructure and accessible trains.
Last week Iarnród Éireann launched a pilot scheme on DART services to improve accessibility for wheelchair users.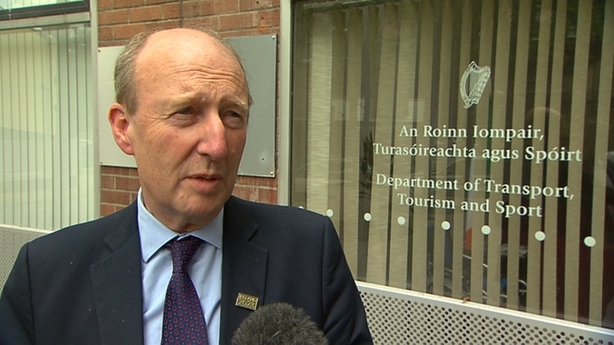 "I have observed and been frustrated by the slow progress of government strategies and action plans," the minister continued.
"The most appropriate expert voice for the views and difficulties of the disabled is not that of able-bodied politicians or semi-state company directors. It is their own," the minister said.
He added that the most appropriate place for people with disabilities to express their critical views was "not only in the media but … also in the boardroom".
"Disabled people need a place at the table, (in) the place where the decisions that affect them are made," the minister concluded.
Independent Senator John Dolan described Mr Ross' decision as highly significant, saying it would be welcomed by the entire disability community.
"It also shows that Minister Ross has listened to our views while on a 'journey' to understanding the myriad of challenges faced by our community," said Senator Dolan, who is also the CEO of the Irish Wheelchair Association.