Fianna Fáil has accused the Government of hypocrisy for failing to fund pay restoration for 12,000 workers in Health Service Executive funded 'Section 39' bodies that deliver services in the disability and health sector.
Around 7,000 Section 39 employees in organisations including hospices and residential care units are planning to strike on 14 February.
Despite the fact that they are not public servants, their pay was cut in line with state employees during the economic crisis.
However, while public servants are now receiving pay restoration, the Government has not increased block funding for Section 39 organisations to permit equivalent pay rises for their staff.
Speaking in the Dáil, Fianna Fáil leader Micheál Martin described the Government position as very unfair, cynical and downright dishonest, and of treating Section 39 staff as second class citizens.
He said this was the kind of hypocrisy that drives people mad in this country.
Mr Martin asked Taoiseach Leo Varadkar if he was suggesting that for the entirety of 2017, no one had bothered to assess the pay implications for Section 39 bodies.
He claimed the opposite decision had been taken to exclude them and hope to get away with it.
The Taoiseach acknowledged that the workers had been "caught in the middle" and that a pay differential had opened up, which was causing an issue for recruitment in some places.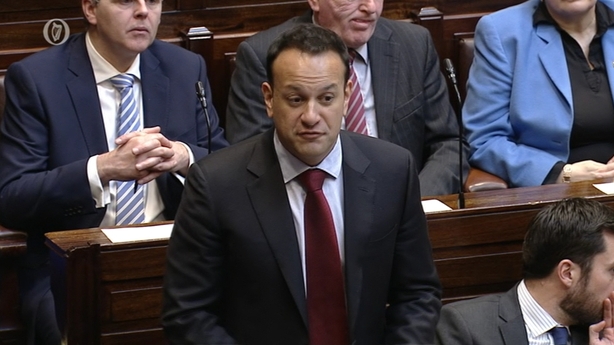 He said he wanted to establish a process to examine each of the over 2,000 Section 39 bodies to see how many staff were affected, and whether in some cases block grants may have been increased but organisations may have decided not to pass it on in pay restoration.
Earlier, the Oireachtas Committee on Health was told that it would cost "a significant number of millions of euro" to restore pay equality for Section 39 workers.
However, HSE Chief Financial Officer Stephen Mulvany said that while they had requested additional funding, it had not been sanctioned.
Representatives of Section 39 bodies said that they wanted to pay their staff, but could not without further allocations.
Although the Fórsa union has accepted the Government proposal for a review, SIPTU has not, and the Irish Nurses and Midwives Organisation has warned that the dispute could escalate.
SIPTU Health Division Organiser Paul Bell said that the Government's proposed review of Section 39 pay would turn into a "never ending story", in which his members would not have confidence.
Meanwhile, members of the committee strongly criticised the Department of Public Expenditure and Reform for refusing to attend today's session.
This evening, a spokesperson for the Department of Public Expenditure and Reform said the Department of Health is responsible for the funding of Section 39 organisations under legislation.
The Department of Public Expenditure and Reform will continue to support the work of the Department of Health in this regard, the spokesperson added.