The lawyer for former garda commissioner Nórín O'Sullivan at the O'Higgins Commission has told the Disclosures Tribunal that he did not attack Sergeant Maurice McCabe or go after him at the inquiry.
Colm Smyth SC said he was never given instructions by Ms O'Sullivan to challenge the sergeant's character or integrity.
He said he was permitted to challenge Sgt McCabe's motivation and credibility.
The O'Higgins Commission was set up in 2015 to investigate matters relating to policing in the Cavan/Monaghan Division.
The tribunal is examining whether Ms O'Sullivan inappropriately relied on unjustified grounds to discredit Sgt McCabe at those hearings.
Mr Smyth was today asked by counsel for the tribunal why he needed the "overlay" of attacking Sgt McCabe at the private inquiry.
Mr Smyth said he took exception to that and said he did not go after or attack Sgt McCabe.
He said intemperate language had been used about him in the Dáil and the media and he had suffered personally because of the allegations.
Mr Smyth said they were only getting the information in segments 48 hours before the O'Higgins Commission was due to begin and he sought an adjournment but was refused.
He said he knew there would be repercussions and he said a minister was "forced out on a wrong premise".
Mr Smyth said they only had 48 hours to prepare and he found it frustrating that the people asking the questions of him now had months to prepare and it did not resemble what he had to deal with.
They had to take it on the hoof, he added.
Mr Smyth said he never used the words "integrity" or "malice" and he said those were both introduced by the judge.
He said they were told at consultations that Sgt McCabe had been highly regarded but that he changed after being refused access to the DPP's directions on an investigation into an earlier complainant against him.
Mr Smyth said he never deployed the Ms D allegation against Sgt McCabe and was never instructed to do so.
He also said that they were led to believe in relation to a meeting in Mullingar in 2008, that Sgt McCabe was making his allegations against Supt Michael Clancy in order to get access to the DPP's directions.
However, he said that information was wrong.
Mr Smyth also said that he was not a "mouthpiece" for his client as suggested by Sgt McCabe's lawyer, Michael McDowell, yesterday.
He said they had to act in the best interests of their client regardless of the consequences that may befall them.
---
As it happened: Disclosures Tribunal Wednesday
As it happened: Disclosures Tribunal Tuesday
---
Mr Smyth said a letter submitted to the inquiry in May 2015, which contained an error, was done on the explicit instructions of the client who got it wrong.
The letter, which set out points that were to be put to Garda whistleblower Sergeant Maurice McCabe, suggested incorrectly that Sgt McCabe had made a complaint against a senior officer to get something he wanted.
Mr Smyth told the tribunal that it was remiss of him not to apologise to Sgt McCabe in relation to that matter.
He said he regretted it was done, and said it was done on the explicit instructions of the client who got it wrong.
Mr Smyth said that during the drafting of the letter he and his legal team had impressed on the various parties that the submission had to be right and there was no room for error.
Mr Smyth also told the tribunal that he was told that Ms O'Sullivan was not available for a consultation on the weekend after the dispute over legal strategy first arose at the O'Higgins Commission on Friday 15 May 2015.
He was also asked about a meeting he had with Ms O'Sullivan on 21 May 2015.
Ms O'Sullivan has told the tribunal she did not have a recollection of the meeting but had identified a record of it in her e-calendar.
Mr Smyth said solicitor Annmarie Ryan had told him the then Garda Commissioner wanted to meet him alone.
He said he had a reluctance about meeting his client in the absence of the solicitor, and had also suggested that his two fellow barristers could attend.
He said Ms Ryan said it was not a formal meeting but the commissioner wanted to meet him.
Mr Smyth said the meeting did not last longer than 20 minutes.
He said it was a general introduction and the tenor of the meeting was a general conversation including him congratulating her on her appointment.
Mr Smyth said there would have been some mention of the O'Higgins Commission, but he said Ms O'Sullivan never mentioned Sgt McCabe's name, and there was no discussion about her legal instructions.
McDowell says he wants to question O'Sullivan again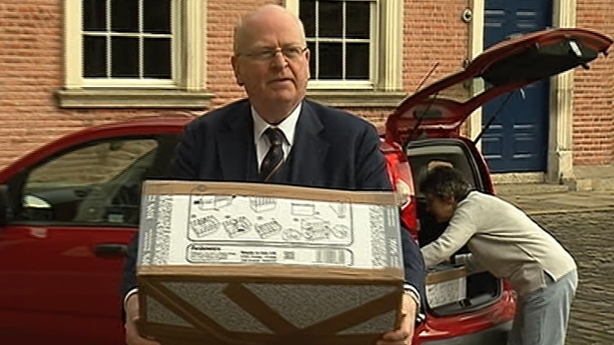 Earlier, the tribunal heard that a document that described Sgt McCabe as a paranoiac was given to Nóirín O'Sullivan's legal counsel during the O'Higgins Commission hearings in 2015.
Mr McDowell told the tribunal that the document appeared to be an extract of the Byrne-McGinn report - an internal garda report - and was circulated to parties involved in the tribunal yesterday after Ms O'Sullivan had concluded her evidence.
Mr McDowell described an allegation contained in the document, that Sgt McCabe was a paranoiac and that he had lost control of his station, as "fairly shocking stuff".
Counsel for Mr Smyth, Paul Sreenan, told the tribunal that a member of her legal team had asked for a copy of the Byrne-McGinn report some time after June 2015.
He said copies of the report were given to both junior counsel, however he said Mr Smyth did not receive a full copy of the report.
Mr Sreenan said extracts of the Byrne-McGinn report were also circulated to parties at the beginning of every module of the O'Higgins Commission.
Mr McDowell said he was never aware that Ms O'Sullivan had access to this document and to the allegation that Sgt McCabe was acting in a paranoid way.
He said Sgt McCabe was not aware of that until yesterday. Mr McDowell said he would like to question Ms O'Sullivan again.
Mr Justice Peter Charleton said he would be willing to hear an application for the recall of Ms O'Sullivan as a witness to the tribunal.