A military operation took place to transform the GPO's public office into a banqueting hall this evening for a party for 240 homeless people.
The Defence Forces transformed the area usually used to conduct postal business into a fully functioning eatery and dance hall this evening.
'Eric's Party' - a party organised for homeless people by Dublin Lions Club - saw 240 homeless people from the Simon Community, The Iveagh Trust and the Capuchin Day Centre, served a three-course meal followed by a party with music by two bands - Rake the Ashes, and John Lowe and the Buddies.
U2's Larry Mullen made a surprise appearance at tonight's dinner and took to the drums to entertain the guests.
"Five-minutes after the GPO closes to the public, the Defence Forces come in and transform it in to a banqueting hall for our guests," said An Post's Head of Corporate Communications Anna McHugh.
Defence Forces spring into action to convert GPO into banquet venue for members of homeless community pic.twitter.com/ZrZW6ShSge

— RTÉ News (@rtenews) January 19, 2018
"It really is magic in setting this up in to a beautiful space for 240 guests and for transforming our parcels office in to a fully operational kitchen.
"It's a great bright light in a grey January."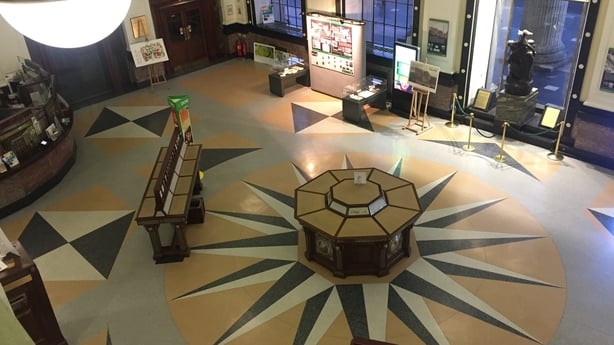 Cooking up a storm: Defence Forces transform GPO for homeless dinner pic.twitter.com/HiBTWQ1IMr

— RTÉ News (@rtenews) January 19, 2018
Defence Forces Assistant Chief of Staff, Brigadier General Peter O'Halloran, said troops were hoping to break a previous record of 22 minutes set for the kit out.
"In 2015, there was a request made to the community services of the Department of Defence and it was passed on to me at that time as the Director of Logistics to know if we would get involved with Eric's Party," he said.
"For me, this was a wonderful fit because the first time we were going to be involved was 2016 ... the centenary year.
"It was massively symbolic that here were the descendants of the Volunteers, who fought in the GPO, coming back to look after the vulnerable in Dublin City - namely the homeless. So, it was a fantastic fit for us."
The three-course meal was provided by the Defence Forces.
The menu included: country kitchen chicken, beef casserole, winter vegetarian stew and steamed jam sponge with custard and fresh fruit.
There was a small amount of alcohol served at the party, including pints of Guinness.
One homeless man, Daniel - who attends the Mendicity Institute, Dublin's oldest charity at Island Street in the city centre - said events such as 'Eric's Party' break the "routine of homelessness".
He said: "The likes of 'Eric's Party' gives you a chance to socialise in a different way.
"Any little bit on the street helps. Anything that breaks the mundane. Anything that gets you out of the cycle of the constant.
"Homelessness is an everyday routine for people. To break that little routine even by a small bit is something".
The party is now in its 59th year and has previously been held at the CIE Hall, St Anthony's Hall, the Mansion House Round Room and the restaurant of Irish Life.
'Eric's Party' - called after its founder, the late Eric Webb who was a member of Dublin's Lions Club - will begin at 6.30pm.
This is the third year it has been held in the GPO.
We need your consent to load this SoundCloud contentWe use SoundCloud to manage extra content that can set cookies on your device and collect data about your activity. Please review their details and accept them to load the content.Manage Preferences