Minister for Agriculture Michael Creed has said that he will make a detailed announcement next week about a Government response to the fodder crisis.
It is affecting farmers in the north and west of the country where poor weather has resulted in a shortage of winter feed for farm animals.
Mr Creed was speaking to farmers at the annual general meeting of the Irish Farmers' Association in Dublin.
Earlier, the IFA President told the AGM that this year will be a defining one for Irish farming.
Joe Healy said that never before have such major challenges as Brexit, the EU agriculture budget, trade policy and climate change converged in a single year.
He said the next 12 months will be a test of the EU's commitment to the farming sector.
Mr Healy said there cannot be a scenario where the British government can do as it pleases in agricultural trade with third countries when the UK leaves the EU.
He also said that, if the UK wanted continued access to the EU market, the EU must insist that the UK will not be free to open its own food markets to low-standard or low-value products from outside the EU.
Mr Healy warned against a situation where EU farmers have their incomes cut because the UK decided to leave.
He said that means that member states will have to contribute more to the EU budget to make up the financial shortfall that will arise as a result of the UK's departure.
Mr Healy said the Common Agricultural Policy is important for Europe, but it is vital for Ireland and that without a strong CAP, Irish beef, sheep and tillage farmers will go out of business.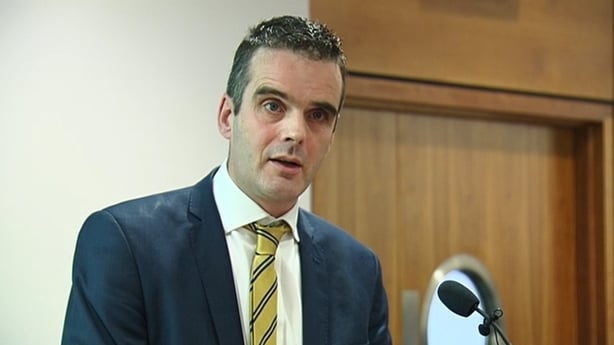 He said that farmers are "wide awake" on climate change issues and that nine out of every ten measures under the CAP have specific environmental or sustainability elements.
Ireland is the most carbon efficient producer of dairy products in Europe and the fifth most carbon efficient producer of beef in Europe. 
Since 1990, Ireland's agricultural output has grown by 40% while greenhouse gas emissions have fallen by 3.5%.
Mr Healy said farmers are playing their part and will continue to do so. 
Referring to a suggestion from the Citizens' Assembly of a carbon tax imposition on farming to drive farmers away from livestock and towards planting forestry, Mr Healy said the proposal takes no account of the economic and social impact of such a policy direction. 
He said sustainability is the "buzz word of our generation" but there are three elements to it: environmental, economic and social. All three have to be central to decisions about food production, he told delegates.
He also said it is clear that farmers are not getting a fair share of the retail price and accused retailers of being modern day dictators who are abusing their power to accumulate vast profits at the expense of farmers and primary producers, and ultimately consumers.