Karen Bradley has been appointed as Northern Ireland Secretary following the resignation of James Brokenshire due to ill health.
Ms Bradley has been an MP since 2010 and has served as Secretary for Digital, Culture, Media and Sport since July 2016.
She is best known for adopting a tough stance over Rupert Murdoch's bid to buy all of broadcaster Sky.
Her appointment comes after British Prime Minister Theresa May accepted the resignation of Mr Brokenshire for health reasons.
In a letter to Mrs May, Mr Brokenshire outlined how a small lesion has been discovered on his right lung during tests and surgery will be carried out.
Mr Brokenshire said he expected to be able to return to work "relatively quickly" after his operation.
But he said he recognised that he would not "be able to give the effort, energy and complete focus needed at this important time" and therefore believed that "the right thing at this time is for me to stand down from my current responsibilities".
Efforts to restore the power-sharing administration in Northern Ireland and the impact of Brexit on the island of Ireland mean that the role is demanding and sensitive.
Mr Brokenshire said he had hoped to lead the "essential work with renewed intent" before his diagnosis.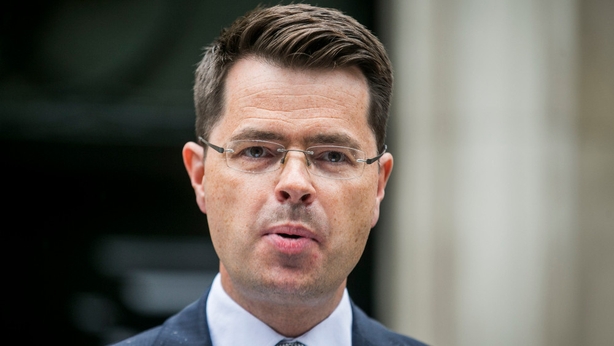 There was an "urgent need" to restart stalled talks on the restoration of devolved government, he said.
"We are now well into overtime to re-establish an executive if further intervention in the day-to-day affairs of Northern Ireland is to be avoided."
In response, Mrs May said it was "absolutely right that you should put your health first, for your sake and that of your family".
In an apparent signal that he may be in line for a return to government once he has recovered after surgery, the prime minister said Mr Brokenshire would have continued to do "a good job" had it not been for his illness.
"I very much look forward to working alongside you again when you are back to full health," she added.
We need your consent to load this rte-player contentWe use rte-player to manage extra content that can set cookies on your device and collect data about your activity. Please review their details and accept them to load the content.Manage Preferences
Really appreciate all of the kind messages. Standing down will allow me to focus completely on my family, my health and recovering from surgery speedily so that I can get back to frontline politics as early as I can. Not quite how I thought I'd mark my 50th birthday! pic.twitter.com/EDMGBR56y6

— James Brokenshire (@JBrokenshire) January 8, 2018
The unexpected development will be regretted by the Government.
Minister for Foreign Affairs Simon Coveney and his predecessor Charlie Flanagan had a good working relationship with Mr Brokenshire.
The two governments were about to put together a new effort to restore power-sharing at Stormont, as the first anniversary of its collapse approaches.
Mr Coveney phoned Mr Brokenshire while on a visit to Cairo to wish him well. He said he had shown unfailing dedication and determination to secure political progress consistent with the objectives and commitments of the Good Friday Agreement.
"His unwavering commitment - in public and in private - over the last year to securing the effective operation of the devolved power-sharing institutions in Belfast has been hugely important," he said.
"While it is not always obvious to the public gaze, very important progress has been made on significant issues over the last year and I believe that a positive outcome can still be achieved.
"If it is, it will be a testament to the quiet, understated but hugely valuable work of James Brokenshire."
He said he looks forward to working with his successor.
---
Read: Letters exchanged between Mr Brokenshire and Mrs May
James Brokenshire's letter
Theresa May's letter
---
Mr Brokenshire announced his resignation before a planned cabinet reshuffle by Mrs May.
The Old Bexley and Sidcup MP is a close ally of Mrs May, having served under her for five years at the Home Office. He was not among ministers who were predicted to go in the reshuffle.
DUP leader Arlene Foster said that since beginning in his role, Mr Brokenshire has immersed himself fully in it and dedicated long hours to trying to make progress.
She wished him well with his surgery and said he "leaves the role with a very intimate knowledge of Northern Ireland and I look forward to working with him again in the future".