The first baby of 2018 was born in Limerick University Maternity Hospital.
The baby boy, weighing 3.2kg (7lbs), arrived at just seven seconds past midnight. The hospital also had the first Christmas baby.
There was also joy at the hospital for Margaret and Ed Earle from Newport in Co Tipperary as they welcomed their first daughter.
She was born at 2.55am and weighed 3.43kg (7lbs 9oz).
Elsewhere, the first baby born at University Hospital Waterford was a baby girl delivered at 12.23am. The first baby born at University Hospital Galway was a boy at 12.49am.
The first birth of the year in the capital was a baby boy at the Rotunda Hospital, who arrived at 1.35am.
The Coombe Hospital said it had five births this morning, with a baby boy being the first at 1.41am.
Baby Cian was born to Christine and Gareth O'Leary, from Firhouse in Co Dublin and weighed in at 2.9kg (6lbs 4oz).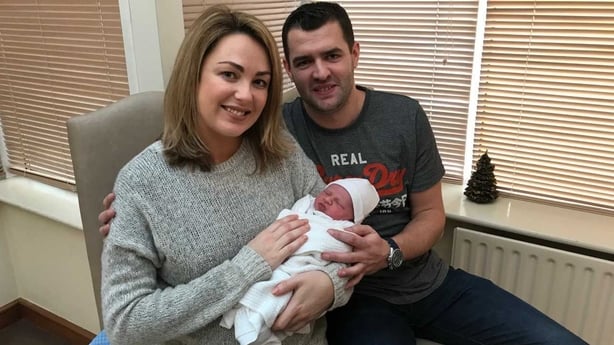 The National Maternity Hospital in Holles Street welcomed a baby girl just after 3am. The first birth in Cork was a baby girl at 3.22am in the University Maternity Hospital.
Ireland's birth rate has declined in recent years, with 63,897 births in 2016, which is down from nearly 66,000 in 2015.
Figures for the first half of 2017 indicate the country was on course to record more than 60,000 births for the year.