A claim that Sinn Féin President Gerry Adams set up a notorious IRA gang for ambush as they tried to blow up the RUC police station in Loughgall, Co Armagh in 1987 has been dismissed by Sinn Féin as "utter nonsense".
The claim emerged in the 30-year-old State Papers released this morning by the National Archives.
---
State Papers 1987: 30 things we've learned Part One; Part Two
---
The declassified documents also reveal an alleged MI5 plot to get the Ulster Volunteer Force (UVF) to kill former Taoiseach Charles Haughey.
The UVF was approached by an MI5 officer and asked to execute Mr Haughey, according to the claim made in a letter purportedly penned by the UVF and sent to the Taoiseach in August 1987.
The loyalist paramilitary group claim they were given details of Mr Haughey's cars, his yacht and his homes in Dublin and Kerry.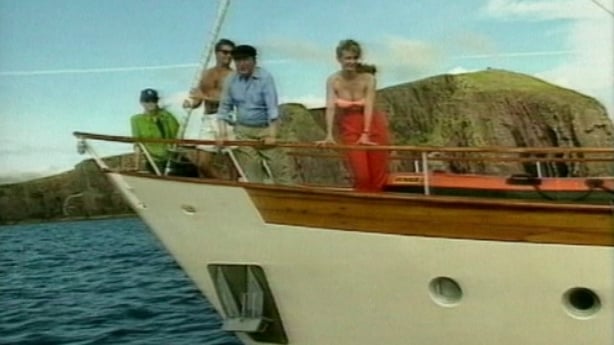 The former Taoiseach's son and Fianna Fáil TD Seán Haughey recalls the threat: "Naval divers did dive underneath the Celtic Mist when it was moored in Dingle Harbour marina. So we were certainly aware there was something up. Having read that document it does seem quite shocking."
In May 1987 the IRA launched an attack on the RUC station in Loughgall.
British army soldiers, lying in wait of the attack, shot dead the eight-man IRA unit and civilian Anthony Hughes.
A document released today shows that Fr Denis Faul said there was a rumour doing the rounds that "the IRA team were set up by Gerry Adams himself."
These claims have been dismissed today as "utter nonsense" by a Sinn Féin spokesman.
After the attack Tánaiste Brian Lenihan Senior wrote to the British authorities warning against "triumphalism".
The documents also reveal ballistic tests of the IRA weapons found they were used in 40 to 50 murders, including every republican killing in Fermanagh and Tyrone in 1987.
We need your consent to load this rte-player contentWe use rte-player to manage extra content that can set cookies on your device and collect data about your activity. Please review their details and accept them to load the content.Manage Preferences