The number of people in Ireland who are homeless has risen according to the latest report from the Department of Housing.
More than 8,800 people were homeless in November.
5,524 adults and 3,333 children were accessing emergency accommodation services last month.
The report also says that 1,530 families were accessing emergency accommodation.
The figures show an increase of about 4% on the numbers of homeless people in October.
An additional 365 people accessed emergency accommodation in November, compared with the previous month.
Commenting on the report, Minister for Housing Eoghan Murphy said the increase last month was disappointing, but he said that for individuals it meant that more rough sleepers were now engaged with emergency homeless services and were therefore included in the numbers.
Speaking following an RTÉ special report on homelessness, Mr Murphy said that the only way to solve the housing crisis in Ireland is to build more houses.
He also said that more needed to be done to assist families into permanent accommodation.
We need your consent to load this rte-player contentWe use rte-player to manage extra content that can set cookies on your device and collect data about your activity. Please review their details and accept them to load the content.Manage Preferences
The minister also said that the Government cannot guarantee that there will be fewer homeless children next Christmas than there are this year.
He said: "I can't give those kind of guarantees. What I can guarantee ... is that we are going roll out our hub programme so that when a family falls into this crisis in their lives, that we can get them into a hub and then quickly into a permanent home."
He added: "I can guarantee that we are going to build thousands of new homes next year and as we do that we should see the numbers fall."
The latest figures on homelessness report comes as the Simon Community said that there was a 33% increase in the number of people seeking help from its services last year.
The figures are contained in the housing and homeless charity's Annual Report for 2016, which was launched today.
The Simon Communities in Ireland worked with over 11,000 people who experienced or were at risk of homelessness across the country in 2016.
That included over 1,400 families with almost 3,000 children.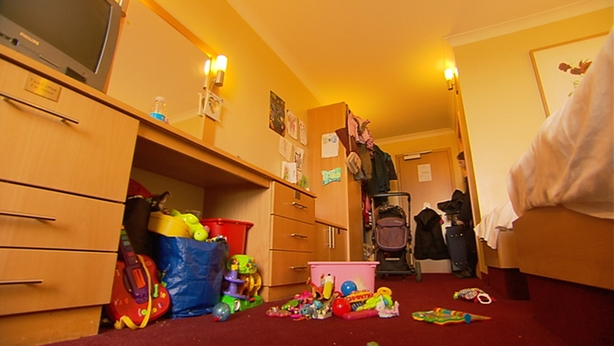 Simon's report said it supported 2,800 people to keep them in housing all around the country in 2016, while 1,150 people accessed emergency accommodation.
Two Sinéads, unrelated, one special bond
National Spokesperson for the Simon Communities in Ireland Niamh Randall said that 2017 had seen the housing and homelessness crisis continue to worsen.
Speaking on RTÉ's Morning Ireland, Ms Randall said she can "emphatically say" that 2017 has been even busier.
She said many people around the country are looking to 2018 with "real dread," and said there are huge numbers of "hidden homeless".
"We know, emphatically, that these numbers have increased over the course of the year and the Simon Communities all around the country are under increasing pressures because there are so many people that are really, really struggling.
"And the numbers that are released every month are only those in Section Ten funded accommodation.
"We know there is hidden homelessness, we know there are people who are sleeping rough, we know that there are people in squats.
"So there are many, many thousand people really suffering, who are looking towards 2018 with huge dread.
"They don't know where they're going to live. They don't know what the future brings for them."
Ms Randall said that although numbers are greater in Dublin, the pattern is escalating around the country.
There are huge pressure points in Cork, Limerick, Waterford and Galway and increasing pressure points in commuter belt areas, where rents are increasing, she said.