Director of Oberstown Children Detention Campus Pat Bergin has said management at the facility is looking to ensure that single separation is only used as a last resort.
The practice, whereby children detained at the centre are isolated from their peers, was highlighted in a Health Information and Quality Authority report published in August.
The report found some residents at Oberstown were forced to spend up to nine days separated from their peers.
Speaking to RTE News, at the launch of a new three-year strategy for Oberstown, Mr Bergin said staff were also aware that if single separation was required as a last resort the reasons needed to be recorded and it needed to be reviewed and checked with senior management.
He said staff at Oberstown were engaging with young people to find different ways of solving problems.
Mr Bergin said there was evidence already that the use of the practice was being reduced.
Asked about past problems with security at the campus, he said there had been progress in terms of improvement to infrastructure, and that a general awareness of security had made a difference.
Mr Bergin said he would be reporting to the board of the facility on the implementation of the new strategy on a quarterly basis.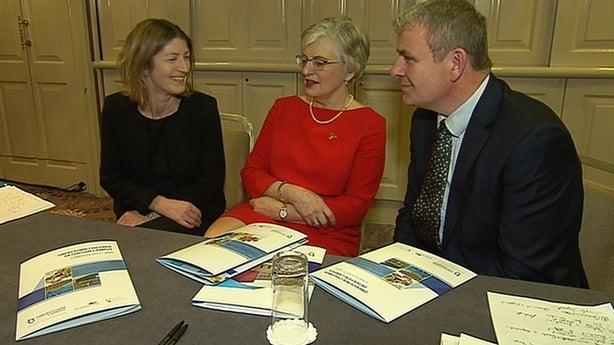 The Minister for Children and Youth Affairs has said she has witnessed a positive change in the atmosphere at Oberstown Children Detention Campus in Co Dublin.
Katherine Zappone said that Oberstown was a complicated place and that staff working there did not have an easy job.
She thanked staff for their work and commitment to improving the lives of some of Ireland's most vulnerable people.
She also praised the school at the campus.
The facility is launching a new three-year strategy, which it says will put the care and participation of young people at its core.
The plan identifies five priorities, including providing the best possible care for young people.
Information from Oberstown on its residents shows that in the first quarter of this year, 69 young people - all male - were detained there.
55% of them had a mental health need
78% had substance misuse problems
54% had lost one or both parents through death, imprisonment or lack of contact
45% had been in care prior to detention
In August this year, HIQA published an inspection report that showed some residents at the centre were forced to spend up to nine days separated from their peers. Two of the children were not given access to fresh air for a week.
That HIQA report came almost a year after an incident at the campus in which a group of young people staged a protest on the roof, and a fire broke out causing extensive damage.
The incident happened during industrial action by staff. The case is currently before the courts.
Chief Executive of the Children's Rights Alliance Tanya Ward said there were very high aspirations in the new strategy.
However she said she would like to see clear outcomes coming from the plan.
Ms Ward said there had been an overuse of single separation, and sometimes it was being used as a form of punishment.