A national standard list of household items that are suitable to be put into a recycle bin has been announced.
The list is part of the Waste Recycling Ambassadors Campaign, which aims to eliminate confusion over what can and cannot be put into a recycle bin.
Minister for Climate Action and Environment Denis Naughten said that the list will help ensure that items are "actually recycled, as opposed to being contaminated accidentally by householders and sent to landfill.
"The list of suitable material is now simply paper, cardboard, rigid plastics, tins and cans."
Items that are not on the list and not suitable for recycling include coffee cups, carrier bags, soft plastics (such as wrappers), paper towels, paper towel and dirty pizza boxes.
Rigid plastics such as plastic milk cartons, fruit and vegetable trays and plastic drink bottles are suitable for recycling. Tins and cans, as well as paper and cardboard items, are also suitable for recycling. 
It is also recommended that a mixed recycling bin be sorted into different categories, and that all items should be rinsed, cleaned and dried before being placed into the bin.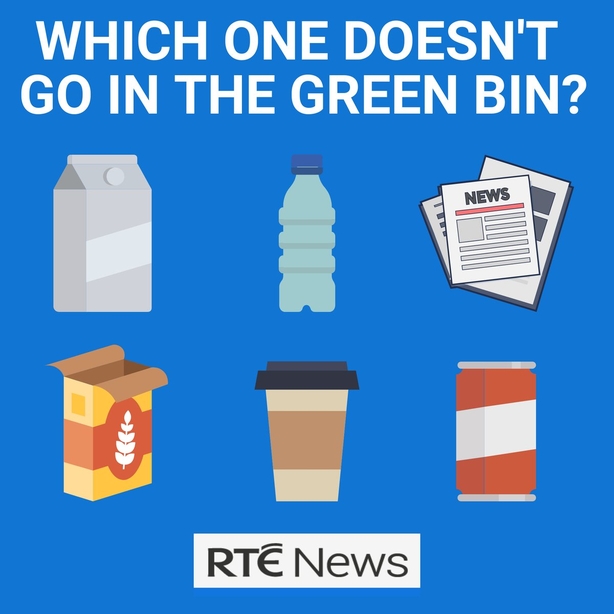 Speaking on RTÉ's Morning Ireland, Mindy O'Brien from the environmental charity VOICE, said she hopes the new list will lead to an uncontaminated and clean recycling system, and one that is easy to follow.
She said recycling can be confusing and "we don't need to make it as complicated as it is.
"We want a set list to make it very easy for people to know what is recyclable and not."
Ms O'Brien said people are putting lots of plastics in their green bins that they should not be putting in.
She said coffee cups are one of the biggest culprits along with packaging for fruit and veg.
"Most of the packaging around our vegetables and fruit is not recyclable," she said.
Ms O'Brien also noted that some things that might be recyclable in another country are not recyclable in Ireland.
As part of the standard list of recyclable items, a Waste Recycling Ambassador Programme is also being rolled out which will involved hundreds of workshops throughout the country to educate people about recycling.