A new opinion poll shows a drop in support for Fine Gael just as the country faces the prospect of a general election.
According to the Sunday Business Post/Red C poll, Fine Gael support has dropped two points to 27% with Fianna Fáil gaining one point to stand at 26%.
Support for Sinn Féin went up two points to 16% while the independents fell two points to stand at 10%.
There was no change for the Labour Party at 6% or for the Independent Alliance at 4%.
The Green Party also stayed static at 4%.
Solidarity/PBP dropped one point to 3% while the Social Democrats rose one point to 3%.
Support for Renua also rose by one point to stand at 1%.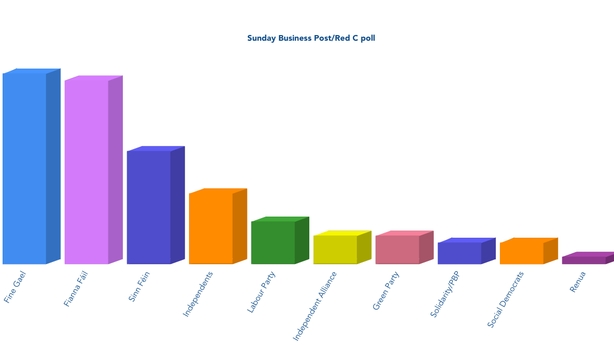 This poll was conducted nationwide between last Monday and Thursday.
The poll would not have captured the public reaction to the now threatened election which only emerged on Thursday evening.
However, the fieldwork was undertaken over the days when the Government and opposition parties were engaged in stormy exchanges over the handling of an email related to the controversy of garda whistleblower Sergeant Maurice McCabe.
It is the lowest level of support for Fine Gael in a Red C poll since Leo Varadkar became leader and Taoiseach.
The poll findings will be carefully examined by politicians but particularly by Fine Gael and Fianna Fáil members.
Coming when the two parties are in a political stand-off over a no confidence motion in Tánaiste Frances Fitzgerald, it shows the two are neck and neck in public support.
It may also cause both parties to reflect that a general election might still be likely to produce a hung Dáil.