Laois Civil Defence volunteers are using multi-track vehicles to provide transport for up to ten families who have been marooned along the River Barrow between Mountmellick and Portarlington.
Water levels in Mountmellick are receding but concerns are being expressed again by residents with regard to insurance cover for their damaged property.
30 members of the army were earlier in Mountmellick assisting residents who were trying to get back into their homes following widespread flooding.
Fire and emergency services staff from throughout the midlands also helped with relief efforts this morning after working throughout last night.
A number of Mountmellick residents spent last night at hotels in the Portlaoise area after the banks of three rivers burst, causing extensive damage to homes after yesterday's six-hour downpour.
In the Manor Road area of the town, more than 40 houses were flooded when the Owenass River and its tributary burst their banks.
Minister with Responsibility for Defence Paul Kehoe announced the provision of a humanitarian scheme to provide emergency assistance for small businesses, sports clubs and community organisations unable to secure flood insurance, which have been affected by the flooding.
The scheme will be administered by the Red Cross.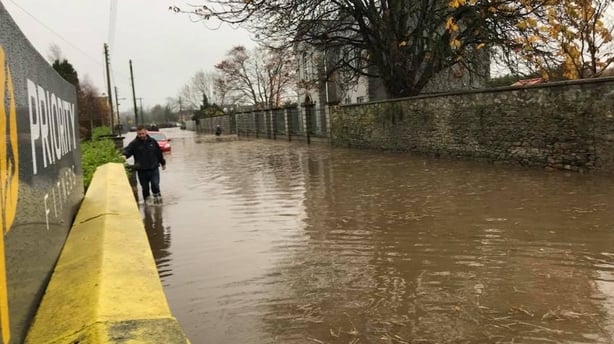 Flood levels in many areas are now going down but many homes are still under water and access to the town from several routes is still cut off.
Residents in the Manor Court and Manor Park area on the Clonaslee side of the town were worst affected.
Kevin 'Boxer' Moran, the Minister of State responsible for flood relief measures at the Office of Public Works, was due to meet local authority staff officials at Wolfe Tone Street where an information centre has been set up.
Kieran Kehoe, director of services with Laois County Council, said the army were helping Council crews in getting access to the people.
"We're not at a situation yet, in most of the town, where we are at a recovery or clean up stage. We are still dealing with a substantial amount of flooding," Mr Kehoe said.
"A lot of the roads are still impassable, a lot of access to a lot of properties is still impossible due to the very high flood waters that are still in existence. The wind levels are still increasing in the Mountmellick area."
November 23, 2017
Much of the flood water was earlier heading towards Portarlington on the River Barrow, but Laois County Council said it had taken steps to deal with it.
Laois County Council said that 35 families were provided with accommodation in Portlaoise last night after they were evacuated from their homes.
Firefighters from Westmeath, Longford and Offaly were brought in to help pump out water from properties.
The Humanitarian Assistance Scheme has been made available to assist those whose homes are damaged by flooding and who are not in a position to meet costs for essential needs, household items and, in some instances, structural repair, the Department of Employment Affairs and Social Protection said.
Local people people in Mountmellick, Co Laois have described today's flooding as the worst in living memory pic.twitter.com/LJOWdQL0vE

— RTÉ News (@rtenews) November 22, 2017
Locals yesterday spoke of the devastation they witnessed.
One man said: "It's just one of those freak flashes. I'm 67 years of age and I've never seen the likes of this in all my life."
Another said: "My partner rang me at 4pm this evening to say the house was flooded and I just rushed home and it was just devastation. I just opened the front door and it just gushed out."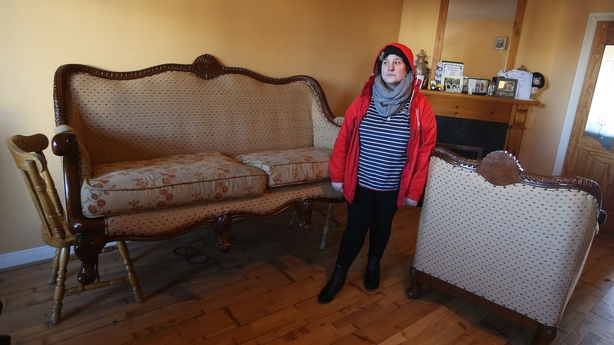 Bernadette Dunne, whose home in Manor Court was flooded, told RTÉ's Today with Sean O'Rourke that she had noticed a huge flood at the end of her drive when she went to collect her son from school.
When she returned to the house, she noticed that water was coming in "very, very fast".
Ms Dunne said that she and her family stayed in the house over night, however she said that water has lifted the floors in her hall and living room from the ground and sewage also came into her home.
Michelle Crystal, who runs a hairdressing salon in Mountmellick, said she stayed in an apartment over the salon last night.
She described how the flooding had "happened so quickly" that no one knew what was going on.
According to the AA, a number of routes around Mountmellick remain impassable.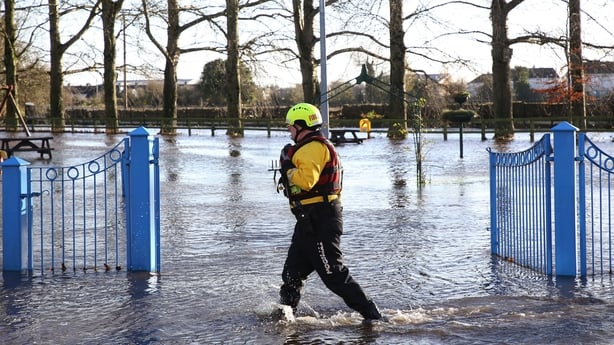 President Michael D Higgins expressed his sympathies for those affected by the floods and thanked those who are assisting in the relief and clean-up operation.
He said: "As events like this are occurring with greater frequency we will be called upon to draw on our resource of solidarity ever more often, and I know the Irish people will recognise and support the importance of good planning and policies that may prevent or mitigate such occurrences.
"On days like today the thoughts of all of us should be with the families affected."