Adam Lambert was just 20 years old when he was shot dead in Belfast by loyalist paramilitaries the day after the Enniskillen bombing.
The murder was intended to be a revenge attack on a Catholic, but in a case of mistaken identity the young Protestant, who was on work experience at the time, was killed instead.
His mother Ivy Lambert, 85, explains that her son became "the 13th victim" of Enniskillen, although often forgotten in the aftermath of the bomb.
She says: "Adam was sort of the forgotten one. The Enniskillen bomb was such a big thing and he was just a single person, so people thought that he had become forgotten in the middle of it all. I don't want him to be forgotten, I want him to be kept alive in peoples' memory."
"It's been 30 years now - such a very long time. Sometimes, I think did we ever have Adam? And at other times I feel he's very near."
Her son was a handsome and popular man, studying building science, and well-liked by all who met him, Mrs Lambert says.
A portrait of him hangs above the fireplace at the family home in Ballygawley, Co Tyrone, where Mrs Lambert still lives, showing a confident young man with a mop of dark hair and a broad grin.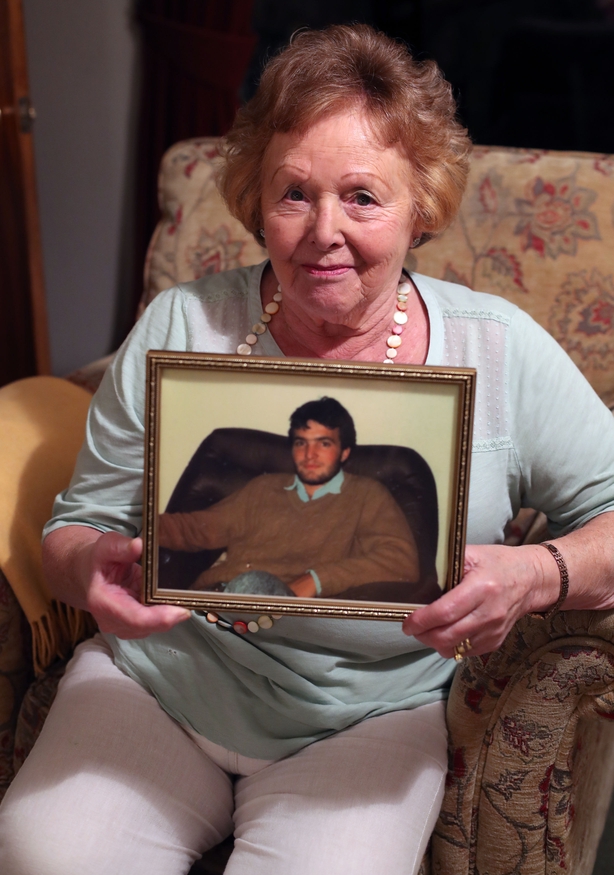 "He was an absolutely superb young man," she says. "He would have been a great member of society. He was meticulous about everything, particularly in his studies - he never missed a lecture."
Reflecting on the day she heard the news of her son's murder in the Highfield estate in west Belfast, she says: "I never thought when I heard the news about the Enniskillen bomb on the Sunday that I'd be hearing the same thing about my own child the next day."
However, she says she harbours no bitterness or anger about his death: "It's a long, long time ago now. People say time isn't a great healer but I think it is. Thankfully, we never had vitriol or anger.
"I suppose we accepted it, we thought that's the way Adam was supposed to go. A lot of people will think that's a silly way of looking at it. But I thought that Adam has done as much in 20 years as many people do in a lifetime. He shed a lot of love and light around and he was very well liked."
---
Read more
Ceremony to mark 30th anniversary of bombing
Enniskillen bombing remembered
Gordon Wilson recalls the death of his daughter Marie
Watch: Tommie Gorman's Nationwide special
---
'They meant the world to me'
Thirty years on from the attack, Stella Robinson's grief is still raw.
"The heartache never goes away. It's just that a part of you goes with them but the longing in you for them never goes away," she explains through tears.
Her parents Bertha and Wesley Armstrong were among the crowd paying their respects at the memorial service in Enniskillen when the bomb exploded. Her brother, who was standing with them, survived, but Mr and Mrs Armstrong did not.
Ms Robinson remembers her mother's kindness and warmth: "She was like my friend, I could tell her anything and I really miss that. She loved baking and she loved farm animals.
"I was very close to both my parents and they meant the world to me. We spent Sundays together going for walks and for drives.
"I really miss them and I was robbed of 30 years of their life with me. They were just going to church for Remembrance Sunday and they were killed - murdered."
In the lead-up to the 30th anniversary of the attack, she started putting together a photo album with images of her parents and her childhood. She does not have many pictures of them together, but the few she has are much loved.
"I wouldn't have many photos of me with them so they're just so precious when you see them," she explains.
"Me standing as a child, holding my mother's hand. Photos of their wedding day. It has really brought back to me how as a child they meant so much to me and to my life. It has been really moving. It has been quite emotional."
As time passes, she stresses that the atrocity cannot be forgotten about or brushed aside as post-conflict generations grow up with little knowledge of some of the horrors of the Troubles.
She says: "I think people born after the Troubles or after 1996 (the year of the IRA ceasefire) are not educated enough about what happened. I think they just want people to move on and they don't want to be reminded.
"But I just don't want this to be forgotten about. They were taken from us and I want people to know."
At the anniversary memorial service, Ms Robinson's granddaughter will be singing, a talent she has inherited from her great-grandfather who she never got to meet.
Ms Robinson says proudly: "She has a beautiful voice, like my father did. That will be emotional, to see her singing. It will be like hearing him again."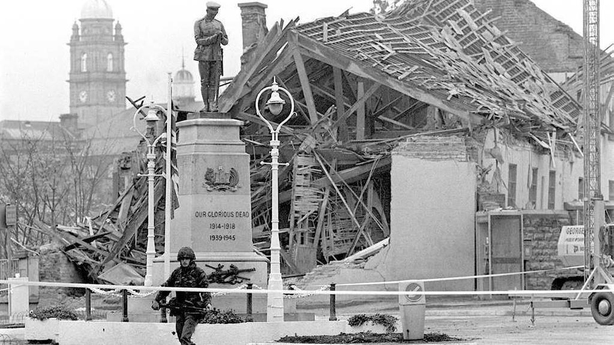 For Aileen Quinton, the 30th anniversary of the Enniskillen bombing is a surreal moment.
Three decades after she was told her mother, Alberta Quinton, 72, had been murdered in the blast, she says: "It's so hard to believe that it's been 30 years. There's just an unreality about it.
"At the time, it just felt too awful to be true and in many ways it still is. I'm no more used to it. It's still awful and it still matters."
She remembers her mother, a retired nurse, as a lively and funny woman much loved by all she cared for in the local hospital.
Ms Quinton says: "My mother had a great sense of humour and a great laugh. She was born to be a nurse, she just had a great way with her.
"Her two philosophies in life were help people wherever you can and have lots of fun. She always combined the two in everything she did.
"Sometimes when I would walk round the town, I could hardly get anywhere without people coming up to me to say their relatives had been nursed by my mum and how grateful they were for her care.
"There was a marked contrast between her and the people who murdered her. She was dedicated to people's health and well-being, making their deaths as easy as possible, not like the IRA."
Ms Quinton's grief has been exacerbated by events since the bombing.
In particular, she cites her distress at seeing officials in policing and politics attending the funeral of former Sinn Fein deputy first minister Martin McGuinness earlier this year, due to his former involvement in the IRA.
She explains: "The wounds keep being opened. I mean, it's bad enough that my mother was murdered, but to have these slaps in the face from officialdom who should be on our side - it's ludicrous."