A new study has found that almost a quarter of seven and eight-year-olds whose mothers have not progressed beyond the Junior Certificate are viewing screens for more than three hours on any weekday.
This compares to 6% of the age group whose mothers are college graduates.
The Growing Up in Ireland report is the latest in a series by the ESRI and Trinity College tracking the development of 5,000 children since infancy.
The information on the current group of children was collected when they were aged between seven and eight.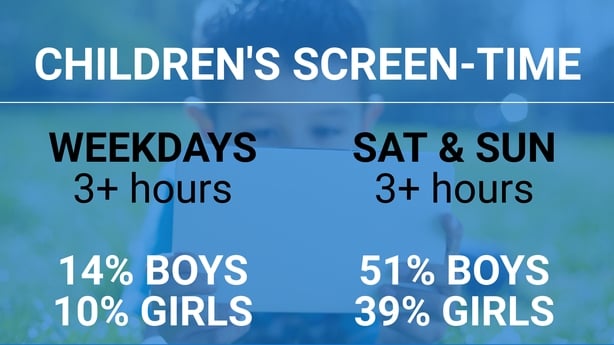 While parents described the vast majority of seven and eight year-olds, around 80%, as very healthy, 15% were overweight and 5% obese.
The report says these remain major health problems, particularly among children from low-income families.
More than a quarter (27%) of children from the lowest income families were overweight or obese compared with almost one in six children from the highest income bracket.
More than a third (36%) of the most socially disadvantaged children reported having a low quality of diet, which is over twice the rate (17%) for those from a professional/managerial background.
The report found that 14% of mothers said their child found it difficult to sit still and listen in class. The rate for boys was over twice that for girls (19%-8%).
While 2% of graduate mothers said their child usually finds schoolwork hard, the figure was 5% for mothers who had not progressed beyond the Junior Cert.
The report says most children are doing well in terms of their socio-emotional development.
This was based on reports from the children's mothers, using internationally developed and widely-used measures of socio-emotional wellbeing.
Girls score higher than boys on social skills, such as assertion, empathy, responsibility and self-control.
---
Read more
Socio-emotional development and play
Health and development
School and learning
GP services
---
Reading, playing 'make-believe' games and playing on a computer or tablet were the most frequent play activities reported by the mothers.
The report found that 35% read for pleasure every day, but 22% did so less than once or twice a week.
Boys were more likely to play physically active games and also more likely to play computer games.
Girls were more likely to enjoy dance, music, crafts and reading.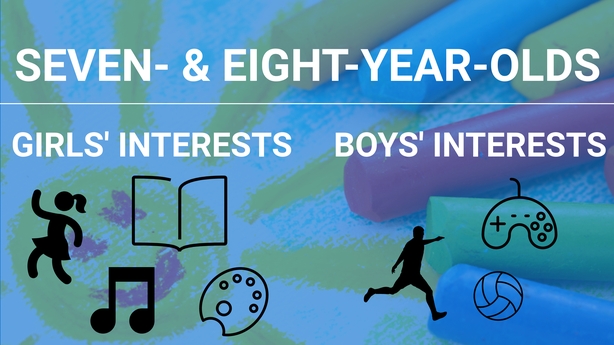 Among all children, typical screen time on a weekday was reported to be one to two hours, but this increased to over three hours each day at the weekend.
Boys had more screen time than girls as 14% of boys and 10% of girls had more than three hours of screen time on a typical weekday. On a typical day at the weekend, 51% of boys and 39% of girls had more than three hours of screen time.
James Williams, a research professor at the ESRI, said the findings highlight the importance of early identification and intervention for children who have a negative attitude towards school from their earliest experiences.
He said negative attitudes towards school at five years of age are reflected in the children having difficulties in adjusting to school two years later and to coping with the pace of schoolwork.
Speaking on RTÉ's Morning Ireland, Professor Wiliams said the study reports good news, with a sense that the children have adapted well to school and are positive about it.