Irish Water has said that not all customers who paid water charges would be refunded before Christmas.
The utility's Head of Customer Strategy and Capacity, Yvonne Harris, said this was due to a delay in legislation to issue refunds.
Speaking on RTÉ's Morning Ireland, she said: "Once the legislation is passed we are ready to produce cheques and we're ready to start issuing those cheques.
"Our plan, at the moment, is to start producing 30,000 cheques per night and we are comfortable we could increase that number.
"However, there are a number of other constraints. We have to consider our governance and there are other key stakeholders, such as An Post, who will deliver the cheques, and the banks who will lodge them."
Minister Eoghan Murphy had said in September that householders who paid their water charges would get a refund by the end of the year, if legislation was enacted by the middle of October.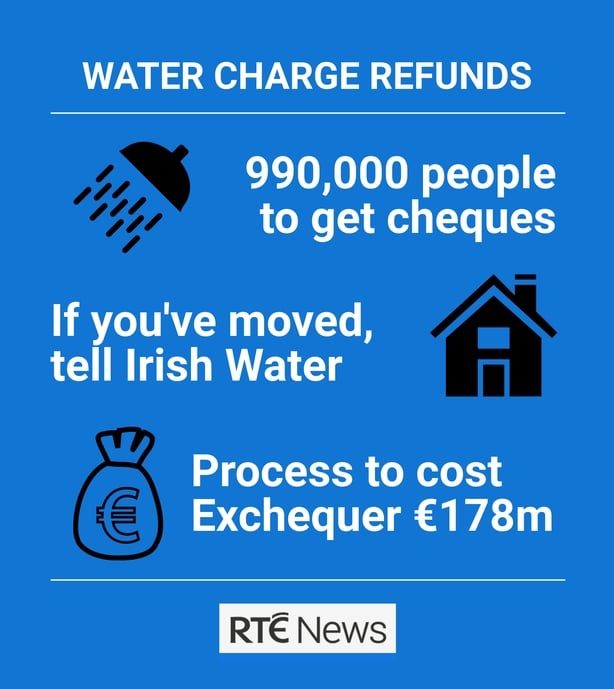 It comes as Irish Water launches a dedicated webpage to assist householders in receiving water charge refunds.
Almost one million householders who have paid water charges are due to receive a cheque from Irish Water refunding them the total amount paid before the charges were suspended.
Questions on Irish Water refunds answered
Irish Water has said that not all customers who paid water charges would be refunded before Christmas pic.twitter.com/7AIwrVrzav

— RTÉ News (@rtenews) November 1, 2017
On 19 October, the Dáil passed the early stages of the Water Services Bill, which provides for refunding the water charges paid by some 990,000 householders.
Refunds will be paid via cheque to the account holder at the address they provided to Irish Water.
Customers are being advised to contact the utility if their address has changed and they have yet to update their details.
If a customer's address or personal details have not changed, they will not have to contact Irish Water to get their refund.
#IrishWater launches website for refund of #watercharges https://t.co/AU3wGbFTmk pic.twitter.com/VhevFHf1RT

— Morning Ireland (@morningireland) November 1, 2017
Irish Water says payments are being made by cheque as "this is the quickest and most efficient means of payment".
The utility can cancel any cheques sent to incorrect addresses or individuals.
Eamon Gallen, Head of Customer Operations for Irish Water, said: "The two big questions that customers have are how much they will receive? And when they will receive it?
"Household customers can be assured that they will receive the full amount they paid, and customers will shortly be able to check online exactly how much they are due and when they are likely to receive their refund.
"Our priority is to ensure that those who paid their household charges get their refund as quickly and efficiently as possible.
"This is why I would urge any customers who have not informed us of a change of address to do so now so that their details are up to date and there is no delay in issuing their cheque."
The setting up of the refund page is the latest attempt to draw a line under the long-running water charges saga.
In July, Minister for Finance Paschal Donohoe said that refunding water charges would cost the Exchequer €178m, including €5m in administrative costs.
According to figures released to RTÉ last month under the Freedom of Information Act, the administrative costs associated with refunding water charges are expected to be €5.87m.
---
Refunds dependent on legislation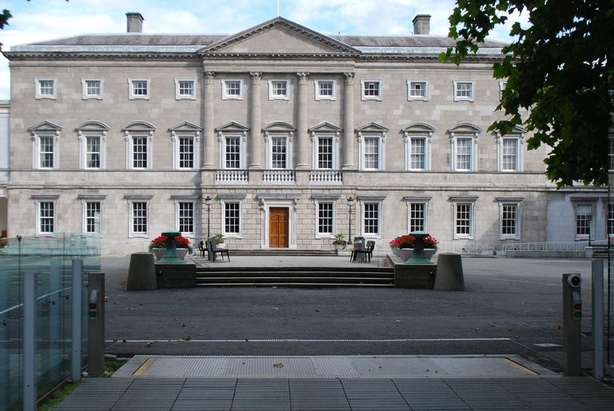 The processing of water charge refunds is dependent on the Water Services Bill becoming law.
The Houses of the Oireachtas the bill is scheduled for debate at Report Stage in the Dáil next Tuesday when the Oireachtas returns from the Halloween break.
It will then also have to pass all stages in the Seanad before it becomes law.
Today is the final day for TDs to submit amendments for the report stage of the bill.
Taoiseach Leo Varadkar has called on Sinn Féin, left leaning parties and independents to support the legislation.
Speaking at the Microsoft Headquarters in Seattle, where he has begun a trade mission, Mr Varadkar said it was his hope that customers would be refunded before Christmas and he urged TDs and Senators to get the water services bill passed as soon as possible.