Sinn Féin President Gerry Adams has accused the Government of being involved in briefings that were inaccurate and malicious about the political negotiations at Stormont.
He described as untruthful and wrong the suggestion that the party's ard comhairle had rejected a proposal put to it last weekend by the party's leader at Stormont, Michelle O'Neill.
In response, a Government source dismissed Mr Adams' attack, describing it as "an unnecessary distraction".
"The government's sole focus is on getting the [Northern Ireland] institutions back up and running. Everything else is an unnecessary distraction.
"It's disappointing that the focus of Sinn Féin seems to be on preparing for direct rule rather than getting the institutions running again."
The row comes as the Northern Ireland Secretary James Brokenshire urged the main parties to reach a powersharing deal.
He said he did not wish to see devolution end, but his ultimate responsibility was ensuring some form of government.
Mr Brokenshire revealed yesterday that the absolute latest date for the parties to reach an agreement to return to the powersharing executive would be 30 October.
Powersharing collapsed in January this year, as Sinn Féin's Martin McGuinness pulled out of the executive in protest.
He cited concerns at how his counterparts in the DUP handled allegations of mismanaging a renewable energy scheme.
The parties have since failed to reach an agreement to return to Stormont, with divisions remaining over culture and the Irish language.
---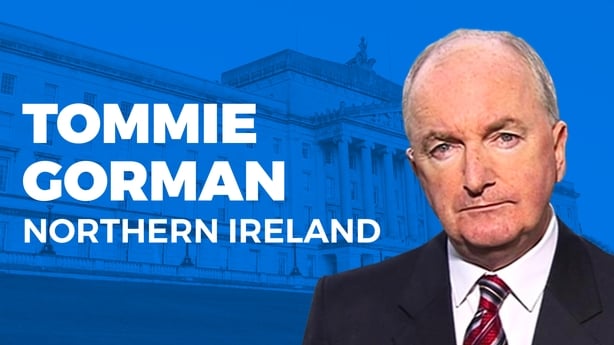 These strong accusations from Gerry Adams come as the DUP and Sinn Féin continue their efforts to resolve the issues that collapsed their powersharing administration ten months ago.
Those private discussions have been going on for months.
A number of deadlines have been missed and now the British government is threatening it will introduce a Northern Ireland budget next month if there is no breakthrough.
Gerry Adams specific allegation about the Government is that its sources had fingerprints on reports that he describes as malicious and untrue.
The contentious story is that Michelle O'Neill had put a proposition to the party's Ard Comhairle last weekend that was rejected.
While the two parties have remained tight about the progress or lack of it in recent weeks, both governments have been offering views on developments.
Dublin won't be commenting directly on Gerry Adams' criticism, but it insists its sole focus is on getting devolution back.