The Minister for Employment Affairs and Social Protection Regina Doherty has defended her recent comments criticising disruption to Bus Éireann services in the east of the country as an "unofficial labour dispute".
She acknowledged that on Wednesday 11 October, she had released a statement calling on SIPTU and the National Bus and Rail Union to "help put an end to an unofficial dispute that has disrupted the bus journeys of thousands of Co Meath commuters".
She noted that SIPTU had described her description of an "unofficial labour dispute" as ill-advised, while the NBRU had said there was "no action, unofficial or otherwise".
Ms Doherty (below) said the fact of the matter was that thousands of her constituents have been left without bus services in recent weeks, owing - in part - to an absentee rate of up to 14% locally in Bus Éireann, compared to a national average in the public service of just 4%.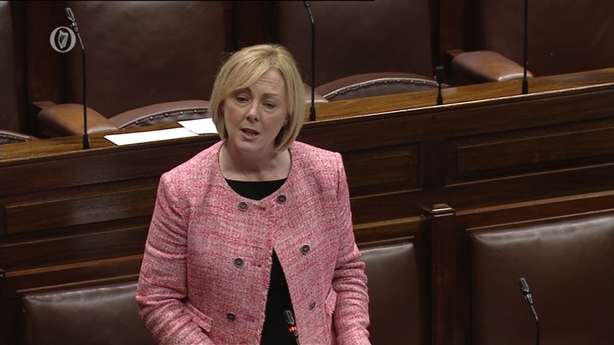 She said that last week alone, 299 replacement services were required from private bus companies at a cost to Bus Éireann of over €150,000 to plug gaps where drivers had not presented for work.
These figures were confirmed by Bus Éireann, who also revealed that projected losses for this year have risen from under €10m earlier this year to an estimated €16m.
Sources said the rise in losses is partly due to the 21 days of strike action earlier this year.
Ms Doherty said she was indifferent as to whether the unions want to understand the current situation as an unofficial dispute, or a bad dose of the flu in Co Meath.
She stressed that her concern was that Bus Éireann users in Meath could rely on their services again.
She stood by her original request to unions and Bus Éireann to end the upheaval to thousands of passengers as soon as possible.
Unions blamed Bus Éireann for introducing additional routes before new more efficient rosters (agreed in principle following acceptance of a Labour Court recommendation) had been finalised.
They said the current situation had resulted in additional stress for drivers, who in some situations were working shifts in excess of 12 hours, with inadequate rest and toilet breaks.
Bus Éireann acknowledged that 87% of the absenteeism had been medically certified.
It also noted that all services had operated today.