The latest Census figures show almost three million people are commuting daily, with a significant increase in those cycling.
In April 2016, 56,837 people cycled to work, an increase of 43% since 2011, according to the Central Statistics Office's Census 2016 Commuting in Ireland report. 
It shows that in April 2016 the number of people travelling to work, school or college stood at 2,962,550, an increase of 9.3% on the 2011 figure.
1,875,773 people commuted to work, an increase of 10.7% on 2011. 
As well as increases in cycling, there were large increases in bus and train use, up 22% and 19.7% respectively.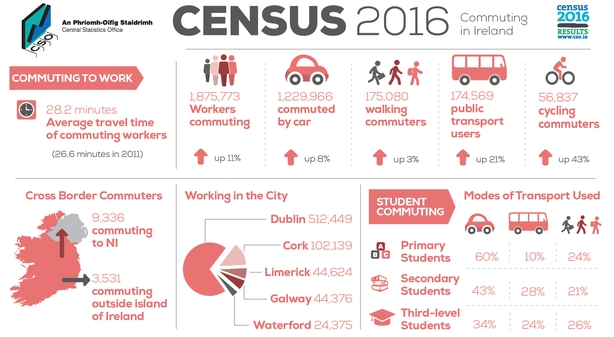 The report shows that in April 2016, nearly 200,000 commuters spent an hour or more commuting to work, an increase of almost 31% on 2011. 
Walkers, meanwhile, comprise almost 10% of working commuters - increasing by 4,570 to 175,080, accounting for 9.3% of the commuting population.
While just under half of working commuters living in Dublin city and suburbs commuted by car, more than 60% did so in Cork and Limerick (city and suburbs).
In rural areas, 70% of people used the car to get to work.
The survey found that commuting times rose in every county, but counties bordering Dublin had the longest average commuting time.
According to the CSO's analysis of commuting trends, one-in-five workers in Wicklow and Meath had a commute of over an hour in April 2016, and it was one-in-six in Kildare, Laois and Westmeath.
In terms of large towns, Laytown-Bettystown-Mornington had the highest percentage of commuters travelling to work for an hour or more at 27.6%, followed by Skerries (27.3%), Greystones-Delgany (25%) and Maynooth (22%).
Laois is the county with the highest share of workers with a commute of 90 minutes or more at 6.7%.
On the other end of the scale, 37% workers in Donegal had a commute of less than 15 minutes.
14% of couples with children under 5 had commutes of over an hour to work.
That was the case for one in four parents living in Wicklow, and one in five in Meath, Kildare, Laois and Westmeath.
17% of third level students faced a commute of over an hour in April 2016. 
There are seven towns with populations of more than 1,500 where more than half of the students living there spend that amount of time commuting to college, five of them in Wicklow: 
Skerries in Co Dublin (56.1%)
Wicklow town (54.6%) 
Rathdrum in Co Wicklow (54.3%)
Athboy in Co Meath (53.1%)
Greystones in Co Wicklow (52.2%)
Kilcoole in Co Wicklow (50.8%)
Blessington in Co Wickow (50.3%)
The number of people working in Dublin city and suburbs surpassed a half a million in 2016 and increase of 9% on 2011, and accounting for 29% of the State's workforce.
Three quarters of all commuters into Dublin city and suburbs come from Fingal, Kildare, Meath and Wicklow. 
Professor of Geography at Maynooth University Rob Kitchin said the commuting time for people here will not change unless the nation's planners are aware of the need for proper public transport infrastructure.
Speaking on RTÉ's Drivetime, Prof Kitchin said the figures show that the pattern of commuters is likely to remain the same until 2021, and has been static since 2002.
He said the correct public transport infrastructure would reduce the reliance on people to undertake long distance commutes.
"If you have a mixed development where you have housing, work, service and schools locally then people don't need to travel a long distance," he said.
"It's when things are dispersed and services are concentrated in different locations and people need to move to them that we need to worry," he added.