Almost half a million adult children live at home with their parents, according to latest figures from the Central Statistics Office.
The Census 2016 results also found that the number of families in Ireland increased by 3.3% between 2011 and 2016.
The figures were published today as part of a report into households and families.
A total of 458,874 people over 18 were living with their parents in 2016, an increase of 4.4%, with 58.6% being men.
Fewer than half (215,088) were at work, while 66,516 were unemployed and 152,269 were students.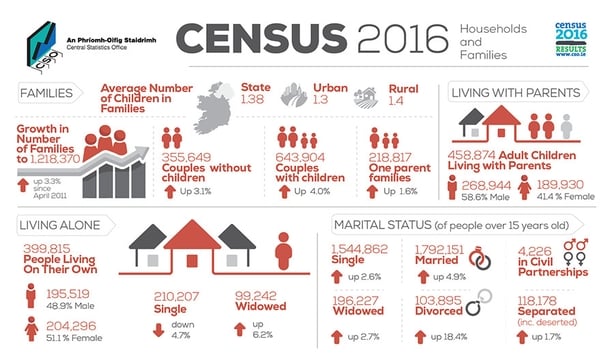 The Census figures also recorded that the number of married people living in Ireland has increased by almost 5% to 1.7 million people. By 2016, those who are married made up 47.7% of the population.
The increase was faster than the overall growth in the population with the number of first and second marriages also increasing.
Women are more likely to be married than single by the age of 33, while for men it is 35.
On the other side, 53 is the peak age for separation and divorce.
There are also 32,225 more separated women than men, while 79 is the age at which women are more likely to be widowed than married.
For the first time, the Census captured the number of people in same-sex civil partnerships of which there were 4,226. Of these, 57% were male partnerships.
The share of the population who were single increased from 41.1% to 43.1% over the five-year period.
The figures also showed that there are now 1,545,000 single people in total in Ireland.
Of these, 36% live in cities, 34% in rural areas and the remaining 30% live in urban areas outside of cities.
Almost 400,000 people in the Census indicated that they lived alone. In total 204,296 of these were female and 195,519 male. Of those living alone, 39.2% were aged 65 and over.
The survey also found that the number of families in Ireland has increased by 51% in 20 years and now stands at 1,218,370.
Within that 355,649 couples have no children, 643,904 are couples with children, and 218,817 are one-parent families.
We have 62,192 families who have four or more children and 4,352 have six children or more.
Overall the average number of children per family in Ireland is 1.38 - unchanged from five years ago.