Searches are continuing off Blackrock Island in Co Mayo as the investigation into the deaths of four Coast Guard crew members last March continues.

A Killybegs-based fishing vessel, Westbound, sailed to the island this morning and is trawling the area in an effort to uncover any new evidence.

Garda divers are also at the scene where Rescue Helicopter 116 crashed. They are monitoring progress and on standby to carry out dives as the need arises.

The latest stage of the investigation comes just over four months after R116 went down, with the loss of all four crew members on board.
All four crew members of R116 - Capt Dara Fitzpatrick, Capt Mark Duffy, winch operator Paul Ormsby and winchman Ciarán Smith - died in the crash.
The bodies of Cpt Fitzpatrick and Cpt Mark Duffy have been recovered but the two other crew members remain lost at sea.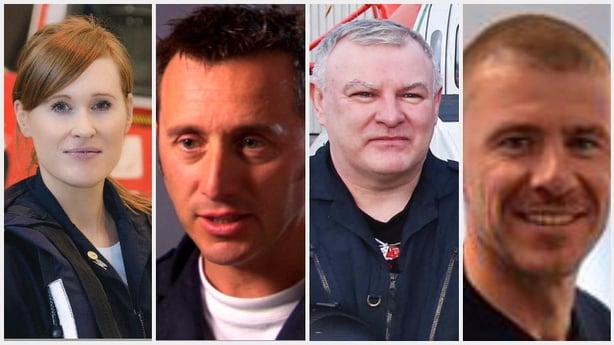 Gardaí say it was always their intention to revisit the crash site, after poor weather conditions repeatedly frustrated the initial search effort last March.

An extensive mapping exercise has been carried out to identify areas of interest around the base of the island, some of which have not yet been examined in detail. Search teams are also mindful of the complex topography in the area and are using specially designed nets to trawl the seabed.

The effort is being augmented by sonar scanning technology on board the trawler.

It is expected that the search will continue for a number of days.

Local fishermen, who know the waters well, have cautioned that swells and the topography of the seabed could complicate the task. Much of the area below water is said to be composed of rocky, jagged outcrops, with only a few areas clear of such obstacles.

Co-ordinators from the Garda Aqua Unit travelled to the island earlier this afternoon to review progress so far.

It is anticipated that the position of any new material would be recorded and logged, before the Marine Institute's Holland I Remotely Operated Vehicle (ROV) would be redeployed to recover it later this month.

Families of the missing crew members are being briefed on developments during the search. Some of them have travelled to Erris for the latest stage in the operation to try and locate their loved ones.

As has been the case since the crash occurred on 14 March, Coast Guard volunteers are continuing to carry out shoreline searches of the north Mayo and west Donegal coastline. These surveys will be stepped up during the coming days, in the event that any debris is disturbed and floats inland.

Meanwhile, the Sligo-based Coast Guard helicopter is due to conduct an aerial survey around Blackrock and the surrounding coast later this evening.