The Minister of State with special responsibility for older people has said the latest census figures will lead to increased demands on the health service.
The average age of the Republic's population rose by 16 months to 37.4 years between 2011 and last year's census.
Speaking on RTÉ's Six One News, Jim Daly said the Government will have to consider the possibility of older people paying a contribution for home-help should they want to stay in their own home rather than a nursing home, but he said "we haven't any decisions made on it".
He said if a type of Fair Deal scheme was introduced for people to be cared for within their communities, it would not amount to the same amount of money required for a full-care package in a nursing home.
Mr Daly also indicated that he would like to get rid of the retirement age of 65.
The latest Central Statistics Office analysis of the returns shows that the group aged 65 and over grew by almost one-fifth, 19.1%, over the same period, making it the fastest-growing sector.
However, there was a decline of 7% in the number of pre-school children and of adults aged under 24.
The number of centenarians increased by more than one-sixth (17.2%), and stood at 456.
Other highlights of the latest in-depth analysis of the census data show that the population has been getting steadily older since the 1980s.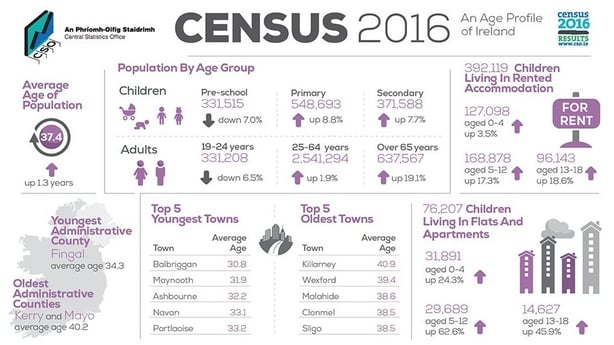 In the April 2016 census, 37.2% were aged 45 and over, an increase of 2.8% since 2011 and of 9.6% since 1986.
The most recent figures show that almost a third of the population, 33.2%, was less than 25 years old, while 29.5% were in the 25-44 age group.
Over half a million, or 577,171, in the 65-and-older older age group lived in private households, an increase of 19.6% since 2011, while the number of people in the same group who were in nursing homes increased by 1,960 to 22,762.
The number of pre-school children (0-4 years) fell by 7% to 331,515 and there was an increase of almost a quarter (24.3% ) in the number of those infants and toddlers living in flats or apartments which stood at 31,891 last April.
---
Headline findings for other groups
5-12 years: The number of primary school age children stood at 548,693 in 2016, an increase of 8.8% on April 2011. Almost a third (30.7%) of primary school age children were living in rented accommodation in 2016, up from 28.7% five years earlier.
13-18 years: There were 371,588 13 to 18 year olds in April 2016, an increase of 7.7% since 2011. Of these teenagers, 3.9% lived in apartments in 2016.
19-24 years: There was a fall in the number of young adults (19-24) since 2011 to 331,208, a drop of 6.5%.
25-64 years: There were 2,541,294 people in this age group, an increase of 48,275 on 2011.
---
In a sign of rapid changes in housing, there was an increase of almost a quarter, 24.3%, in the number of under-fours living in flats or apartments.
By contrast the number of those aged 65 and over living in private households increased by one-fifth (19.6%) while those in nursing homes increased by 9% to almost 23,000 (22,762).
In a statement Deirdre Cullen, CSO Senior Statistician, said: "This profile report examines the age breakdown of Ireland's population and the characteristics of different age groups by geographic area, accommodation and household composition.
"It aims to build on the earlier results on age and sex composition in the Summary Results Part 1 and to provide a more in-depth look at all age cohorts in Ireland in April 2016."
The full report "Census of Population 2016 - Profile 3 An Age Profile of Ireland" is available on the CSO website.