The chairman of the Disclosures Tribunal has suggested to a witness that an error she made could be regarded as causing maximum trouble for a garda whistleblower who was the subject of a disciplinary investigation at the time.
Mr Justice Peter Charleton said to Laura Brophy that in 2013, when she incorrectly inflated a historic abuse complaint made against Sergeant Maurice McCabe, it could have the effect of escalating something that was happening elsewhere.
He said the error would have supported those in the Garda who were against Sgt McCabe. 
The tribunal is investigating allegations of a smear campaign against Sgt McCabe by senior members of An Garda Síochána.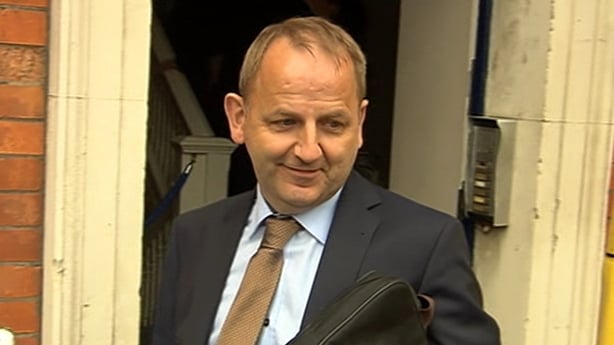 It is initially examining child and family agency Tusla's files containing a false sexual abuse complaint against Sgt McCabe.
Ms Brophy denied that she had made the error deliberately and said there was no way she would consider doing that.
She said she could appreciate the magnitude and that it would be catastrophic. She said she would never be complicit in something like that.  
Mr Charleton said Sgt McCabe had been cleared in the internal garda investigation which was in relation to a missing computer in a sexual abuse case.
She said she was not aware of any newspaper reports about Sgt McCabe in relation to whistleblowing or PULSE records.
She said she only became aware of this when she went to resolve the error in May 2014.
Ms Brophy, of the Health Service Executive's Rian Counselling Service, is continuing to give evidence about her contact with Ms D in 2013 when Ms D referred herself for counselling. 
Earlier, Ms Brophy was asked about how she attempted to rectify her error of inflating the historic sexual abuse allegation to a more serious one when Ms D told her about the mistake in May 2014 and she became aware that Sgt McCabe was in the media.  
Michael McDowell SC, for Sgt McCabe, said she had set in train an appalling injustice by making a "catastrophic mistake".
Ms Brophy said she told her supervisor and the head of social services in Cavan.
She also sent a letter by registered post to the Superintendent in Bailieborough.
Mr McDowell asked if anyone had suggested she should apologise to Sgt McCabe? She said not that she could recall and Mr McDowell said he was left completely in the dark.
Counsel for An Garda Síochána and the Garda Commissioner, Mícheál O'Higgins, put it to Ms Brophy that when she spoke to Superintendent Leo McGinn on 16 May 2014, it may have been another Garda.
Ms Brophy agreed. She was told by that Garda that the updated correction had not been received and that the case had been sent on to a commissioner.  
Mr O'Higgins said that Garda records indicated that this was an assistant commissioner and not the commissioner.
Six years earlier, the DPP had dismissed the allegation made by Ms D and directed no prosecution.
Earlier, under cross examination, Ms Brophy said that a reference to Sgt McCabe as a whistleblower came from the client and she passed this detail on to her supervisor.
Ms Brophy said the term "whistleblower" did not register with her as she did not know what was going on internally in An Garda Síochána.
She said she was not really a newspaper reader and did not know about the penalty points controversy.
Ms Brophy was also asked by Mr McDowell SC why she passed on details of the historical allegation when she knew it had been investigated by gardaí. 
Ms Brophy said her concern was not about gardaí, her concern was that she might not have been dealt with from a child protection point of view.
She said she did not know that gardaí were obliged at the time to report cases to the HSE.
Ms Brophy said she was told by a senior social worker, Briege Timony, that there was no file on the original complaint. However, Mr McDowell said that it was relied upon a week later. 
He said Ms Brophy was making a "retrospective justification" for her action in passing on the complaint even though she knew it had already been investigated.
Mr McDowell also asked her about Ms D's assertion that Sgt McCabe had been "forced out" of Bailieborough Garda Station on the basis of Ms D's allegations.
He said this was totally untrue. Ms Brophy said she understood that was Ms D's opinion and she did not have knowledge of it.
Mr McDowell also said that Ms D is proposing to give evidence.