An immigration lawyer based in Boston has said "there's a great deal of fear in the Irish-American community and in the Irish community" of a sudden deportation from the United States.
The Department of Foreign Affairs has confirmed it is aware of a number of arrests of Irish citizens who have come to the attention of US Immigration authorities.
In the case of John Cunningham, a well-known member of the GAA in Boston, the department is aware of the case and is providing consular assistance.
US Immigration and Customs Enforcement have confirmed that Mr Cunningham is in custody pending deportation.
A spokesman said he was arrested on Friday 16 June for "immigration violations."
He added that Mr Cunningham "entered the country lawfully under the Visa Waiver Program, but failed to depart in compliance with the terms of his visit."
According to US Immigration, Visa Waiver Program participants "waive their rights to a hearing before an immigration judge and are subject to mandatory detention."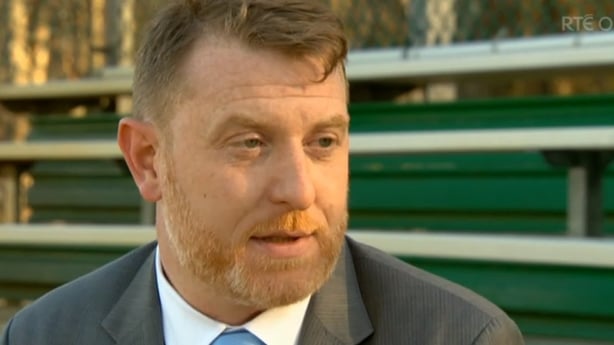 The 38-year-old Donegal man is a former chairman of Boston Northeast GAA.
He was interviewed on RTÉ's Prime Time in March in a programme about illegal immigrants in the US.
He had been living illegally in the US and now faces deportation.
Speaking on RTÉ's News at One, lawyer John Foley said he spoke to Mr Cunningham on Sunday and that his "world has been turned upside down".
He said Mr Cunningham "has been hit with an immigration tsunami" and because he entered the US on the Visa waiver programme, which entitled him to stay for 90 days, he has "waived all rights to judicial processing".
Mr Foley said people who are arrived under those visas "are just going to be removed, they don't go in front of a judge".
He said in relation to Mr Cunningham "it's not a case of if he's leaving, it's a case of when".
Regarding the assets acquired in the US by those facing deportation, Mr Foley said it is up to each individual how he or she manages it.
The Department of Foreign Affairs said the Irish Embassy in Washington and Irish consulates across the US are monitoring the situation regarding the arrests of Irish citizens closely, in conjunction with the Coalition of Irish Immigration Centres.
It added that there has not been an increase in the number of deportations of Irish citizens from the US to date this year.
Irish citizens have been urged to remain calm and to stay in touch with their local consulate and immigration centre and, if necessary, to consult with an immigration lawyer about their particular circumstances.