Gardaí created what was described as a "profile" report into a prominent whistleblower, Garda Keith Harrison, shortly after he complained about alleged mismanagement in the force, according to new documents seen by RTÉ's This Week.
A profile is normally only created on an individual in circumstances where they are a suspect in criminal or gang-related crime, or become of interest to gardaí, the whistleblower's solicitor has said.
The existence of the special profile report was only revealed last week in a heavily redacted email which was sent to Garda Harrison's solicitors as part of a large volume of documents released under a data protection request by the legal team.
Trevor Collins of Galway firm Kilfeather and Co, solicitor for Garda Harrison, said it was "unheard of" that a serving garda would be subject to profiling.
He said they intended to raise the issue directly with Mr Justice Peter Charleton, who was appointed to look into the claims that senior management were aware of orchestrated campaigns against whistleblowers in the force.
The solicitor said his understanding of what was meant in "garda speak" of a profile was "a document where they create a profile of a person where they are targetting a suspect, that is a criminal akin to someone who is in gangland crime, of that nature, where they want to know this person's background, investigate every aspect of their lives, family, associates, movements, accounts, social welfare interactions, every layer of their life is investigated, information is complied".
He said from speaking to Garda Harrison and other gardaí, his understanding was that the compilation of a garda profile document typically involved knowledge at a high level, and the collaboration of local and national intelligence units.
Another whistleblower, Garda Sergeant Maurice McCabe (pictured below), has alleged in a protected disclosure made last year to Tánaiste Frances Fitzgerald, that he was the subject of a dedicated profiling and surveillance operation after he made complaints about mismanagement in the force.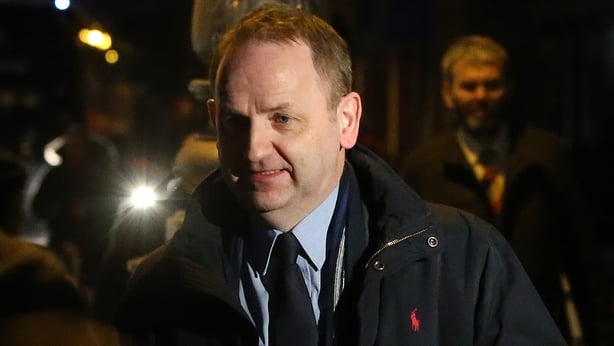 The former head of the force's press office, Superintendent David Taylor, has also alleged that whistleblowers were targetted.
Both men's disclosures formed the basis for Mr Justice Charleton's inquiry.
Garda Commissioner Nóirín O'Sullivan has said she was unaware of any targetting of garda whistleblowers.
The actual profile document referred to in the redacted email sent to Garda Harrison's legal team was not released as part of the data protection release.
His solicitor, Mr Collins, told RTÉ's This Week that as well as writing to Mr Justice Charleton to ask him to investigate this latest issue, they also intended to make an application to the High Court to seek the release of the full profile report, in a bid to find out who ordered its creation, what its specific contents are, and to whom it was circulated.
Mr Collins described the revelation that there was such a profile report in existence as "unexpected" when they read through the hundreds of documents released under the data request.
According to a heavily redacted email, also seen by RTÉ's This Week, the profile document was circulated via email on 1 September 2014 via a series of garda, up to and including one at the rank of chief superintendent.
However, the names and duties of the gardaí who sent and received the email were all redacted.
The only unredacted line of the email states: "I refer to meeting on 18 August ... I now attach profile concerning Garda Keith Harrison."
The email also shows that the attachment is described as 'keith harrison profile.doc'.