Britain's Prince Charles has said that he and his wife the Duchess of Cornwall have "been greatly struck by the strength and vitality of the relationship" between Ireland and the UK.
He was speaking during a reception at the British ambassador's residence in Glencairn House in south county Dublin on the last day of the royal couple's visit to Ireland.
He said that in these challenging times, it is more important than ever to strengthen ties between our two countries.
The most memorable moment of this visit, he said, was at Glasnevin Cemetery this morning where he and his wife Camilla were "deeply moved to join acts of remembrance held at both the Cross of Sacrifice and at the Necrology Wall.
"It is so very important that we are able to come together to honour the memory of so many men and women from all sides, whose sacrifice shaped our shared history," he said.
Earlier Prince Charles and Sinn Féin leader Gerry Adams shook hands as they met at the ambassador's residence.
Prince Charles and Gerry Adams shake hands at ambassador's residence https://t.co/kHEfivP8gj pic.twitter.com/zFq8EMcUcc

— RTÉ News (@rtenews) May 12, 2017
The visit to the residence was the final official element of Charles and Camilla's visit to Ireland.
Speaking on RTÉ's News at One earlier, Mr Adams said he regards the meeting as important and it was an easy decision to engage with the royal family.
A number of other dignitaries and TDS attended the function.
Earlier the couple took part in a ceremony to unveil remembrance stones to Irish-born Victoria Cross recipients of World War I.
They were accompanied by Minister for Arts, Heritage, Regional, Rural and Gaeltacht Affairs Heather Humphreys at Glasnevin Cemetery.
They attended the unveiling of Victoria Cross paving stones in memory of four Irish-born soldiers - Corporal John Cunningham, Company Sergeant Major Robert Hill Hanna, Lieutenant Frederick Maurice Watson Harvey and Private Michael James O'Rourke. The soldiers were awarded the Victoria Cross in 1917.
Charles paused at the paving stone of Corporal Cunningham after he unveiled the memorial stone.
The Duchess of Cornwall bowed her head as she unveiled the paving stone in memory of Sergeant Major Hill Hanna. Prince Charles and Ms Humphreys then laid wreaths at the Cross of Sacrifice
On the last day of his visit, Prince Charles says it is 'more important than ever' to strengthen the connections between Ireland and the UK pic.twitter.com/oxxZ7VHsrY

— RTÉ News (@rtenews) May 12, 2017
In pictures: Final day of Royal visit
Victoria Cross stones unveiled @glasnevinmuseum by Prince of Wales. pic.twitter.com/wbUE7Acdy6

— Ray Kennedy (@RayKennedyHack) May 12, 2017
The royal couple also took part in a ceremony at a memorial marking the centenary of the 1916 Rising.
The short ceremony was held at the Necrology Wall, which bears the names of all who died in the rebellion, Irish and British, military, police and civilian.
The prince and Ms Humpreys laid wreaths at the wall.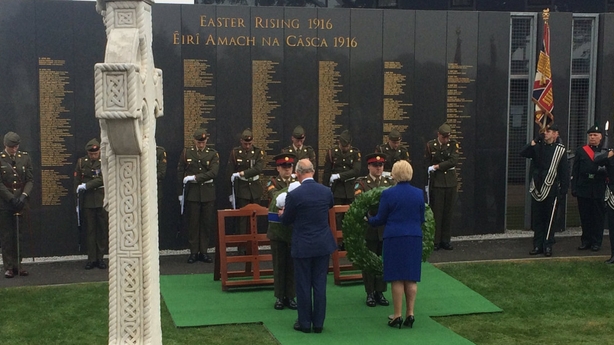 A minute's silence was followed by a piper's lament.
During a tour of the cemetery the royal couple paused to look at the graves of Eamon de Valera, Michael Collins and Maud Gonne and also stopped at the grave of James Joyce's parents.
Prince Charles then went to Government Buildings where he met Taoiseach Enda Kenny.
Prince Charles signing the visitors book at government buildings @rtenews pic.twitter.com/tlUtdl0Qmq

— Martina Fitzgerald (@MartinaFitzg) May 12, 2017
DRCC's Chair Ann Marie & @Noeline_B showing HRH Duchess of Cornwall @ClarenceHouse @BritEmbDublin around our building #RoyalVisitIreland pic.twitter.com/Kpf1HsHmRX

— Dublin Rape Crisis (@DublinRCC) May 12, 2017
The Duchess of Cornwall also visited the Dublin Rape Crisis Centre, where she met staff and volunteers.