Tánaiste Frances Fitzgerald has said it is a matter for the Garda Commissioner to make a judgement about when she makes a report to the Minister for Justice under section 41 of the Garda Síochána Act.
She was responding to Fianna Fáil justice spokesman Jim O'Callaghan, who asked why concerns about financial irregularities at the Garda College in Templemore were only brought to her attention over a year after they become known to Garda Commissioner Nóirín O'Sullivan.
"What you need to explain, these issues were only brought to your attention some 14 months after she was apprised of them," Mr O'Callaghan said.
"There is a legal duty on her to bring those issues to your attention."
But the Tánaiste said she had to wait until the Public Accounts Committee had concluded its investigation into the Templemore audit report before making a detailed response.
"I must pay attention to the proceedings of the committee," she said, adding: "Then if action is required on my part I will not hesitate to take it."
She said she could not have "a running commentary on these proceedings".
"Some people want to reach verdicts before all the evidence has been heard," she said.
"We cannot do that, there is a process in place."
Addressing questions about the delay in receiving a report on the financial irregularities from the Garda Commissioner, she said: "In relation to Section 41 it is the case that the act places a requirement on the commissioner to report certain matters to me.
"In practice it is a matter for the commissioner to make a judgement about when she makes a report to me"
"It is a question of determining whether a certain number of criteria require that referral," she said.
Labour leader Brendan Howlin said the strident response of Ms Fitzgerald to the controversy was depressing.
"The leadership of An Garda Síochána is in crisis reaction mode, it is staggering from one crisis to another," he added.
Sinn Féin deputy leader Mary Lou McDonald said public confidence in the Commissioner had been "torn to ribbons" through malpractice and corruption.
Ms McDonald said it was Minister Fitzgerald's role to hold the Commissioner to account, but she said the Minister for Justice had done nothing.
She said Commissioner O'Sullivan's position was untenable and she needed to go.
Fianna Fáil TD John McGuinness earlier said his party is calling on Ms Fitzgerald to address the controversies in An Garda Síochána or resign.
Speaking on RTÉ's News at One, Mr McGuinness said it is quite clear the responsibility rests with the Minister for Justice and that it is clear there are many controversies, from whistleblower Maurice McCabe to the penalty points issue, that have to be addressed.
"Gardaí at the frontline are doing their job. We have to defend them. That can't be achieved while we have a dysfunctional management system in the gardaí," he said.
Mr McGuinness said Fianna Fáil has gone through a process of having some confidence, to having no confidence, and now calling on Ms O'Sullivan to resign.
He said with that not happening the next step is "to hold political leadership to account" and that is the minister.
He said he raised the issue at a parliamentary party last night, adding that there is a lot of support.
"Everyone is agreed that something has to be done if the Garda Commissioner does not resign. Most in Leinster House see that you have to get a minister to deal with the issue or to find someone else to do so."
He said the majority of TDs want an end to this and they need this dealt with upfront and honestly.
"How can you address those issues when there are serious differences of opinion?"
He said his party finds itself in a conundrum as it has an arrangement with Government but is also obliged to protect An Garda Síochána.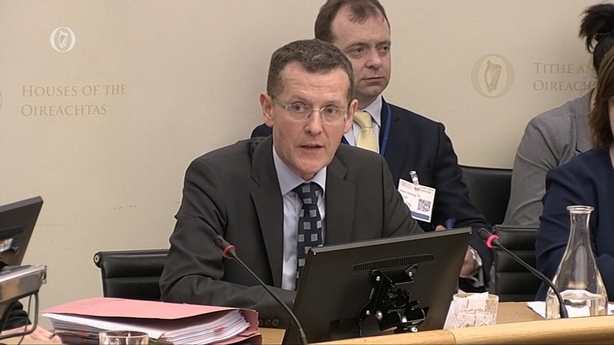 Meanwhile, the Comptroller and Auditor General has corrected the record of the Public Accounts Committee to say that the Garda Commissioner actually did sign revised accounts in September last year, contrary to assertions heard this morning that she signed accounts in March and later inserted information on financial irregularities in Templemore Training College.
Seamus McCarthy told the committee when it resumed this afternoon that he had inadvertently given incorrect information to the committee.
Earlier, Committee Chairman and Fianna Fáil TD Sean Fleming questioned the commissioner's honesty and accused her of backdating her signature.
Mr McCarthy said An Gardai Síochána had provided his office with the wording of the new information that was included in the audit report in September.
"The Accounting Officer (Garda Commissioner) did sign a revised statement on internal financial control on 16 September and that was supplied to us and I reviwed it on the 23rd September 2016.
"We should have changed the date on the statement of Internal Financial Control as published and also on the Audit Certificate. I should have picked up on this myself and I apologies for that oversight," Mr McCarthy told the committee this afternoon.
Mr Fleming said he now realised it was not the fault of the commissioner and he said he regretted any upset or disturbance.
This afternoon, senior officials from the Department of Justice told the PAC that the department became aware of the details of financial irregularities at Templemore Training College in 2015.
The Secretary General of the Department, John Waters, said the department was alerted when they were copied in on communications between the head of the Legal Affairs at An Garda Síochána and the Attorney General in September 2015.
Labour TD Alan Kelly put it to officials that the Garda Commissioner had told the committee that the department was aware as far back as 2008.
"It astounds me that there wasn't knowledge in the department about this. It is frankly incredible," he told General Secretary of the Department John Waters.
Mr Kelly asked Mr Waters if the time gap in the commissioner informing him was acceptable.
Mr Waters responded that if the commissioner was of the view that some criminal activity, that theft or fraud took place, he would have expected her to tell him about that.