Ireland has fallen five places from ninth to 14th in the latest Press Freedom Index.
In its annual briefing, Reporters Without Borders warned that the highly concentrated media ownership is a major problem.
Nordic countries Norway, Sweden, Finland and Denmark occupy the first four places in the index in that order.
The United Kingdom fell two places to 40th while the United States also dropped two places, down to 43rd.
Press freedom has never been as threatened as it is now, in the "new post-truth era of fake news" after the election of US President Donald Trump, Reporters Without Borders warned as it published the report.
It cautioned over the "highly toxic" media-bashing of Mr Trump's election campaign and Britain's Brexit referendum, and said the situation was at "a tipping point".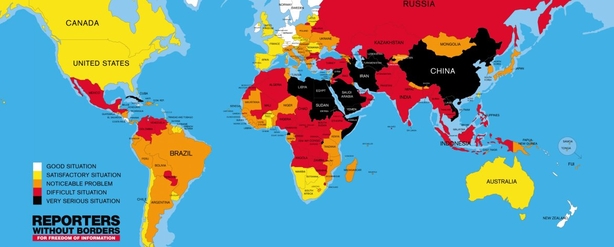 The rise in surveillance and of authoritarian leaders across the globe is undermining freedoms, the watchdog said, with worrying signs even in established democracies.