The Teachers' Union of Ireland will hold a ballot for industrial action in October if equal pay for all teachers is not restored by September.
The decision was taken by delegates at the union's annual conference in Cork.
This represents a significant hardening of the union's stance in its pursuit of pay equality for more recent entrants to the profession.
Earlier, TUI President Joanne Irwin told Minister for Education Richard Bruton that her union is prepared to take industrial action if talking does not work to restore pay equality for teachers appointed after February 2012.
Addressing delegates at the annual congress, Mr Bruton said 75% of the gap had been closed between these teachers and their colleagues.
However, he acknowledged that there was a gap which remained to be bridged.
We need your consent to load this rte-player contentWe use rte-player to manage extra content that can set cookies on your device and collect data about your activity. Please review their details and accept them to load the content.Manage Preferences
Ms Irwin described as disgraceful discrimination the treatment of teachers appointed since 2012. She said teachers would not rest until pay parity has been achieved.
Minister for Education and Skills @RichardbrutonTD gets a warm and courteous welcome arriving at the @TUIunion congress in #Cork. @rtenews pic.twitter.com/o1JDLXUuto

— Paschal Sheehy (@PaschalSheehy) April 19, 2017
Meanwhile, delegates at the Association of Secondary Teachers in Ireland's annual convention in Killarney voted to suspend normal business and to go into private session with no media present to debate the union's current strategy.
It followed a morning of debate with strong contributions from teachers talking about the stress and pressures they were under as a result of the union remaining outside of the Lansdowne Road Agreement.
Delegates said they wanted answers from the convention.
It is clear that a strong majority of delegates at the convention support the current strategy. However, a vocal minority are strongly opposed to it.
One teacher told delegates that ASTI teachers found themselves alone and everyone said they were crazy.
But he said Nelson Mandela was in a prison cell for 18 years because of a principle. He said being alone did not mean you were wrong. "What is right is right", he said.
One teacher spoke about the tensions that had arisen in so-called dual union schools where staff are members of either the ASTI or the TUI trade unions.
The two unions are pursuing very different industrial strategies, with the ASTI outside of the Lansdowne Road Agreement and the TUI within.
The speaker said ASTI membership had fallen from 47 to 19 in her school, and that "20 odd members of staff put their heads to the floor" as they passed on school corridors and would not speak to her. "That is what people are going through", she said.
Another speaker said the union was not divided. All had the same goal of equal pay.
She also spoke about people leaving the union to join the TUI "because they see an opportunity to get ahead".
TUI teachers are more likely to be made permanent in their jobs, and are on higher pay, because their union is co-operating with the Lansdowne Road Agreement.
Minister acknowledges foreign language strategy will need extra resources
Minister Bruton acknowledged that a ten-year strategy for the teaching of foreign languages in primary and secondary schools will require additional resources.
The strategy is expected to be published by him in the coming weeks.
Speaking in Cork, Mr Bruton accepted that the teaching of foreign languages has not been prioritised.
However, he gave no figures for the amount of money that will be required to change this.
He said Ireland should aim to emulate within a decade the performance of the best English-speaking country in the world for teaching foreign languages.
He said the strategy for foreign languages will aim to have all junior cycle students studying a foreign language by 2021 and will aim for a 10% increase in Leaving Cert students taking a foreign language.
The strategy also aims to introduce Mandarin Chinese, Polish, Lithuanian and Portuguese as Leaving Cert subjects.
TUI Grassroots group critical of union
A new group formed within the TUI has accused the union's officers, officials and executive members of routinely failing to implement democratic mandates provided by annual congress and commitments given to members.
Spokesman for TUI Grassroots, former TUI honorary secretary Eddie Conlon, said the issue of pay equality for teachers appointed after February 2012 was an urgent one in the up-coming public sector pay talks.
The union leadership needed fire put in their bellies entering those talks, he said.
Mr Conlon received a standing ovation after he spoke.
The TUI president said 90% of union members had already balloted on the issue of pay equality.
Ms Irwin also said she did not need fire put in her belly ahead of the public sector pay talks, saying she already had fire in her belly.
Meanwhile, teachers at the INTO annual congress in Belfast have expressed deep concern about the implications of Brexit for teachers north and south.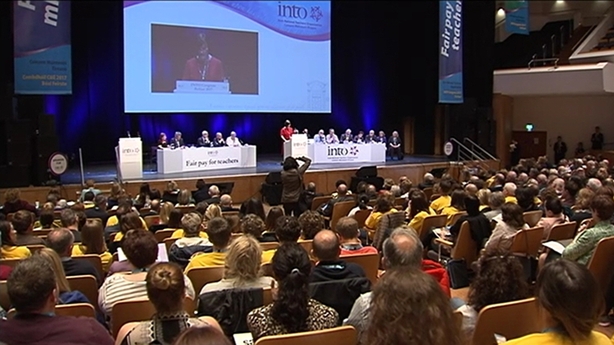 They expressed fear that hard-won employment rights would come apart following Brexit.
The Irish National Teachers' Organisation called on both governments to support the continued free movement of people on the island and the mutual recognition of professional qualifications.