The Labour Court hearing into the Bus Éireann dispute has been adjourned until tomorrow to allow further talks between management and unions take place to clarify certain issues.
The hearing will resume at 10.30am, with pickets to remain in place.
NBRU General Secretary Dermot O'Leary said the court had heard submissions from both sides, cross-examined those submissions and has side sessions with the parties involved.
He described the changes as "frank", adding that the company had also set out its stall.
He said members remained strong and resilient and would wait for the Labour Court process to finish. Mr O'Leary would not reveal whether the court had asked the unions to lift their pickets. 
SIPTU Divisional Organiser Greg Ennis said it would be a matter for the court to decide when to issue a recommendation, but said it would be within days or maybe hours. 
The hearing began this afternoon following the collapse of talks at the Workplace Relations Commission early this morning.
The strike, which has been continuing for 19 days, has brought the company's nationwide bus fleet to a standstill.
Arriving for the hearing, Mr O'Leary said they were hoping the court would recommend a number of measures to reward members for producing significant savings worth €18 million, and for the 11% extra work they would be expected to do.
He reiterated that Bus Éireann's difficulties did not just involve an industrial relations crisis.
He said that other stakeholders had a role to play, and noted what he called "the significant rush" by the National Transport Authority and the Department of Transport to deny they had any part in the current situation.
He said that any decision about lifting pickets would be taken in conjunction with the other four unions involved in the dispute.
Mr Ennis said his key message to the Labour Court was that workers had stood up and been counted in the dispute.
He said someone must ask how, if the unions can deliver €18 million in efficiencies and staff reductions, that was not good enough to solve a €9 million crisis in Expressway.
Mr Ennis said his key message to the Labour Court was that workers had stood up and been counted in the dispute.
He said someone must ask how, if the unions can deliver €18 million in efficiencies and staff reductions, that was not good enough to solve a €9 million crisis in Expressway.
Around 110,000 passenger journeys have been disrupted each day, though many are expected to have moved their custom to private operators providing alternative services.
NTA rejects claim it is steering Bus Éireann management
Earlier, the NTA strongly rejected claims by SIPTU that it was directing Bus Éireann management behind the scenes during negotiations aimed at resolving the current dispute.
SIPTU organiser Willie Noone described company management as "puppets", who were being directed by officials from the NTA and the Department of Transport, as well as private consultants.
Asked what evidence he had for this, Mr Noone said Bus Éireann's Acting CEO Ray Hernan had left the talks at one stage to meet "relevant stakeholders".
He also alleged that "strange people" had been in the WRC building "at all hours of the night" who he had not seen before and who seem to be directing what should happen.
A spokesperson for the NTA strongly disputed Mr Noone's claims, saying none of their officials had been anywhere near the WRC last night or this morning.
He reconfirmed that NTA CEO Anne Graham had met Mr Hernan on Sunday to be briefed on the situation.
He also stressed that no NTA decision has yet been made as to whether additional Public Service Obligation routes, which are subsidised by the taxpayer, will be put out to tender in 2019.
While the NTA will have the option of doing so from then, he said no decision had been taken, adding that the status quo could be maintained, there could be limited tendering, or all services could be tendered out.
Unions fear that Bus Éireann is seeking deep cuts beyond what is immediately required in order to position itself for that potential 2019 tender process against private operators with lower cost bases.
They have consistently called for talks on the Bus Éireann financial crisis to be extended to include other stakeholders including the Department of Transport, the NTA and Minister for Transport Shane Ross.
All those stakeholders have consistently refused to intervene in the industrial dispute.
Earlier, Mr O'Leary earlier said the Department of Transport is "playing a restrictive role" in resolving the dispute at Bus Éireann.
Speaking on RTÉ's Today with Sean O'Rourke, he said the Department of Transport and the NTA had played a part in creating the crisis at Bus Éireann and needed to play a part in resolving it.
Mr O'Leary said unions believed there was a desire, from certain quarters, for Bus Éireann to disappear.
However, he warned that "people need to be careful what they wish for because the experience in the UK is that when bus companies disappeared, bus fares went through the roof". 
Mr O'Leary said the union entered talks in the spirit of compromise and unions had identified €18m worth of payroll savings across all pay grades in Bus Éireann.
However, he said, the company did not provide any clarity to workers as to what it would provide, in terms of support, to them.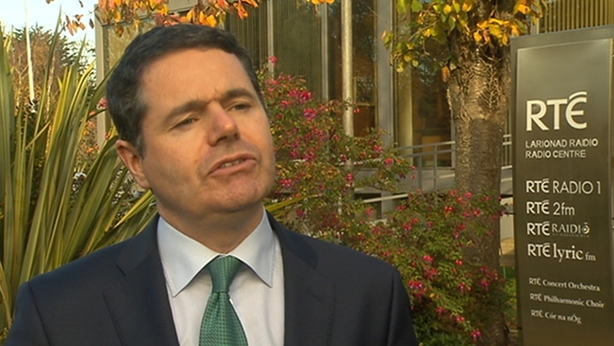 Responding to the claims from the unions that the Department of Transport was interfering in talks behind the scenes, Minister for Public Expenditure Paschal Donohoe said the Government did not play any role in the talks to resolve the dispute, other than to put supports in place for the WRC to do its work.
Mr Donohoe said he hoped the matter could be resolved at the Labour Court.
"The Government has laid out clearly how this matter should be dealt with," he said. "It's a matter between the management of Bus Éireann and the unions."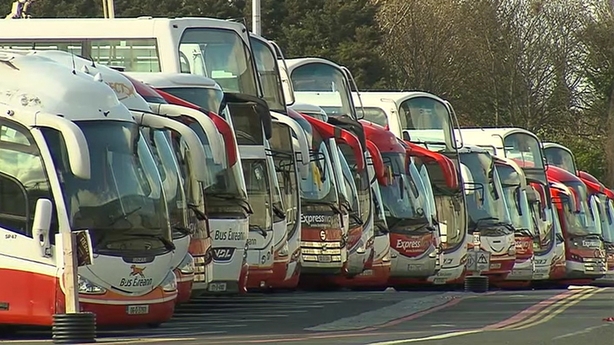 Bus Éireann acknowledged progress had been made and agreement had been reached to eliminate many work practice inefficiencies, but alleged driver unions had rejected a company offer to deliver financial viability.
Unions said that they had offered €18 million savings, more than originally sought, through efficiencies and up to 240 job cuts - but said that management said it was not enough.
It is understood that a key stumbling block was a composite rate of pay to streamline allowances and premium payments.
Management offered €19.20 per hour, with unions saying a rate closer to €22-23 per hour would be needed to compensate for changes.