Former president Mary McAleese has urged communities to drown out what she called "the siren voices of racial and religious intolerance which are playing havoc with the lives" of refugees and immigrants around the world.
She was addressing a Church of Ireland service in Waterford City before unveiling the refurbished bells of Christ Church Cathedral.
It is one of hundreds of churches which began pealing their bells at 11am in a show of solidarity with displaced people.
The initiative was organised by Church of Ireland Dean of Waterford Reverend Maria Jansson and is being supported by Mrs McAleese.
Dean Jansson has said that many members of other faiths and none had also promised to take part in the call for greater tolerance in the face of what she calls "the rising, toxic cant of hate, lies, racism and xenophobia".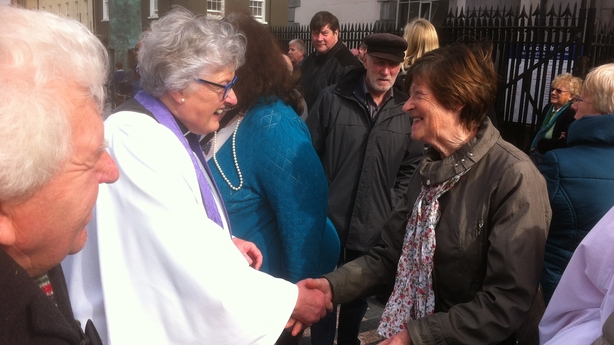 Mrs McAleese told the congregation that it was fitting that the initiative coincided with the recent arrival of the first refugees from the Syrian war to Ballaghaderreen, in her adoptive Co Roscommon.
People gathered at churches around the country this morning as bells were sounded in a show of solidarity with displaced people pic.twitter.com/DnjNBIeKJg

— RTÉ News (@rtenews) March 19, 2017
"Church bells are the voice of the church," Mrs McAleese said, quoting the poet Longfellow.
She said the bells were drowning out the siren voices of racial and religious intolerance which are playing havoc with the lives of so many, making mothers and fathers heartsick and frightened for their children and their future.
Mrs McAleese said Christ Church's bells were ringing a message of joy, of welcome, of tolerance which the community hoped would reach the ears of the world's refugees and immigrants, giving them faith in the solidarity of common humanity and confidence in the future.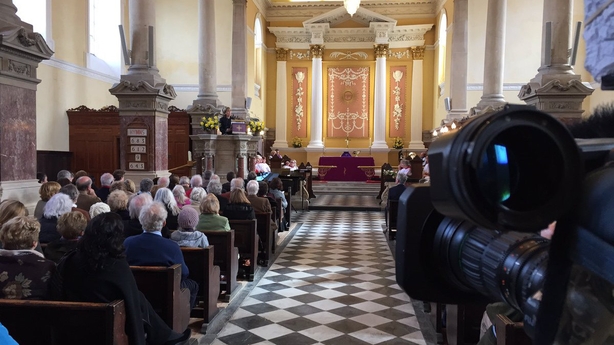 She noted that while we are capable of inflicting misery on one another we have an inexhaustible capacity for goodness, something the bells were calling their listeners towards.
She said hundreds of Christian churches throughout Ireland and across the world were joining people of other faiths and none to ensure that the message of loving tolerance reaches into as many hearts and minds as possible, challenging those who harbour hatred, racism and sectarianism to think again.
"This is no time for silence. There is a tide of malice and misery to be turned. If we are not to be consumed by it then we must confront it, name it, shame it."
She continued: "We proclaim it in the name of Patrick, the trafficked child kidnapped from his home and brought to a foreign land to work as a slave.
"We say it in the name of Patrick who escaped and became a refugee, in the name of Patrick who returned to Ireland as an immigrant, the most successful immigrant to Ireland of all time.
"We insist on tolerance for the refugee, for the immigrant, for the stranger among us, in the name of the millions of Irish, of our own people who knew the hardship and the hurt of being refugees from famine, poverty and violence, who lived the lonely emigrant life in places where they were not welcome, who transcended unjust stereotypes about the Irish, who made good lives, proved their worth and who made us proud.
"We insist on tolerance for the immigrants and refugees who have made Ireland their homes, bringing the rich diversity of new cultures, faith and perspectives to our society, some living with trauma we cannot imagine, all living with that emigrant heartache for their homelands they've left behind but pushing through with courage and determination and hope in us, their new neighbours - hope that the promise of the hundred thousand welcomes is not a fairy story."
"We ring the bells for all those who are on the move today fleeing famine, war, lack of opportunity and whose lives could be so simply transformed by a smile and a helping hand."