The savage attack on a 37 year old woman in Limerick over the weekend provides the lead story in today's Irish Daily Mirror and Herald.
Both papers report that Gardaí were last night questioning a 29 year old man in connection with the attack in which Simone Lee was stabbed, beaten and burned in her own home.
We need your consent to load this rte-player contentWe use rte-player to manage extra content that can set cookies on your device and collect data about your activity. Please review their details and accept them to load the content.Manage Preferences

Apart from that, none of today's papers run with the same lead story.
State employees payment
A proposal to bring forward the 1,000 euro payment, which was due to be given to State employees next September, provides the lead story in today's Irish Times.
Doctors letter
The Irish Examiner, meanwhile, leads with a letter written by a group of almost 20 consultant doctors to the Chief Executive of Cork University Hospital...in which they say that they "cannot and will not take responsibility" for women suffering adverse outcomes...arising from a chronic lack of investment in the hospital's maternity services.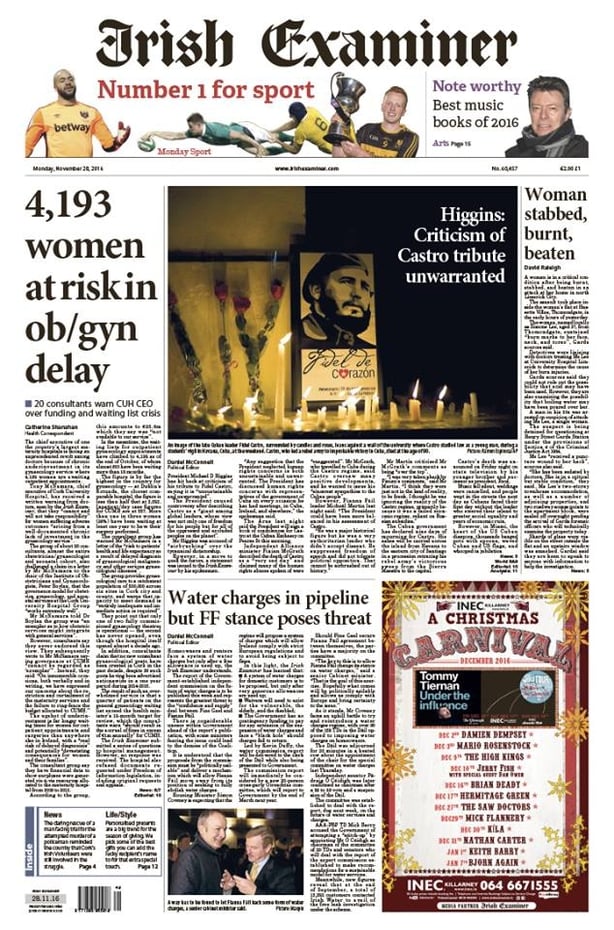 State curriculum on world religions
The Catholic Church has stymied plans for the first ever State curriculum on world religions and ethics for primary schools.
That's according to Katherine Donnelly's lead story in today's Irish Independent, which reports that Bishops and key figures within Catholic education said that the proposed changes were "unworkable" and would confuse pupils.
Majella Donoghue
The Irish Sun leads today with the funeral of 30 year old Majella Donoghue, who was buried in Mayo, two weeks after she fell ill on a flight home from South Africa with her fiancee Barry Doherty.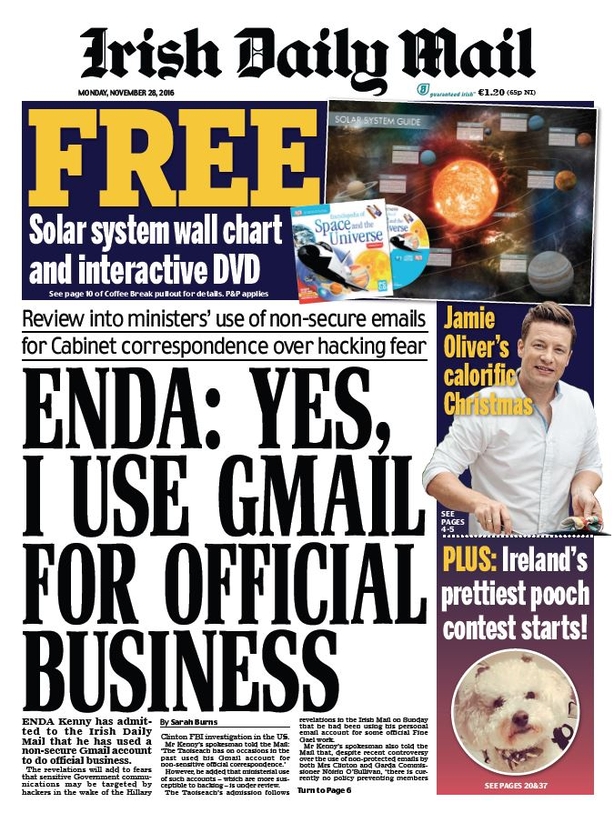 For its lead story the Irish Daily Star reports on allegations made by soccer pundit Roddy Collins that he contacted a senior club officer in Bohemians Football Club...after he witnessed Colin Goggin massaging a semi-naked boy in the the club's physio room in 1998.
In 2015, Goggin received a 3 year jail sentence for sexually abusing 2 teenage boys and for possession of a large amount of child pornography.
"Enda: Yes I use gmail for official business".
That's the lead headline in today's Irish Daily Mail which reports that a spokesman for the Taoiseach said that Mr Kenny has on occasion used his gmail account for non-sensitive official correspondence but that ministerial use of such accounts is under review.
Elsewhere on the front pages:
The Irish Times reports that Republicans are urging the US administration not to send any representative to to the funeral of Fidel Castro while the Independent and Examiner both run with further reaction to President Higgins comments about the late Cuban leader.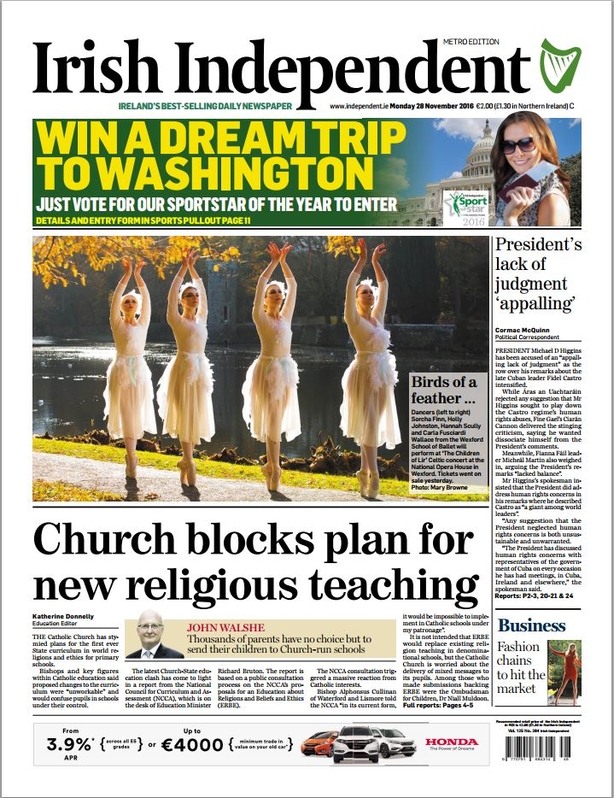 Only 3% of those convicted of commercial-scale drug dealing in the last 5 years were jailed for the minimum mandatory term of 10 years.
That's on the front of the Irish Times...while inside today's paper Una Mullally puts forward the case for the introduction of injection centers for drug addicts.
Elsewhere:
Your chance of winning the Lotto has decreased to 10.7 million to 1 since an extra 2 numbers were added last year.
That's in the Independent as is a report that ex Republic of Ireland football manager Steve Staunton has been declared bankrupt in the UK.
Back in the Irish Times, more than 60,000 pieces of legislation have been repealed from the statute books since 2003 including one which prohibits criticism of the marriage of Henry the 8th to his second wife Ann Boleyn after he divorced Catherine of Aragon in 1533.
There's lots about Cyber Monday in a number of today's papers.
"It took a few years for the concept to cross the Atlantic from the US" according to Conor Pope in today's Irish Times, "but this year Irish shoppers are set to spend close to 50 million euro online in just 24 hours".
Over in the Independent, meanwhile, there's a piece about how more Irish companies need to get in on the act since only 40% of our annual online spend goes to Irish retailers.
It seems unlikely that asylum seekers will be engaging too much with today's online spending frenzy, however, since, according to today's Irish Times, their Christmas bonus, which they will receive this week amounts to just over 16 euro.