More than 250 people, including students and lecturers from the National Maritime College in Ringaskiddy, protested today against renewed plans for a commercial hazardous waste incinerator in Cork harbour.
This is the third time in 15 years that  waste-management company Indaver Ireland has sought to build on the site, 20 metres from the College.
The company, who already has an operation in Meath, wants to build a waste-to-energy incinerator to handle 240,000 tonnes of hazardous and domestic waste.
The company deals in toxic waste, including solvents which are highly flammable. 
Mary O'Leary of Cork Harbour Alliance for a Safe Environment (CHASE) said anyone who has seen reports of last Friday's fire at an Indaver operation in Belgium would understand their grave concerns. 
She said the company cannot guarantee something like this will happen in Cork.
CHASE remains adamant the 12-hectare site is unsuitable, unsafe and unnecessary.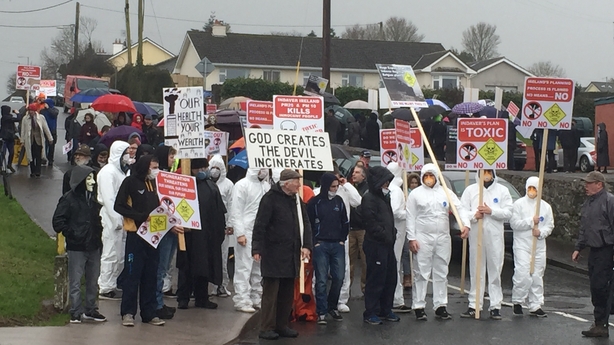 President of CIT Students Union Shane Falvey said there are 450 members at the National Maritime College who are seriously worried about the health implications of an incinerator operating 20 metres from their campus.
Communications Manager with Indaver Ireland Jane Hennessy said municipal waste policy clearly states in regional and national plans that there is a need for such a facility. 
There is a lack of infrastructure in the country and waste is currently being exported from the Cork region.
She said the incident last Friday in Antwerp showed that their emergency procedures work.
The closing date for public submissions is next Wednesday, 9 March.
Giving the long planning history attached to this site, it is most likely that a hearing will be held. 
An Bord Pleanála is due to make its decision by July.