Communities are preparing for further flooding over the weekend as prolonged falls of very heavy rain are due.
Met Éireann has issued a Status Orange weather warning for counties Clare, Cork and Kerry.
Prolonged falls of very heavy rain are expected overnight and during tomorrow with totals of 30-50mm, larger amounts are expected on higher ground. Further flooding is expected.
A less severe Status Yellow warning is in place for the rest of Munster, much of Leinster and much of Connacht.
Up to 35mm of rain is expected in these areas overnight and tomorrow.
The ESB has said it will not increase the flow of water from the Parteen Weir today.
Tom Browne, ESB Engineering Manager, said the company is continuing to discharge water at the same levels as yesterday of 375 cubic metres per second.
But he said they anticipate that they will have to increase the discharge over the next couple of days because of the forecast rainfall that is still coming down the river system.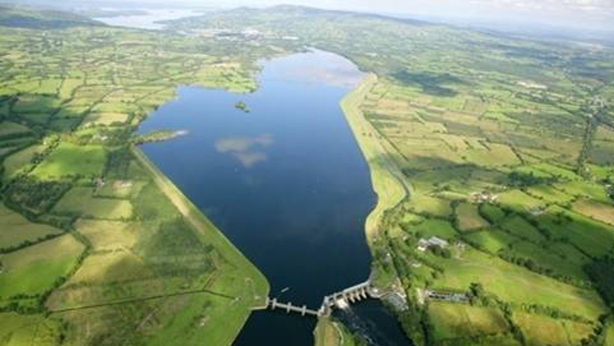 This level of water flow is likely to lead to associated flooding of roads, land and property in the vicinity of the Shannon downstream of Parteen Weir including the areas of Springfield, Montpellier, Castleconnell, Mountshannon (Annacotty) and the University of Limerick.
Mr Browne said the ESB was continuing to discharge the same volume at Inniscarra on the River Lee as has been the case over the past number of days.
But he said that it was "bank full" at this stage with some localised flooding.
Clare County Council said it will operate an Emergency Helpline for members of the public from 7am tomorrow, who can call the line on 1890-252-943.
It said the service is being established to deal with requests for assistance from the public in relation to incidences of flooding.
Raw Footage of flooding in Athlone, 11.12.2015 from Aervisions on Vimeo.
Authorities have also asked local councils to put preparations in place for the rainfall that is forecast tomorrow.
County council staff and members of the Civil Defence have been using pumps to try to reduce water levels in the Strand area, Deepark, Parnell Park, and Golden Island on Athlone.
It is understood that a number of chalet homes north of the River Shannon bridge have been flooded in the past 24 hours and Westmeath County Council has moved two families from homes that were threatened with flooding.
However, all transport links, streets, car parks and shopping areas are operating normally in Athlone town, as well as in Carrick-on-Shannon, and will continue to do so over the weekend.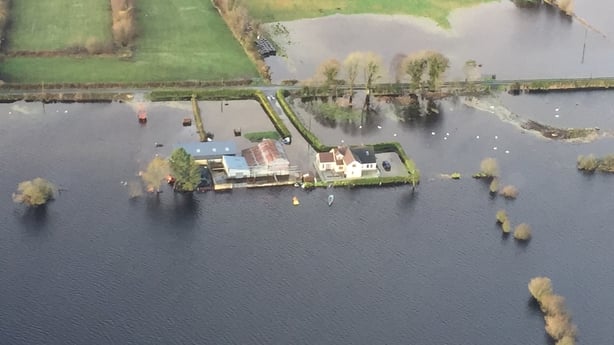 John Barry, who chaired today's National Co-ordination Group meeting, said that heading into the weekend, the main concern is water levels in the River Shannon.
"Water levels are continuing to rise in the Shannon, in particularly the Athlone area, and also downstream in the lower Shannon Basin, downstream of Parteen," Mr Barry said.
"There are a number of homes and properties there that are considered vulnerable, some of them flooded in 2009.
"I understand with the help of the Defence Forces, local authorities and other services have managed to keep them dry so far. I think they are a bit concerned about the outlook for the weekend."
The Coast Guard advice to anybody who might visit coastal areas is to take care. Their general safety message is stay back, stay high and stay dry.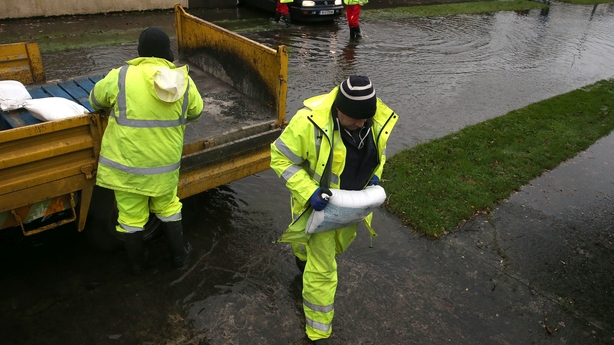 Taoiseach - businesses will receive compensation payments before Christmas
Meanwhile, Taoiseach Enda Kenny has said that businesses who have been affected by the recent flooding will receive compensation payments before Christmas.
The scheme to provide emergency humanitarian support to small businesses that have been unable to secure flood insurance is being administered by the Red Cross and the Taoiseach said that applications will be taken from this afternoon.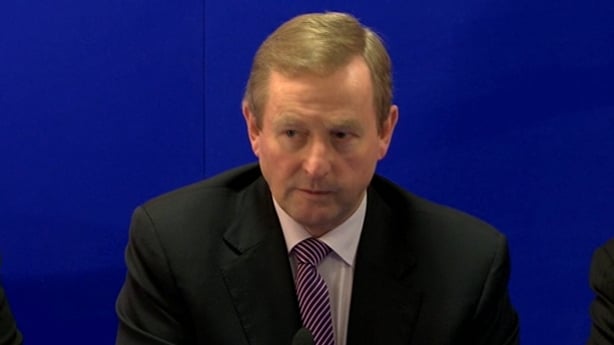 Speaking at the North-South Ministerial meeting he said that payments would be processed and paid before Christmas.
Earlier, Minister for Defence Simon Coveney said the first phase of the scheme will involve claims of up to €5,000 and while there will be a checking system it will be "based on trust".
He said those in small businesses can apply online immediately and the Red Cross will be issuing cheques over the coming days for amounts up to €5,000.
He said households badly affected can contact their local social welfare office who will assist them.
The second phase of the scheme will involve compensation of up to €20,000 and it will take several months for those claims to be processed.
The total level of support available for both stages combined will be capped at €20,000.
Minister Coveney said: "I hope this scheme will go some way towards alleviating the hardship suffered by small businesses adversely affected by flooding throughout the country."
The Department of Social Protection (DSP) has activated its Humanitarian Assistance Scheme, administered by the local Community Welfare Service (CWS), to assist householders affected by the current bad weather conditions.
People seeking assistance under the Humanitarian Assistance Scheme should contact their local DSP Intreo Centre or CWS office for assistance.
The Humanitarian Assistance Scheme is not just available to people in receipt of social welfare payment, it is open to any member of the public who has an urgent need.
There are three stages to the scheme, Emergency Income Support; Replacement of Goods and household items and Long term financial aid and works. Further information is available at www.welfare.ie .
Elsewhere, the Defence Forces and personnel from both Limerick and Clare County Councils are continuing their flood defences in the areas in anticipation that flood waters will continue to rise, particularly on Sunday night.
A Fianna Fail TD for Laois-Offaly has said those affected by flooding should not be expected to pay their property tax for 2016.
Speaking on the News at One, Sean Fleming said he has laid down an amendment to say that there should be a relief for households that have been flooded recently.
Mr Fleming said it is only fair that these homeowners be given some form of temporary relief until they get back on their feet.
"I think it is very fair that people should not be expected to pay the local property tax in January 2016 if they're flooded out of their houses this week, next week, and over Christmas. It's very reasonable, it's compassionate and it's only right that the government should agree with this," he said.
In relation to businesses and farms, Mr Fleming said those who pay commercial rates, should not have to pay their bill for 2016, if their business has been seriously damaged.
Iarnród Éireann has confirmed that the section of the Dublin-Sligo railway line between Longford and Carrick-on-Shannon will not re-open until Sunday at the earliest, although a spokesperson for the company admitted the closure will most likely last beyond that time based on current weather predictions.
Flooding advice is available on www.flooding.ie.