They were a very unlikely pairing – the late Albert Reynolds and conman Patrick Russell. Reynolds was an establishment insider, a wealthy former taoiseach with a strongly rural background. Finglas-reared Russell was a working-class Dubliner, three decades younger than Reynolds.
When Mr Reynolds was a Fianna Fáil cabinet minister in the 1980s, Mr Russell was on the political margins as a Sinn Féin activist.
But both men shared an eye for a deal. They met in 1995 when Mr Reynolds was no longer Taoiseach, but he was still a TD.
Mr Reynolds told the Planning Tribunal in 2006 that Russell "...came to me on the basis that he spent a lot of his time going around looking at possible projects. He talked about a number of projects he had going in the UK. And he even went to America... looking for some of the big hotel chains to come in."
They became business partners around 1996 and began an unlikely friendship. "Albert liked Pat. I wouldn't say they had a camaraderie, but Albert enjoyed listening to him," said Bob Stafford, who in the 1990s worked on sourcing potential investment opportunities for the two men.
"Maybe he saw a younger version of himself – because Albert Reynolds started off with nothing."
Mr Reynolds' relationship with Mr Russell survived an early jolt when Mr Russell's office in Merrion Square, close to Dáil Eireann, was raided by detectives investigating the murder of publican Tom Nevin in 1996. Mr Russell was a financial advisor for Mr Nevin's wife, Catherine, and had been in contact with her in the period before the murder.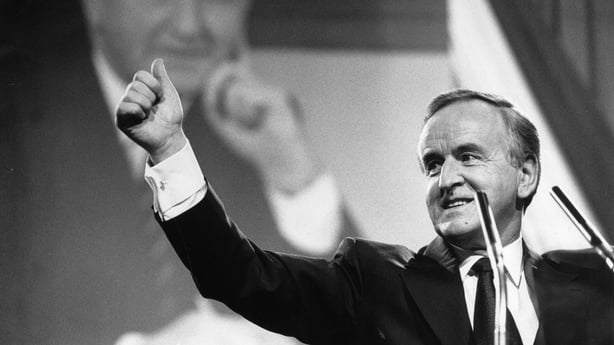 Mr Stafford, who had recently begun working for Mr Russell when the raid happened, remembers the day clearly. Gardaí had "already arrested Pat in his house," he told RTÉ Investigates.
"I walked in the office around half nine", he said, "and plain clothes gardaí were "all over the place".
There was "approximately five staff" and "they were all being interrogated," he said.
Gardaí took away files and computers. Mr Russell was taken into custody and questioned, but he was later released. He was not involved in the murder of Tom Nevin and later testified for the State at the murder trial of Catherine Nevin.
On the morning of the raid, however, gardaí did not tell Mr Stafford why they were there, and he initially assumed it was related to Patrick Russell's former involvement in Republican politics.
However, the police raid did not seem to seriously undermine Mr Reynold's faith in Mr Russell. "Albert Reynolds stood by him for better or for worse – and just thought that maybe that Pat was being victimised" for his politics, Mr Stafford said.
Mr Russell had previously been an activist in the Finglas Sinn Féin cumann and, as a 19-year-old, was public relations officer of the National Committee for Freedom in the Press and Broadcasting, which campaigned against the censorship of Sinn Féin voices from television and radio.
While he retained contact with former IRA men and had been a close business associate of former hunger striker and Priory Hall property developer Tom McFeeley, Mr Russell told the Catherine Nevin murder trial that his involvement in Sinn Féin ended in 1989.
RTÉ Investigates recently revealed that, over a period of three decades, Patrick Russell defrauded over 60 people of more than €8m.
Even at the time of his partnership with Albert Reynolds, he was acquiring a reputation for dishonesty and had been sued at least a half a dozen times by the mid-90s for not paying his debts.
In 1994, Esther Wilson, Mr Russell's disabled former neighbour, took him to court to force him to return the equivalent of over €130,000 of money she had received in an accident settlement.
As a financial advisor, Mr Russell had been entrusted with the money to invest, but according to an affidavit submitted to the court by Esther's mother, Kay, he never provided any documentation to show what he had done with the money.
It took Esther Wilson a decade of legal battle to finally force Mr Russell to repay the money.
Bob Stafford said he did not know about the Wilsons or any of Patrick Russell's victims at the time and that "Albert would have been totally unaware of anything like that" as well.
However, RTÉ Investigates understands that the relationship between Mr Russell and Reynolds caused significant concern in senior garda circles, including the fact that Mr Reynolds would allow Mr Russell to be ferried around by a State driver in the State Mercedes that he was entitled to as a former Taoiseach. Albert "had a police driver – we would use that car regularly," Mr Stafford said.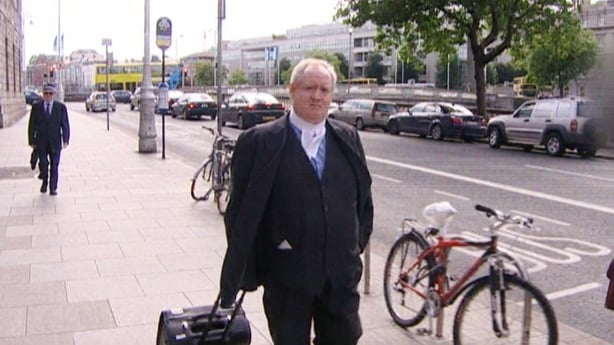 According to documents seen by RTÉ Investigates, as well as Reynolds' and Russell's testimony to the Planning Tribunal in 2006, the two men were involved in property development projects in the UK and Ireland and some ambitious international projects.
"When I was with him, there was talk of buying bank in Switzerland and doing an oil contract in one of the former Russian republics. I think it was in the Ukraine," Mr Stafford said.
"These were ongoing projects, Albert was involved, his financial support was crucial. If Albert's name was down as a director in any company that was like a passport you were halfway to success if he was on board."
Not only did Mr Reynolds, who was a wealthy businessman as well as a politician, have his own ample finances, but his name also opened doors to lenders.
Liverpool builder Alan Munn, along with Mr Reynolds and Mr Russell, purchased a site to develop 54 houses in Sefton near the city around 1998.
Mr Munn said the NatWest bank "were drooling" at the prospect of having Albert Reynolds as a client. "Once they saw that Albert Reynolds was involved, they bent over backwards" to provide lending for the project, he said.
Mr Russell and Mr Reynolds also looked to buy a lender of their own. In 1998, they offered the equivalent of around €27m to buy the Swiss banking arm of Japan's Wako Securities. Contracts seen by RTÉ Investigates were drawn up as negotiations advanced, but they finally broke down, apparently because Mr Reynolds cooled on the project.
The following year, Mr Russell and Mr Reynolds planned to establish a Dublin venue of the Stringfellows chain of UK lap dancing clubs, according to sources in the UK and Ireland.
"We just needed the Stringfellow name," said Mr Stafford.
The plan was that the club's founder, Peter Stringfellow, would not be deeply involved in the club but "would make guest appearances."
---
Read more:
Patrick Russell: The story of one of Ireland's most prolific conmen
---
The original plan was to establish a Stringfellows club in Dublin's Leeson Street Lower, where the Sugar Club is currently located.
But later contracts were drawn up to purchase a former bank in South Great Georges St in Dublin's city centre for use as the venue.
"Albert... liked the idea", Mr Stafford said - though he noted that he didn't want to be "too associated" publicly with something as risqué as a lap dancing club.
Though no longer taoiseach, Mr Reynolds was still a TD for the Longford-Roscommon constituency.
Mr Stringfellow came to Dublin and met with Patrick Russell who showed him the former bank where the club was planned, though he did not meet with Reynolds.
However, the proposed deal "fizzled out." Mr Stringfellow subsequently established a club in Dublin without the involvement of Patrick Russell or Albert Reynolds.
That Parnell Street venue on Dublin's northside opened in 2006, but was the target of regular protests from members of the public. It closed within months.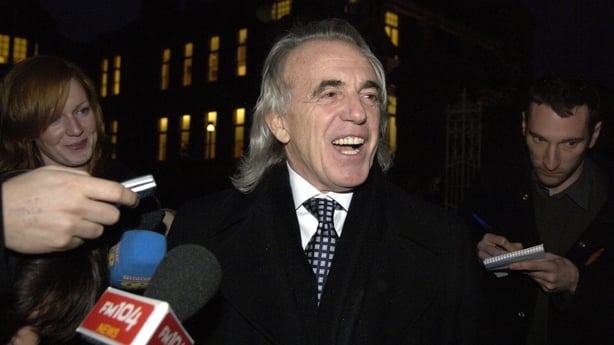 Mr Reynolds and Mr Russell's association lasted for around four years despite a lack of overall success. Sources who met with the two men together said that Mr Reynolds was impressed with Mr Russell's intellect. "Pat is a brilliant brain. I think that is why all these people trusted him, as I did and Albert," a UK-based associate of Reynolds told RTÉ Investigates.
The associate, who was familiar with Mr Reynolds' property dealings, said that the former Taoiseach's UK portfolio was focused on commercial property and in the early 2000s was worth around £15m.
But Mr Reynolds was anxious to augment this. Aside from proposed deals in Derry and Dublin, he and Mr Russell were involved in developing sites in Stoke, Sheffield, Dewsbury as well as Sefton, near Liverpool.
Mr Russell and Mr Reynolds each gave evidence about their business dealings to the Planning Tribunal in 2006.
By then, it was clear that they no longer had a close relationship. Some of their deals ran into legal trouble. Both Mr Reynolds and Mr Russell were sued after two proposed ventures - a land purchase in Swords, Co Dublin, and a separate plan to build a hotel and 197 houses on the grounds of a convent in Derry's Waterside - fell through.
Their proposed partners on those projects, the O'Neill Brothers building firm from Derry, were forced to sue for the return of £600,000 they had given the pair in advance funding for the two projects.
O'Neills had paid that money to a company called Universal Management Consultants, which Mr Reynolds and Mr Russell controlled.
UMC was an opaque entity based in Jersey whose shares were held by two trusts, but the beneficial owner and apparent director was Albert Reynolds.
Patrick Russell also presented himself as a director and claimed to be a shareholder. Mr Reynolds was investigated by a Dáil committee after a complaint was made by the late Billy Flynn, a private investigator.
Mr Flynn alleged that Mr Reynolds was legally bound as a TD to have included UMC in his register of interests.
In his response, Albert Reynolds claimed that what appeared to be his signature on a UMC receipt for £250,000 was a fake.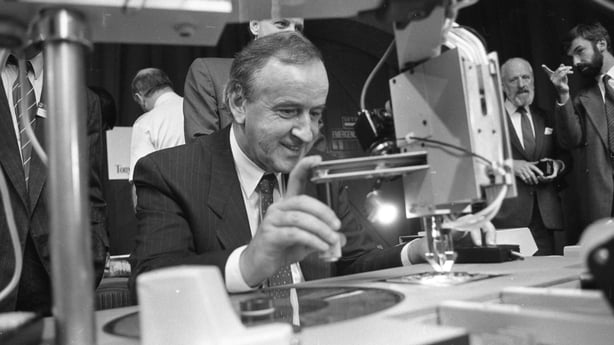 He also said in a written statement to the Dáil investigating committee that he had "no involvement" with UMC. This personal statement was accepted by the committee and no action was taken against Mr Reynolds.
However, RTÉ Investigates has seen letters and documents that suggest significant involvement by Mr Reynolds in UMC. And five years after he gave a written submission to the Dáil investigating committee stating he had "no involvement" with UMC, he told the Planning Tribunal that he was the shareholder and beneficial owner of the company.
He also appeared to acknowledge that the signature on the receipt for £250,000 that he had previously claimed to be false was in fact his signature - and he acknowledged that he had supplied working capital into the company. Additionally, he stated that UMC was originally called AR Consulting, the initials standing for Albert Reynolds.
Unlike many of Mr Reynolds and Mr Russell's business ventures, UMC appeared to have some success.
RTÉ Investigates has seen a 1999 invoice from Universal Management Consultants for £400,000 fees and £38,000 expenses for "Consultancy Services in respect of sourcing a site for Hotel Development at High Holborn in London" as well as "coordinating the various planning applications and drafting up contracts."
Mr Reynolds frequently overlapped his business interests with his political office, writing business letters using his official TD headed notepaper, adorned with the Irish harp, and sending letters on UMC headed notepaper with "Albert Reynolds, TD" written at the bottom.
His political standing carried commercial benefits in Ireland and in the UK. Mr Stafford remembers that one account opened by Mr Russell and Mr Reynolds in AIB in Baggot Street came with an automatic £50,000 (€63,486) overdraft facility. "Because Albert's name was on it, they were given a fifty grand overdraft straight away," he said.
After Mr Reynolds was rejected as the Fianna Fáil candidate for the 1997 presidential election, he greatly reduced his attendance at Dáil Éireann.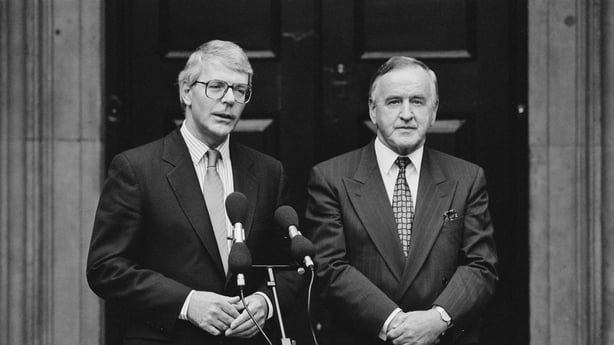 He later based his secretary in Patrick Russell's office in Berkeley Road in north Dublin and had phone calls to his Leinster House office diverted to that office, Mr Stafford said.
The partnership between Mr Russell and Mr Reynolds finally ended acrimoniously after the venture with Liverpool builder Alan Munn to construct 54 houses ended in failure.
"The bank pulled the plug," said Mr Munn.
The four men involved in the project, including Mr Munn, Mr Russell and Mr Reynolds, were later sued in relation to the deal by a company that had provided a guarantee to the vendor.
Mr Reynolds paid out around £300,000 (currently €333,000) as a result of the lawsuit and the entire deal cost him in excess of £500,000, according to those familiar with the situation.
Mr Russell, who claims he also paid out £300,000 as a result of the lawsuit, was blamed by his partners for the failure of the venture.
"Albert really fell out with him over that," said a UK associate of Mr Reynolds familiar with his property dealings.
"Pat Russell talked Albert into going into it and poor Albert was the person with the money."
Referring to Russell, the associate said that Mr Reynolds told him, "I don't want to speak with that f***ing man ever again."
Alan Munn recalled that "Reynolds was absolutely disgusted" with Mr Russell and the failure to succeed with what Mr Munn described as "the best site in the northwest of England."
The failure of the project resulted in bankruptcy for Mr Munn, who describes his partnership with Mr Russell as "the worst thing that ever happened to me."
Mr Russell, who was jailed in November for stealing €215,000 from a Kildare businessman, declined to comment to RTÉ Investigates.
Watch RTÉ Investigates: Barrister & Conman – The Patrick Russell Story tonight at 10.15pm on RTÉ One and RTÉ Player.