On her daily drive to work, May Wynne prays. She doesn't ask for redemption or absolution. Salvation in the traditional sense – her soul – is not on her mind.
Instead, she is praying to preserve her body from Covid-19. She is terrified, if she is infected, of passing it on to her youngest daughter, who has a heart condition.
Like the wolf on the fold, the third wave of Covid-19 descended on Ireland in early January. Over one seven-day period, the virus spread faster here than in any other country in the world.
In the weeks that followed, the country's healthcare workers were forced to contend once again with a capricious foe that keeps no calendar.
On 18 January, May was assigned to care for one of the sickest patients in Tallaght University Hospital's intensive care unit.
That night, May was only able to sleep for a few hours.
Tending to patients in a crowded ICU can be both punishing and demoralising: those ostensibly on the mend can suddenly take a turn for the worse.
The following night, May woke up with unshakeable apprehensions.
"They said it could be PTSD," she told RTÉ Investigates. "But it's probably not. It's just a feeling of worry."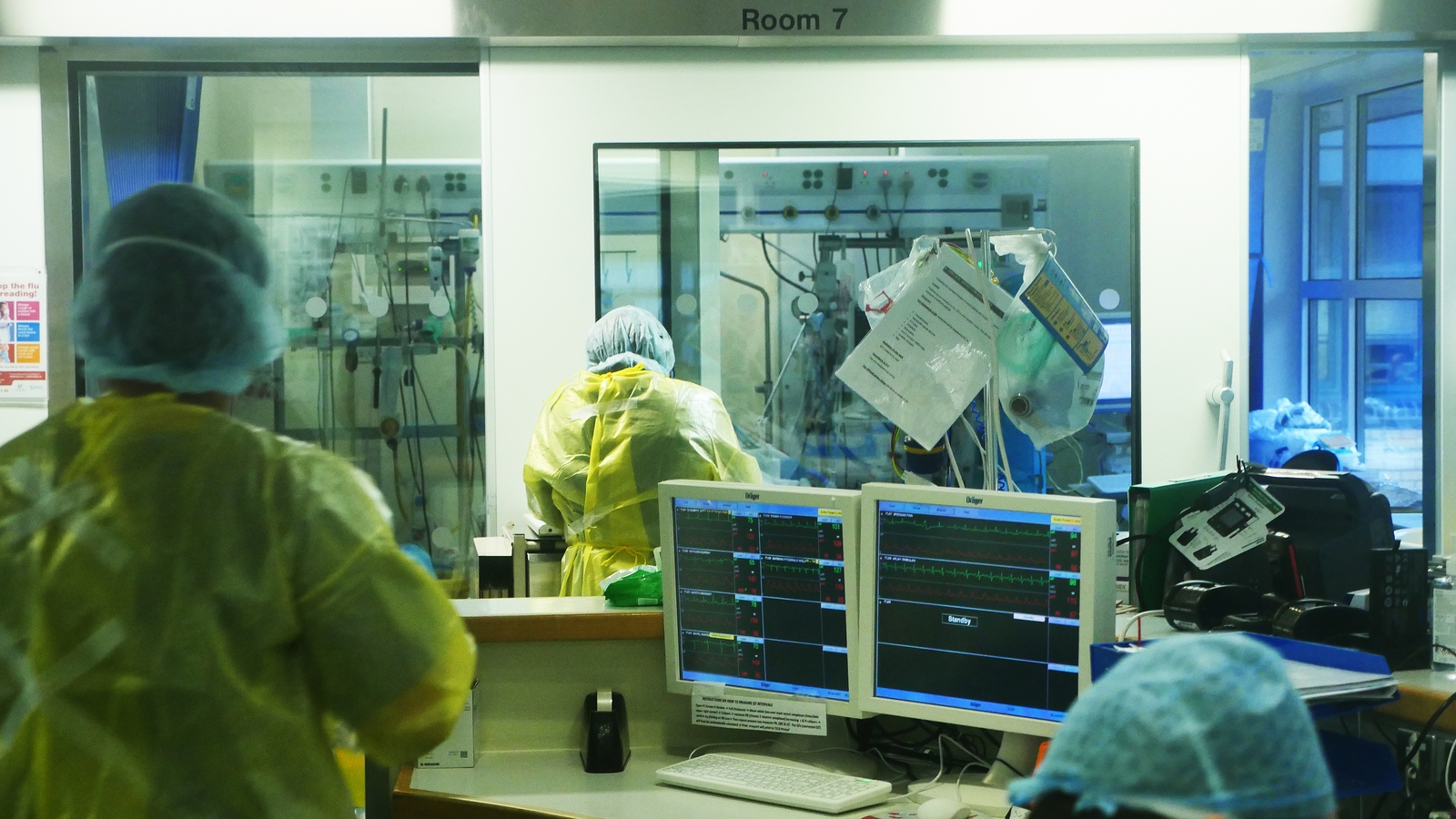 This is what they expected to happen last March.
Doctors and nurses watched images of inconceivable suffering in Italy's Lombardy region, the epicentre of the first Covid-19 wave in Europe.
Ambulance sirens wailed on streets. Oxygen-starved patients crowded the corridors of hospitals. Sealed coffins emerged from makeshift morgues.
On 12 March, the day after the World Health Organisation formally described the crisis as a pandemic, then-Taoiseach Leo Varadkar announced a sweeping lockdown.
"This is uncharted territory," Mr Varadkar said. "We said we would take the right actions at the right time."
Though Ireland was by many metrics remarkably ill-prepared for a pandemic – and especially one that unleashed such a torrent on ICUs – the country did indeed take many of the right steps.
Our hospitals were inundated, but not overwhelmed. The ill-omened scenes from Italy seemed to recede into history – a reminder of what could have happened, had things been different.
In early January, those scenes once again came to the fore of Prof Paul Ridgway's mind.
Tasked with formulating a hospital-wide plan for the third wave of Covid-19, he contemplated the need to treat patients in what he alternately describes as "non-ideal" or "frightening" spaces.
Like any major hospital pushed to capacity, Tallaght University Hospital has been forced to decide who will get intensive care. And who will not
"I think, in many ways, hospitals have been overrun in recent weeks," Prof Ridgway, the lead clinical director of Tallaght University Hospital, told RTÉ Investigates.
"We're delivering care in areas that we don't – and hadn't really planned – to deliver that care in," he said.
Since the start of the year, Irish hospitals have been pushed to the brink. But they have thus far avoided what had seemed like an approaching cataclysm.
"Is there a stage beyond where we actually are where we're delivering care in non-ideal spaces? The answer to that is yes," Prof Ridgway said.
The management team of Tallaght University Hospital meets several times a day. At 7:30am, decision-makers assess how things have gone overnight, how many beds are free, how many people are waiting in the emergency department, and how full the ICU is.
In recent weeks, these meetings have become a locus for decisions about stretched resources and how to allocate them.
Tallaght University Hospital, like any major hospital pushed to capacity, has been forced to decide who will get intensive care. And who will not.
The criteria is practical, almost utilitarian: care should be given to the patients who are most likely to benefit from it.
But hospitals do not make these decisions. Doctors do. Humans do.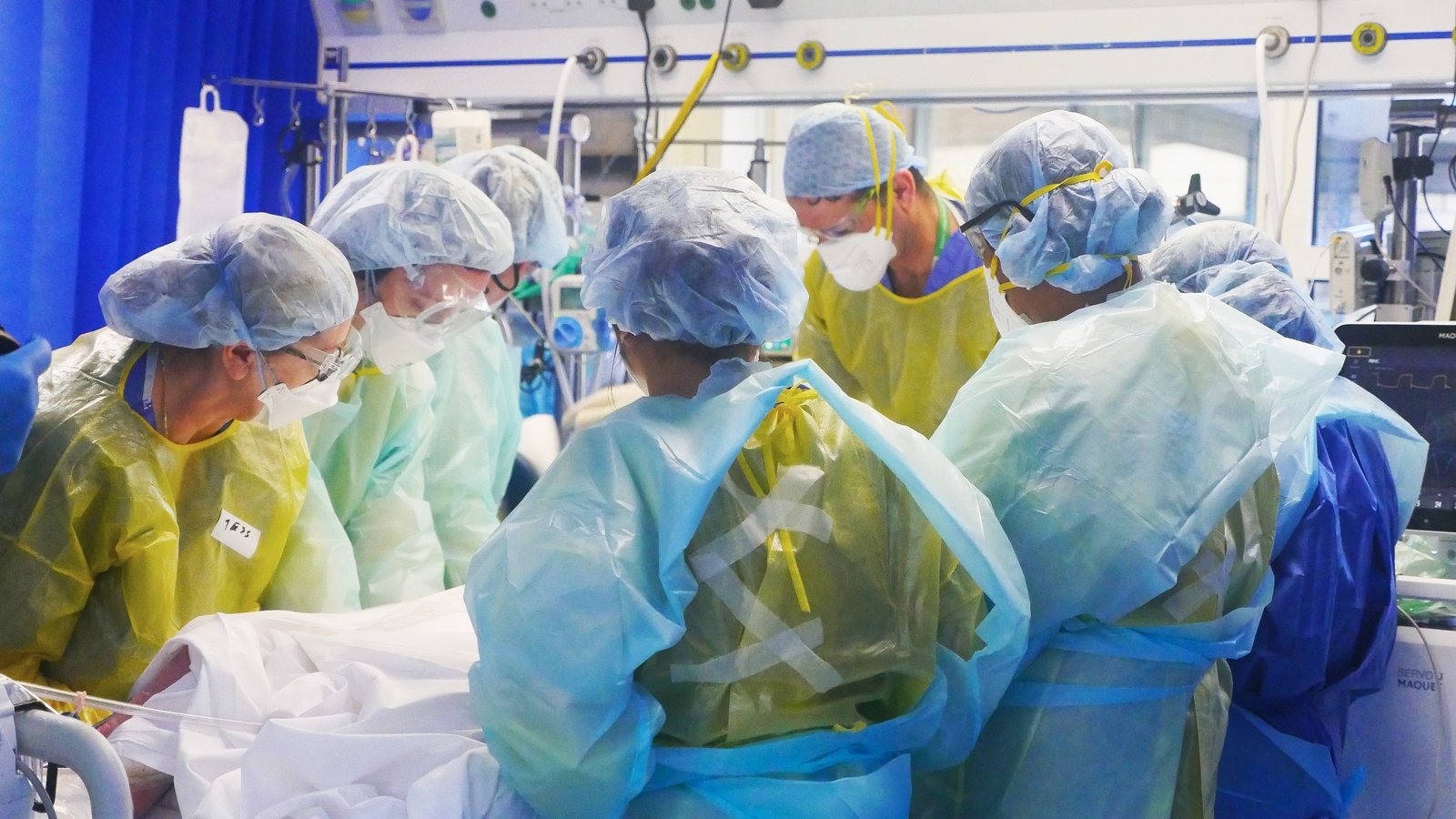 And these are decisions that Dr Jean O'Sullivan never expected to have to make.
"We're unfortunately in a situation where not every patient that requires ICU may be able to avail of ICU care."
"It's not a situation any doctor wants to be in."
Junior doctors – some of them fresh out of medical school – watched as patients with Covid-19 died in the emergency department, before they could even be admitted to hospital.
"In an emergency department, you're used to dealing with patients who are unwell," said Dr O'Sullivan. "But the volume of patients we're seeing, and the acuity of them, and the number of patients who are deteriorating very rapidly, is very traumatising for our staff."
The thinning ranks of doctors and nurses, many of whom have contracted Covid-19 in the line of duty, make things much worse.
One Monday in January, the emergency department was understaffed. It was short six doctors.
That means that senior doctors, who typically stand back so they can make decisions and run the department, must step toward the front lines of the department to see and triage patients.
Dr Aileen McCabe expected 200 patients to come through the department's doors that day. There would be Covid patients, but also those with minor injuries. And there would be patients suffering from heart attacks and strokes.
On a normal day, it would take a multi-disciplinary – and fully staffed – team of doctors and nurses to conduct a thorough assessment of those patients.
For operational and infection control reasons, all patients attending the hospital's emergency department in recent weeks were being treated as if they were Covid positive.

On days when May feels overcome by extreme anxiety, she is propelled by jolts of adrenaline by the time she arrives into the ICU
"It's very stressful. We've been working with this day in, day out since March," she said.
For nurse Fiona Rogan, the third wave has been far worse than she had expected. That same Monday brought with it a low point: putting a patient into a body bag.
"Knowing that you're the last person who is going to see them is something that no training can prepare you for," Fiona said.
For years, Ireland's health service has been grappling with a recruitment and retention crisis. For reasons the service wasn't able or willing to acknowledge or address, it has had trouble finding staff and holding on to the workers it already has.
"We really started off dealing with this, not only on the back foot, but far below than what we should have been resourced to deal with this," said Dr O'Sullivan.
The implications are obvious to anyone who pays attention to the nightly Covid cases, of which the total number of people in ICU has become a fundamental feature.
But for clinical nurse manager Nigel Kyle, one number – how many beds are left in the emergency department – feels a little less abstract.
"There have been stages where, from a nurse manager point of view, that it feels like we're at a tipping point – and I don't have any space for patients anymore," Nigel said.
"On this wave, it has been considerably more than when we first heard of Covid-19."
Research carried out by Dr Anna-Rose Prior, a consultant clinical microbiologist, and the hospital's laboratory team, found that almost a fifth of healthcare workers in Tallaght University Hospital have antibodies for SARS-CoV-2, the virus that causes Covid-19.
But as many as a third of those with antibodies had never actually been diagnosed with Covid.
"Either they didn't have a confirmed diagnosis, or they never suspected they had it," said Dr Prior.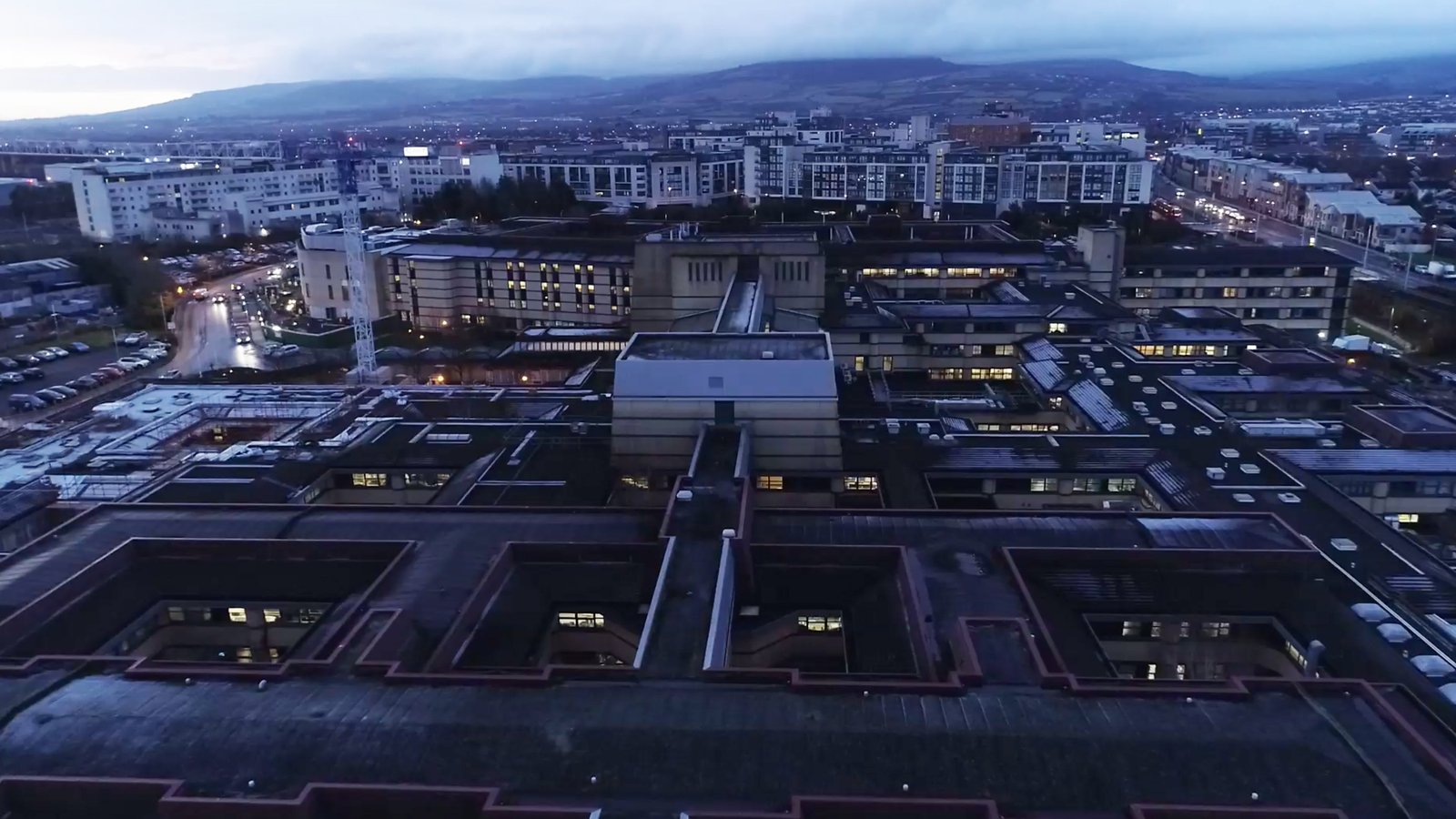 Staff, Dr Prior suggested, may not be able to tell the difference between the exhaustion that follows a pulverising day at the coalface of a pandemic – and the fatigue associated with Covid-19.
"We've done a lot of work to have symptom awareness around the hospital," Dr Prior said.
"Healthcare workers have always been used to working in very challenging situations," she said. "So, our mindset has to change."
Dr Prior's study is the first of its kind in Ireland. But the conclusions – that healthcare workers are far more likely than other groups to contract Covid-19 – are far from unexpected.
It is one thing to be aware of a risk in the abstract. It is quite another to experience it first-hand.
Fred Guarin had not realised he was dying. Rather, it was his friend who noticed that he was ashen-faced and short of breath.
When he was brought into hospital, he was immediately admitted to ICU, sedated, intubated, and placed on a ventilator.
It was over a month before he was weaned off breathing support – and weeks before he began to develop a sense of what had happened to him.
Fred has worked as a nurse at Tallaght University Hospital for over 20 years. He spent most of 2020 as a patient of the hospital, including 50 days in ICU.
"Fred got one of the most severe Covid-19 infections systemically," said Prof Seamas Donnelly, a respiratory specialist.
Like many people who have nominally recovered from Covid-19, Fred is counting the small victories.
Scans of his lungs reveal significant scarring, but he can walk half a kilometre. He can take the stairs. He can cook. He can wash his clothes and hang them up to dry.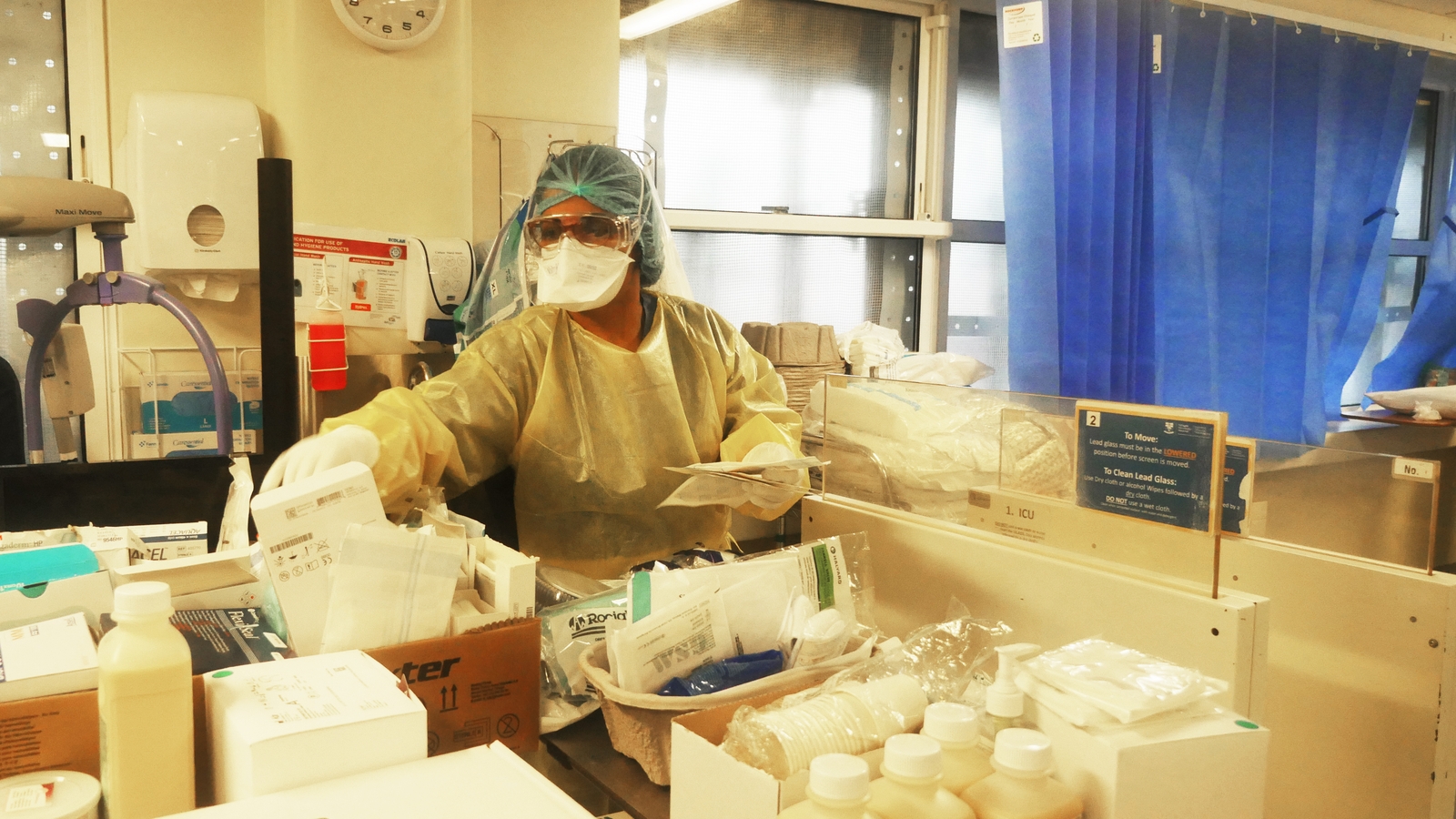 But Fred still gets tired and short of breath easily, and suffers from brain fog, a frequently reported symptom of so-called "Long Covid".
"I used to walk corridors a lot. When I came into work, I'd park the car, walk the wards all day to discuss patients' journeys," Fred said.
"But then I got sick. Every time I come in the door of the hospital it always comes back to me what happened."
On days when May feels overcome by extreme anxiety, she is propelled by jolts of adrenaline by the time she arrives into the ICU.
She has faith in God, but also in her personal protective equipment.
"I start to forget being so scared," she said. "You have to do your work and you have to care for the patient."
May's husband, Alberto, is also a nurse in Tallaght University Hospital's ICU. They are the only married couple in the unit.
Without a child minder – and far away from family support in the Philippines – May and Alberto alternate their working lives to look after their two young children.
A series of tanks on the northern end of the hospital's campus – part of its bulk storage system – hold thousands of litres of liquid oxygen, which is stored at −180C.
Much like the virus itself, the way in which doctors treat Covid-19 is constantly evolving. In the early days of the pandemic, a huge proportion of seriously ill patients who needed oxygen were placed on mechanical ventilation.
But being put on a ventilator involves sedation, and sometimes requires doctors to induce short-term paralysis – which can weaken a patient's respiratory muscles, in turn hampering or even preventing recovery. 

Ventilators are still used in the extreme cases. But, since the first surge, non-invasive ventilation, which provides pressurised oxygen through a mask, has become a crucial component of the medical arsenal – offering breathing support with fewer downsides.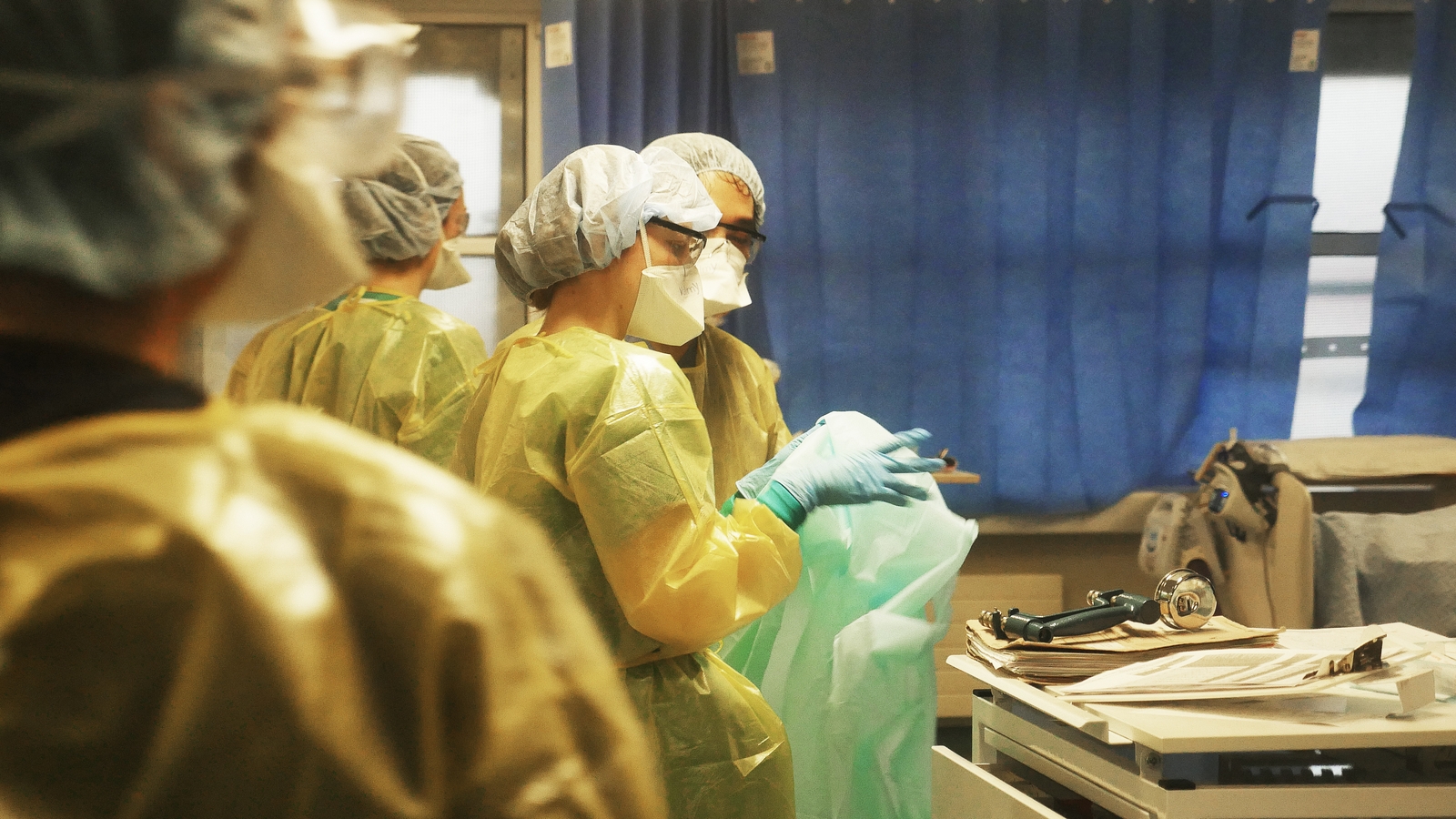 For Covid patients with respiratory problems, a steady supply of oxygen has thus become a lifeline.
Prior to the pandemic, the hospital used between 300 and 400 litres of oxygen per minute. In recent weeks, it has used as many as 900 litres per minute – a two-and-a-half-fold increase.
"We never let tanks go below 50% capacity," said Ciaran Faughnan, the director of facilities and estates.
Last summer, Mr Faughnan oversaw an upgrade to the system. The addition of a second evaporator has doubled the volume of oxygen that can be fed into the hospital's pipe network.
Patricia Kearns, a patient on the fourth floor Ormsby Ward, was one of the recipients of that expanded oxygen supply.
On 27 January, a Wednesday, Patricia's medical staff became concerned about her oxygen levels.
While Prof Tara Coughlan considered switching the 71-year old to a different type of non-invasive ventilation, Alyssa Marie Baytan, a nurse on the ward, read Patricia a card she had received from her grandchildren.
"To Nanny, we are all thinking about you and we hope you feel better soon. We all love you so, so much. More than you will ever know. You are the best nanny in the world. So kind, funny and strong," the card said.
It was an intimate moment, one invisible to anyone who was not in the room.
The next day, Patricia passed away. Clinical nurse manager Valerie Doherty held her hand.
"That is what our nursing staff are doing when families aren't allowed in to visit people," said Prof Coughlan. "They're acting as surrogates for families. We all are."
It was Valerie who told Patricia's family about her last hour, even while the experience was still raw in her mind.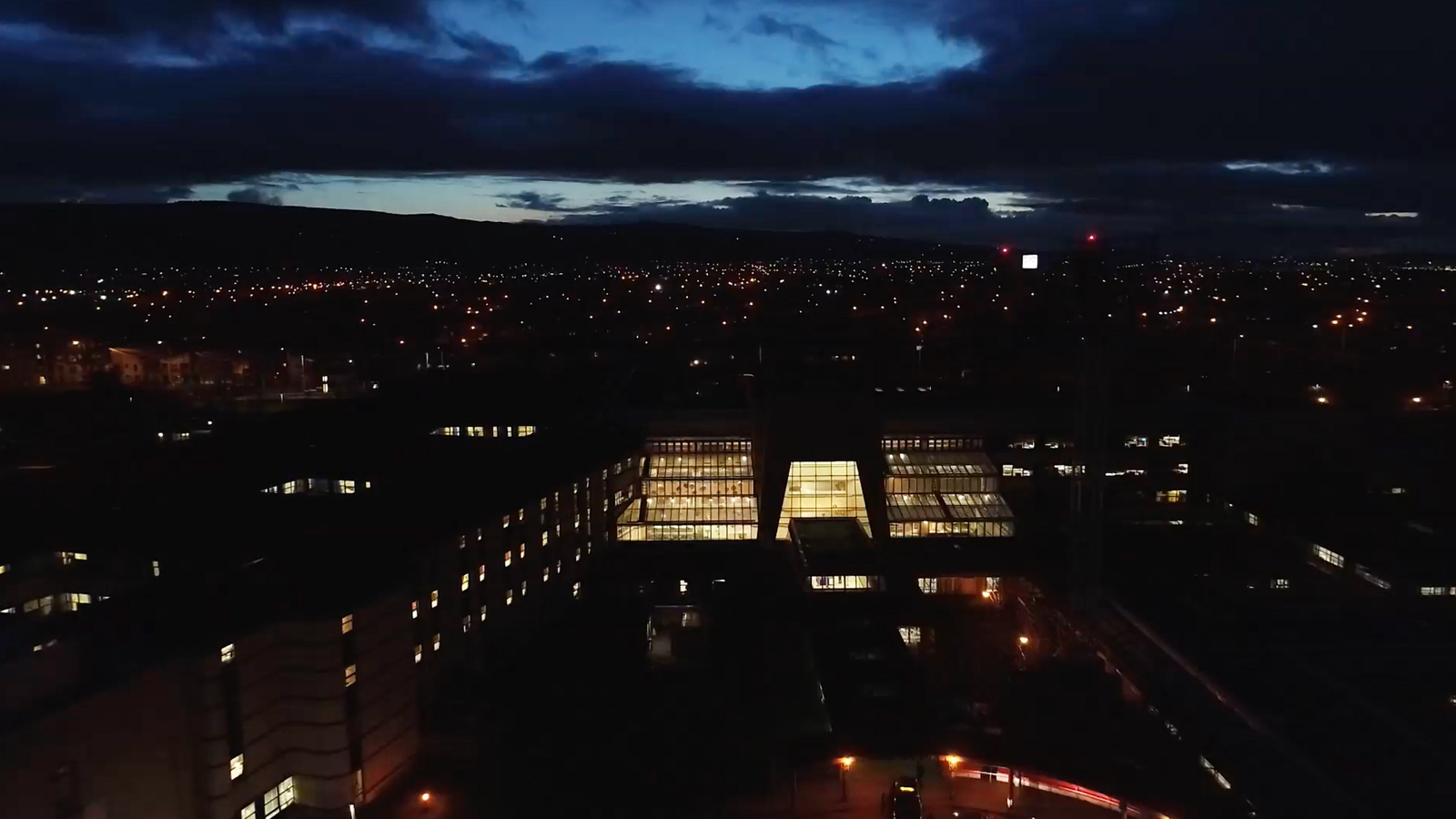 The day Patricia passed, Fr John Kelly shrouded himself in PPE in a nearby gowning room.

Patricia's room was dark, and three family members, including her son Alex, gathered around her bed.
Fr John knows how hard it is to offer solace in the circumstances. For the family of the departed, their loved one has gone from them, but at a remove. It has happened, but the virus has robbed them of a chance to experience their loved one's final moments.
Fr John tried to close that unnatural gap, to give some insight into their loved one's last days.
"She certainly fought. The last few days here on the ward she's been fighting this as hard as she could," he told them.
After leaving Patricia's room, Fr John said plainly what was weighing on his mind: that Tallaght University Hospital was still full.
Some people were fortunate enough to be discharged. Others were even doing well. But many were getting sick.
"It's more than a pandemic," Fr John said. "It's a plague that's taking hold of people's lives."
Covid-19 is a global disaster, its meaning conveyed with statistics and exponential graphs.
It has been said, but every single digit of those nightly numbers is a story.
A hospital working beyond its bounds to deliver care. Medical teams delivering both expert assistance and human compassion. Ill people, slipping down a gasping slope, fearing they will not emerge. Their families, their friends, and everyone who knows them, losing that life.
Over the course of several weeks, they all offered to tell their stories, hoping to tell the one that the numbers cannot.
RTÉ Investigates: Covid-19 – The Third Wave
This story accompanies a documentary from RTÉ Investigates that takes viewers into the heart of Tallaght University Hospital, where once again frontline staff face enormous challenges during the latest surge of Covid-19. Revealing the true picture behind the ongoing headlines and daily numbers, the documentary shows doctors and nurses fighting to keep Covid patients alive in the third wave.
Read more:
One day in an emergency department overwhelmed by Covid
Watch the RTÉ Investigates documentary Covid-19 – The Third Wave tonight at 9:35pm on RTÉ One and RTÉ Player.