The Health Service Executive has said it will maintain special measures in the health service for around ten weeks to continue to protect patient safety.
These measures include extra ward rounds to increase discharges, transfers to smaller hospitals, use of step-down facilities and cancelling some planned surgeries.
Speaking at a HSE briefing this afternoon, interim CEO Stephen Mulvany said 21,837 people were admitted to hospitals in Ireland over the last three weeks, which is almost 10% above what was "previously the most pessimistic modelling".
The Irish Nurses and Midwives Organisation warned today that the level of overcrowding in Irish hospitals was "still too high", with 497 patients waiting for admission to a hospital bed.
Mr Mulvany said two of the last three weeks saw record levels of attendance and admission of patients over the age of 75.
"The system continues to be under very significant and at times unprecedented levels of pressure, though there has been some easing due to the measures taken by staff over the past week," he said.
"It will be a number of weeks before the level of flu will peak. At that point they will stay at this high level, before reducing to normal levels.
"Flu is already at levels that make this an exceptional season, plus we still have exceptional levels of Covid and RSV."
Mr Mulvany said the HSE is "continually reexamining all options, including options to get additional capacity".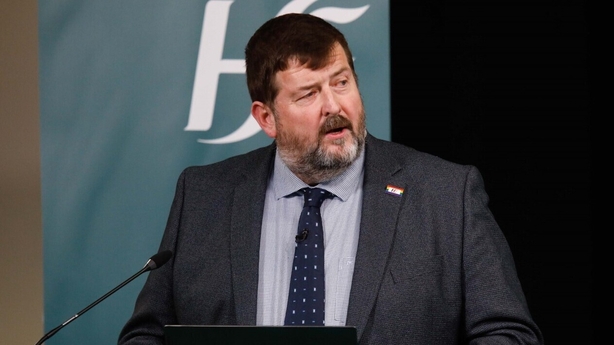 HSE Chief Clinical Officer Dr Colm Henry said that while Covid-19 cases were "beginning to level off", it's too early to say if flu cases have peaked.
Dr Henry said hospital cases of people with Covid are also beginning to "level off" along with overall case numbers, while ICU cases are "down a little bit" and the number of outbreaks in nursing homes and other residential settings is "going in the right direction".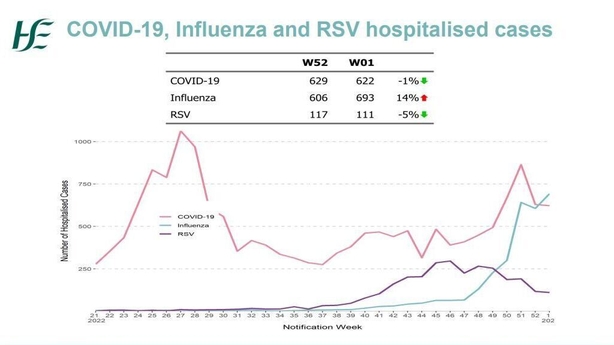 However, he warned that the flu season is longer this winter than in previous years, with a steady increase in case numbers over eight consecutive weeks recently.
"The word 'exceptional' has been fairly used because the season started earlier, has been rising for a longer period of time and hasn't peaked yet," he said.
"There's a two or three-week peak, followed by a decline."
---
Read more: Why do the HSE and INMO trolley figures differ?
---
According to surveillance in certain GP practices, there has been a "relentless climb" in flu cases, with a longer climb period than in previous years.
Dr Henry said uptake of the flu vaccine in older sections of the population is favourable, but the uptake among children is "disappointingly low" and this corresponds with experience in other countries such as the UK.
Perhaps the rate of increase is beginning to abate, he said, but they would need another week of study before they can establish if we are at the peak.
"This flu season could go on right through January, if not February, before tailing off," he said, adding that "it's not too late" for people to get vaccinated.
Dr Henry also urged people to wear masks on public transport and in other congested settings.
He said the 'kraken' sub-variant of Covid remains a variant of interest rather than a variant of concern, but the policy remains one of "vigilance".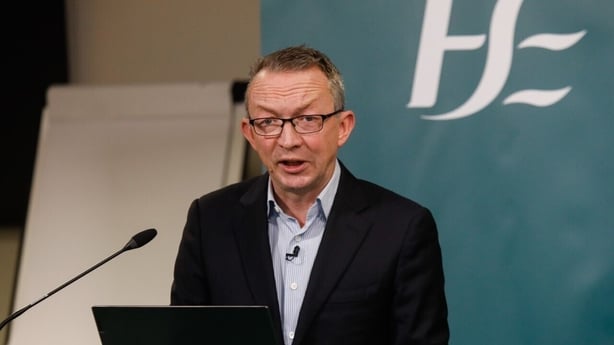 The HSE's Chief Operating Officer said there had been a "drop-off" in attendances at hospital emergency departments in the last week, but the numbers were still up on previous years.
Damien McCallion said 93% of patients are being admitted to a bed within 24 hours of presenting at emergency departments, with 45% within nine hours.
He said many patients who are ready for discharge are waiting for space in residential homes.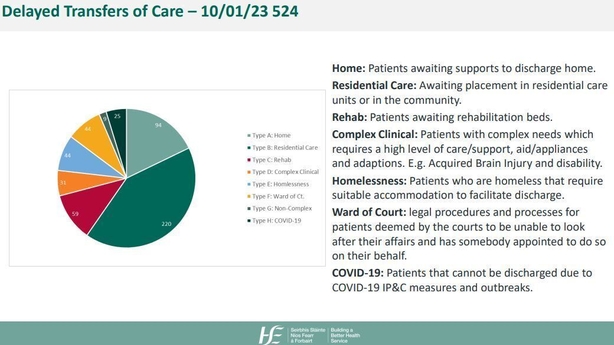 Other categories of patients who are waiting in hospital to be discharged include people waiting to go home but need help; people who need to go to rehabilitation units; wards of court who are under the protection of the legal system; and people with covid.
"It's important to understand there's a range of people who make up that number," Mr McCallion said.
Reporting by Fergal Bowers, Conor Kane, Saoirse McGarrigle