Record numbers of children have been presenting to emergency departments across Dublin in the last few weeks, according to Children's Health Ireland.
Paediatric Consultant Dr Carol Blackburn at CHI Crumlin said it was the busiest they have ever been.
She said that on their busiest day in 2019, they saw about 520 children across all their Dublin hospitals.
However, on Monday they saw 620 children across their sites.
She said they were seeing children presenting in very high numbers with fevers and respiratory illnesses, which are seasonally appropriate and expected.
However, she said that at the moment, they were seeing a spike among babies and young children.
According to CHI figures for September, Temple Street, Crumlin, Tallaght and Connolly are up about 24% on 2019 level.
Dr Blackburn said that at CHI Crumlin, they are already up 40% so far this month on the same period in October 2019.
She said children who are more acutely injured or unwell are being prioritised, but in some cases, children are having to wait up to seven, eight or nine hours to be seen.
Some children have had to be put on a hospital trolley overnight while they are waiting to get a bed.
Dr Blackburn said multiple viruses are circulating in the community at the moment, including RSV, enterovirus and the winter vomiting bug, and they are seeing winter levels of patients already.
She said that while Covid-19 is not causing a huge burden of disease, every fever and respiratory illness has to be treated as possible Covid, which is placing extra pressure on the system.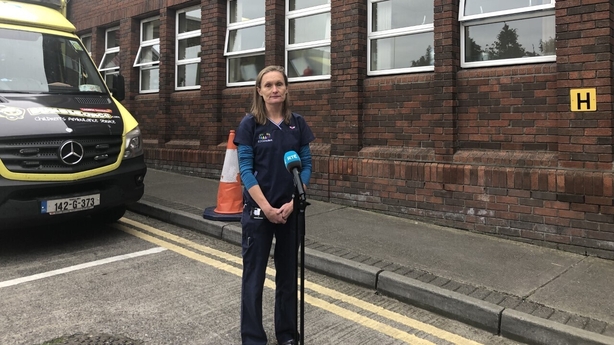 In a statement, the Department of Health said Minister Stephen Donnelly wishes to acknowledge the distress that overcrowded emergency departments cause to patients, their families, and frontline staff working in very challenging conditions in hospitals throughout the country.
It said the HSE has advised that there has been a significant increase in presentation of children with seasonal respiratory illnesses presenting at hospitals, with 11 children waiting on trolleys for admission in CHI Temple Street, three in CHI Tallaght and one in CHI Crumlin this morning.
The statement said families of children with minor and less urgent complaints are advised to see their GP/out of hours service and local pharmacy first.
It said good advice for families and guardians is available at the HSE's 'under the weather' website, and that children or infants who get flu-like symptoms should stay at home, rest, drink plenty of fluids and use over-the-counter remedies, such as paracetamol.
If parents are worried about their child they should attend their nearest emergency department, but children needing emergency or urgent care will be seen first and families may experience long wait times, the statement said.