Paramedics and first responders say the quick response of medics after Christian Eriksen collapsed highlights the importance of basic lifesaving skills.
The global audience that witnessed the on-pitch treatment of the 29-year-old Danish midfielder has put the importance of Cardio Pulmonary Resuscitation (CPR) and defibrillation to the forefront of millions of minds.
Ireland has one of the best rates of 'bystander CPR' in the world, with 84% of those suffering non-hospital cardiac arrests in 2019 being assisted by people close-by.
Of 2,564 such incidents that year, 68% occurred in the home, with twice as many men as women suddenly taking ill.
CPR is the first line of defence in the event of a cardiac arrest, the term used when somebody has a serious heart-related incident without any prior warning.
In many cases, local community first responders are sent to the scene of a cardiac arrest.
There are more than 270 such groups around the country, with members trained in the basic life support and use of defibrillators. They are usually dispatched by ambulance control, as part of a "massive cascade of events" that unfolds after a 999 call is made.
Community Engagement Officer with the National Ambulance Service, Mark Callanan, says after the initial contact, callers are instructed on how to deliver CPR chest compressions.
Essentially this involves putting two hands on the centre of the patient's chest, pushing down to a depth of two inches and allowing the chest to recoil before repeating the process.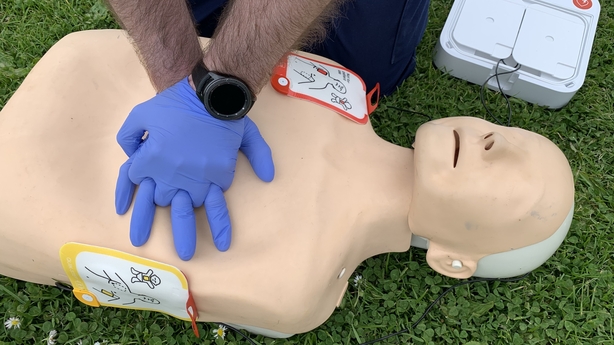 Between 100 and 120 compressions should be carried out in a minute and these should continue until a defibrillator or other medical assistance arrives.
Mr Callanan said starting chest compressions on a patient in need of them is key to their chance of survival.
The process should take place with the person on a flat, firm surface. He sums up the approach as "push hard, push fast and make sure you contact the emergency services on 112 or 999".
While there is a growing level of awareness about CPR, the aim is for everyone to be equipped to carry it out, should the need arise.
A growing awareness about sudden cardiac arrests has also led to an increase in the number of defibrillators around the country.
People are being encouraged to make themselves aware of where the lifesaving devices are located in their communities, and to ensure they are ready for use at all times.
Neil Johnson, of the heart charity Croí, says there is a strong case to be made for second-level students to be taught CPR and defibrillator usage techniques as part of their core work.
He says it is also critically important that all sports clubs have clear policies in place to ensure dedicated personnel are trained to deal with unforeseen cardiac events.